Stencils were just the beginning for Icy and Sot, two Iranian street artist brothers who left Tabriz in 2012 for New York City. In the five years since, the duo has experimented with a variety of styles and mediums, constantly reorienting their approach, but never their focus on the political and the personal message, beseeching the wider communities in which they find themselves to take action.
This continually broadening horizon has contributed to their burgeoning body of work—not bad for two young artists in their 20s and 30s with relatively inauspicious beginnings. They also love to talk over each other, in an unshakably fraternal, unified, non-stop flow of fevered expression; it makes sense that their presented brand is a name pair. And their stenciled street art—while vibrant and direct, often depicting their marginalized subjects with frank, portrait-like candor—would become only a single tool in their tool-belt, giving way to provocative installation pieces, elaborate public works, and even outright performances captured on video.
The duo has also evolved in plain sight, thriving under various guises on the internet throughout their journey. Their Instagram page currently boasts almost 40K followers, and showcases a tireless travelogue of their ceaseless output, which is itself a call-to-arms for community action. In speaking with them, it's clear that this is specifically by design, and their work aims to stimulate observers and fans in both galleries and sidewalks.
The Iranian thanks Icy and Sot for willing to share some candid insights with our readers about their path until now. Additionally, we'd like to recommend Let Her Be Free: Icy and Sot: Stencil Artists From Iran, a beautiful book collecting their work spanning 2006-2016.
The Iranian: If you could, tell our readers about the series of events, from being born in Iran, discovering creativity, and moving to the US?
Icy: We first started doing street art in our hometown of Tabriz in about 2006. We were posting photos of our work on social media…which also means we couldn't use our real names.
Sot: We're from Tabriz, where there's not much going on. We were skateboarding, and through that, we started doing street art. [At first] with stencils, putting them out in the street.
Icy: We actually didn't even know that what we were doing back then was called "stencils." We only knew it by its Farsi name, "shablon." (شابلون)
So, this shablon style is very fast. You cut it out at home, and when you go out on the street with it ready, you just spray it.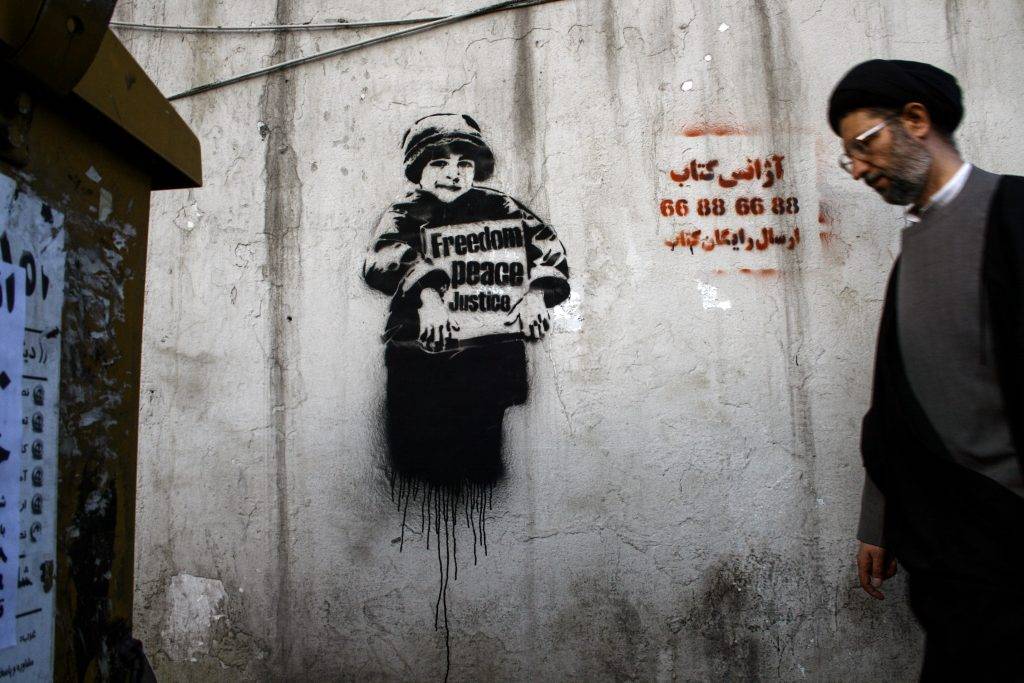 The Iranian: How big are these stencils we're talking about?
Icy: Life-sized. You can't really paint a big wall illegally in the streets [in Iran]; you have to do something small, one-layer, like a stencil or a wheatpaste. Sometimes, if we wanted to do colors, we'd paint it on paper before, then cut around it and wheatpaste it up.
[Because] we were [in Iran], and couldn't paint legally, we had to do it fast, at night, or sometimes during the day on a Friday morning—this is the only day off in Iran, so early in the morning there were not so many people in the streets.
The Iranian: Was there anyone who guided you through the early stages of your art? Did you have a mentor in the process or anything?
Sot: Mostly the internet, and experience. We didn't have friends doing it at first, but we did find some friends in Tehran later on who were doing it. But, everything we were putting out in the streets, the pieces were gone really quickly, like the next day. If it was a really hard-to-reach spot, it might stay up longer, and sometimes we climbed into high-up places for these.
Icy: After 12 hours, or a day, [most pieces were] usually gone.
Sot: That's why we were documenting it all the time.
The Iranian: Got it. So you were spreading it out on social media and online.
Sot: We only used Flickr at the time. We got onto blogs in Europe like that, even seeing artists in different countries from Flickr. Later on we met them and they were like "Shit, we remember you from Flickr!"
Icy: Most of the artists—the ones where we knew their work and they knew us—that was from Flickr.
Sot: In 2012, we had a solo show here [in NYC]. That was the reason we applied for a visa. But we were already planning to leave Iran [before that], because it was really hard to continue as an artist there. we just wanted to be based somewhere that we can make art with no fear, and be able to travel easily, Before we moved, we [already had] had shows in Europe and in the US, but we could never attend these shows, since getting visas to Europe or the US is really hard for Iranians.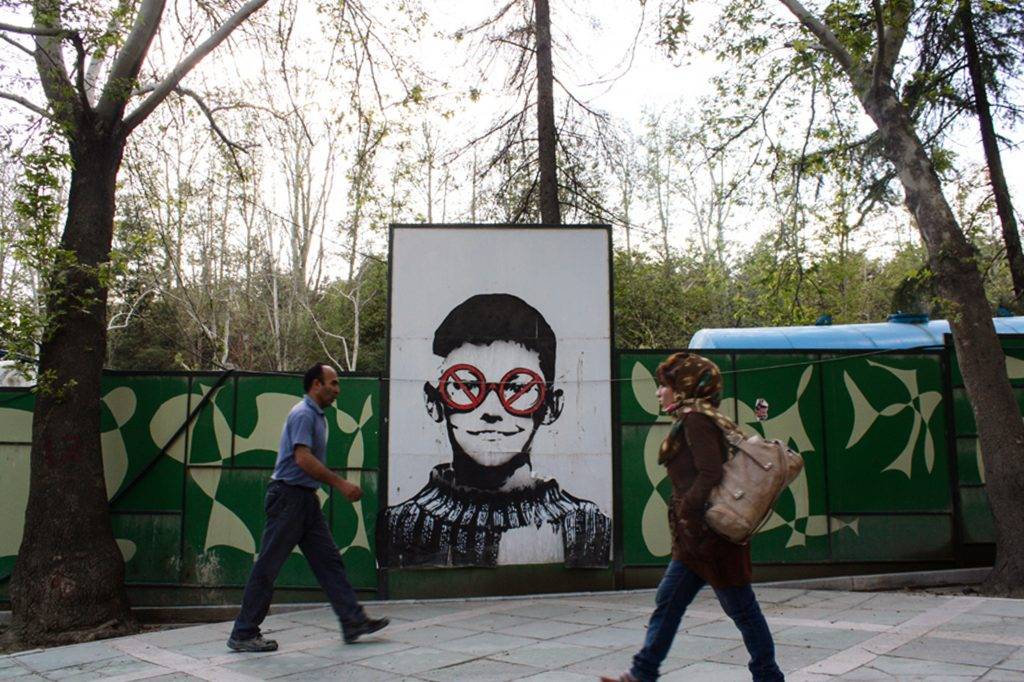 The Iranian: So you couldn't even attend your own shows?
Sot: We couldn't even travel to these places! We'd ship out the work. Shipping from the national post office in Iran [was complicated]. They used to check our paintings, and after the 2009 election, they often wouldn't let us ship them.
For the work we sent to show in LA, we had to cover the pieces with another layer. We put a layer of canvas on top and painted something different, and they'd take it off when it arrived.
So it was really hard to continue like that [in Iran]. It was impossible to grow as an artist, and it got harder and scarier to make work in public. We got arrested a few times, we went to jail. And we were kind of done
The Iranian: Is there anything in Iran comparable to the vandal squad in NYC?
Sot: There's no vandal squad or graffiti police in Iran. Graffiti, street art, is kinda of new in Iran, [it's been] around like a little over 10 Years. But if you got caught there, you would never know what would happen to you since there is no certain crime for graffiti. They'll say, "You're advertising western culture." It's crazy. They used to call it "satanism." The scariest part was, you never know what's going to happen to you. It totally depends on which authority grabs you, or on the person's mood. They're powerful, they can do whatever they want.
Icy: The bad part of this, is that, in Iran, there are all different types of authorities. Depends on who arrests you, on what you're doing. But they can basically stick any label onto you.
The Iranian: So, you arrived in 2012, but you were quite active prior to that, while still in Iran.
Sot: We were active doing pieces in the streets of Tehran and Tabriz, and we used to work on indoor pieces for shows internationally.
Icy: We had a show in Amsterdam that our friend Oscar van Gelderen and Klerkx art agency put together, where we just shipped all the works out.
Sot: We were also active, due to friends who were helping us [get our art out]. We had an artist friend BR1 in Italy, and we painted some art on paper and he wheatpasted them up in Turin. Or another friend, who used to travel around the world and paste our works in different cities.
The Iranian: Then you got your visa.
Icy: We got here with a visa for three months, for a show in New York. Then, we applied for asylum. That's why we can stay here. We have our Green Cards now.
The Iranian: Where was the show?
Icy: It was a 3-day pop-up show in Soho, with help from some friends
Sot: We had an agent at the time, who we knew for over three years online. That was the first time we met him in person. It was our first show outside of Iran that we attended. The turn out was amazing, it was a successful show.
The Iranian: Who are some artists you've aligned with here, or artists that inspire you?
Sot: The Yellow Dogs band, our friends from back home, helped us a lot when we first moved here. We used to live together for a while. We meet lot of amazing artists here who we admired, and knew their work from Iran. [By the] second week here we were painting together with them.
The Iranian: When did your physical, conceptual installation pieces enter the picture?
Sot: We're always learning a lot, from our travels and experiences. We're trying new mediums and different things we haven't done before. We were kinda of tired of doing stencils and painting murals, we have been doing more sculptural and installation work, and from each project we are learning so much.
Icy: Street art is moving in a really weird direction now. There are lot of artists that repeat the same thing over and over again.
Sot: I feel like people want happy, colorful art pieces, and they pay for it. They want to use that to upgrade the value of their property. There are amazing works, and there are super-talented artists, but I feel like street art is becoming really commercialized.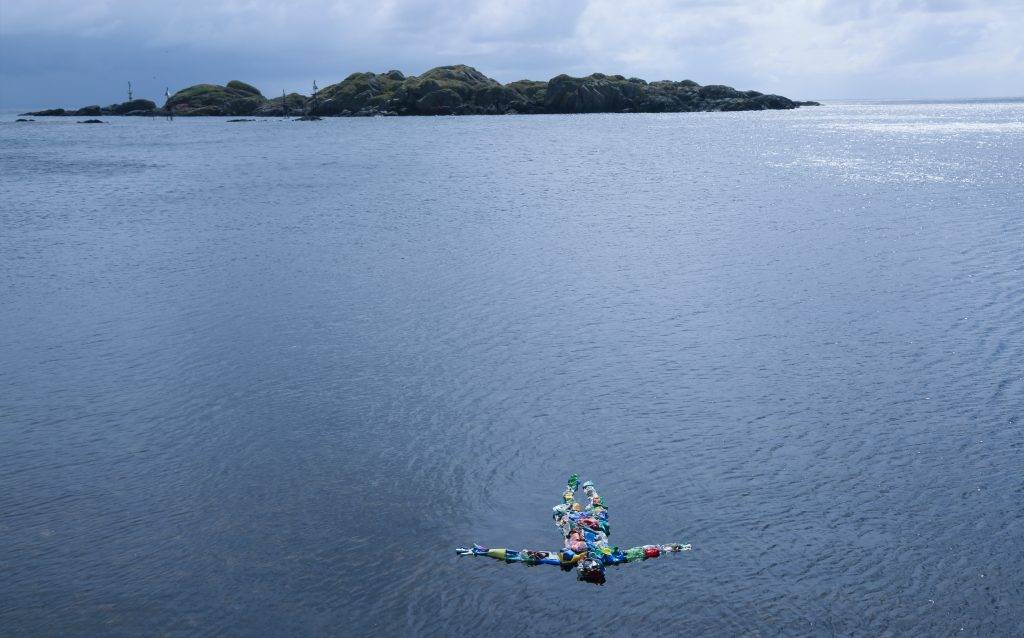 The Iranian: Do you think these interventional pieces have any real permanence?
Sot: Not really. But we realized that we have some ideas that are impossible to paint on a wall. We're trying to not limit ourselves in mediums, so we choose the best medium to make the idea happen. Maybe it's just a temporary installation, or performance but we can document it and share it with our audience, This has been fun, and every project we're doing, we're learning so much.
The Iranian: Are you incorporating these types of pieces in the new show?
Sot: Our upcoming show "Human Nature" is about the environment, and we will be showcasing stenciled painting, sculptures and installations. The planet is crying now and we need to listen, with all these natural disasters happening every other week recently, maybe its trying to say something. We need to respect it more than ever, now that we have destroyed so much of it already that we can't repair or even stop it. But we can give the planet a longer life, by caring more about it and by doing something, the impact can be small but if all of us try we will have [a better] chance.
Icy: Its so sad to see how much plastic trash we produce, we only recycle 1 of every 5 water bottles. We all should try to use less and less plastic in our life. Every single piece of plastic that has ever been created since the 19th century its still somewhere in our planet. Plastic is killing the planet and our health, there is just too much plastic floating around in rivers, seas and oceans; our usage of plastic ends up in our food chain and back again on our plates, when eating fish and sea food.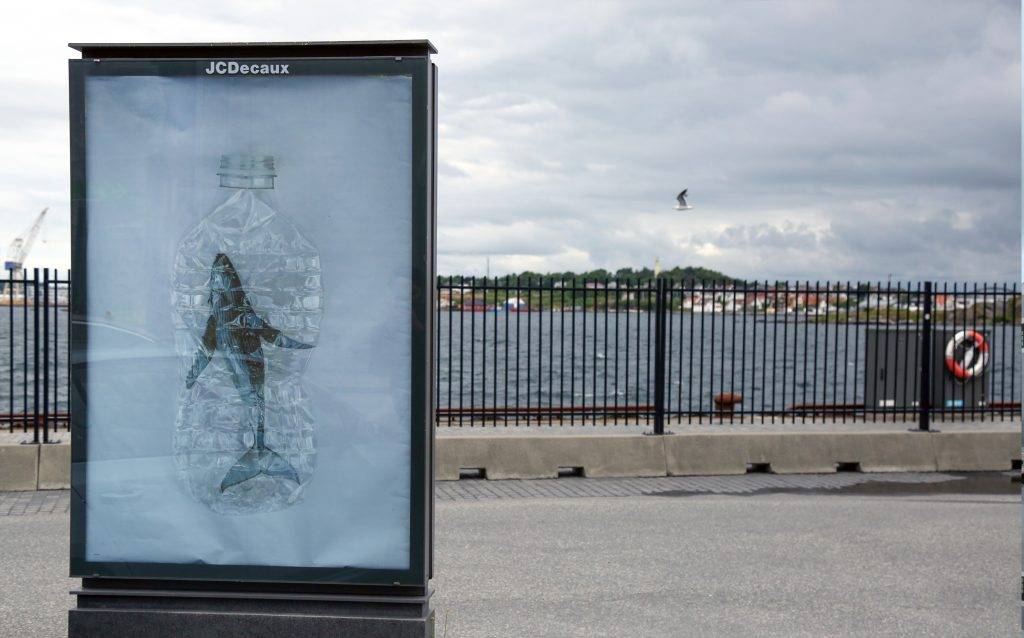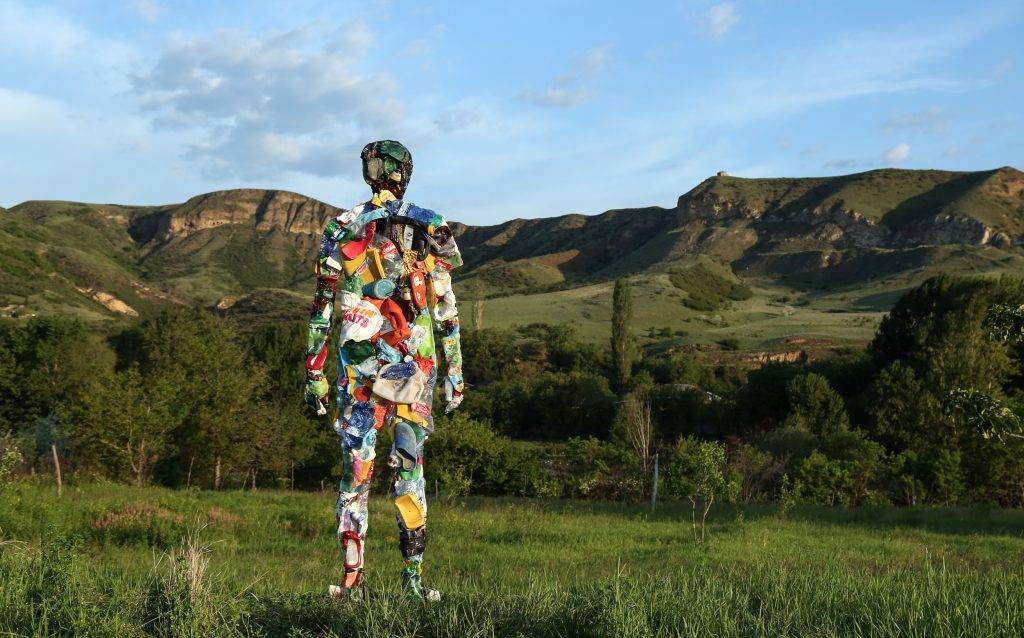 The Iranian: So, in the time-line of your work, these ecological themes are fairly new.
Icy: This year we've been focused on this topic, but also immigration, and gun violence.
Sot: The gun issue is a big issue in the United States and it's so frustrating that it has become normal to people. We began creating anti-gun pieces to say that nobody needs a gun to live in this world. Through our art, we imagine a world with no guns, no violence and no war,
The Iranian: So where's the new show going to be?
Icy: In Culver City, LA, November 4th, at Thinkspace Gallery.