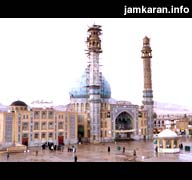 Praying to Mahdi
I write my wish on the official slip and let it twirl down to the bottom of the well. A cool breeze arises and brushes my cheek
By Kambiz Naficy
August 18, 2003
The Iranian
The six of them attended my Microsoft classes some nine months ago. I used to be their age, living in a different Iran. I suppose they have come to like me now because I tell them about the old days, joke around, and because I told them at the beginning of the term to relax and not address me as Doctor-Mohandes.
I remember the first day I walked in with my backpack, they all stood up. I was touched but out of my element. I was initiated into American casualness at the age of nine. When I attended college classes at Columbia, some students put their legs up on the front seat even while Brzezinski was lecturing. Today, my Tehran students refuse to cross the doorway unless I go through first. They have silently and patiently taught me to respect the Persian culture and just let things be. So be it.
One of my students, Massoud, is twenty-six; for the past four years he has worked with his dad. His dad used to work for Ottis before the Revolution. Afterward, Mr. Esfahani established his own elevator and electric stairway consulting firm. Massoud and his father are hikers and often camp high in the Zagross Mountains. The boy has neither the money nor the legal possibility of immigrating to the West. So, he has decided to leap into the unknown and attend university in Bangalore, India.
Sara calls me to invite me to Massoud's good-bye tea party. She is twenty-four, very grounded in Iran; she doesn't want to leave, not even for college. Her grandfather, a holy man in Mashad with many devotees, recently passed away. They served several hundred pots of rice to the needy during the seven days of mourning. Sara's father studied engineering in India,and now he runs a sand and gravel plant in the desert plains of Lorestan. The family has invited me down when I get the chance to go.
I do want to say farewell to Massoud, so I take my friend Shadi with me to the Milad Tower hovering about the trendy Shahrake Gharb. The first four floors of the tower are packed with crowded stores. Most of the Westernized clothing is imported from Turkey. One floor is wholly dedicated to jewelry and Swiss watches. I am not sure who buys Patek Phillipes at an exchange rate of 820 Tomans to a Dollar, but there are three under the spotlight. On the third floor I am browsing Persian-made pots and pans, when my eyes become fixated on a Harley Davidson mug. Outside that store, the owner is selling battery powered scooters. Two college girls talk on their mobiles as they pass by a lingerie shop and a music store displaying electric guitars -- there is a perfect Gibson Les Paul look-alike marked with the Arian brand.
Onward, we climb to the fifth floor, where we finally spot our party at the Galaxy Coffee Shop. The windows are etched with signs of the Zodiac and Japanese calligraphy. On the black bar, sits a Pentium laptop playing Leonard Cohen's "I'm Your Man". There are wine glasses hung upside down from the rack above the bar -- there is no visible sign of wine. Some of the college girls are so tightly packed into their Islamic manteaux, that the overcoats might well explode at the first sneeze.
My students are welcoming. Shahnaz is the daughter of the pre-Revolution Panasonic dealer. Her father moved the family to LA during the turmoil; he succeeded there before dying of a heart attack. She lived in the West for eighteen years; and now, she is back studying hotel management at an Irish-sponsored university in Tehran. Like so many, she is trying to reclaim confiscated wealth. She is a busy fireball always juggling several projects; she speaks Farsi with an American accent but is well adjusted to this society. Her boyfriend, Rassoul has never been abroad. He is taking Microsoft classes and hanging in limbo, waiting to see what happens to his draft.
Sanam and Nahal are also in limbo. They have been taking private lessons for the concour (nation-wide college entrance exam) for the past three years. They hesitate to take the test because they want to be certain that they are accepted in their field and location of choice. If you score low in your preferred field, let's say architecture at Tehran University, you could wind up studying animal husbandry in Zanjan.
Sara has brought her younger sister along, she watches the little one like a hawk.
Mr. Naficy, there are two crooked girls who have begun hanging around Nasrine. My mother and I are really worried.
What do you mean, crooked?
We are pretty sure they are prostituting in high-school. One of them arrives at our doorstep in a different man's car each time. The other keeps trying to drag my sister to one of those ecstasy parties.
What's an ecstasy party?
You know, the pill that makes you feel like you're flying. Anyways, my mother and I are not letting those two girls near our home. Nasrine is pretty upset but someday she will understand why we are reacting this way. Normally, I wouldn't be so harsh, but when I was her age, plenty of girlfriends, addicts and prostitutes, tried to get me into their game. Something about human nature, I guess; when you're down, you try to drown a friend with you.
Out of the bunch, Massoud is the first who is cutting the cord and moving on with his personal dreams. He is scared; this is the first time he is leaving home. He comes from a religious family, and they are close-knit family.
I ask him, How was your trip to Mecca?
Kambiz, there was a lot of energy like I experience in my silent meditation. You know, when you are amongst 100,000 praying from their hearts, the energy just swirls around and eventually penetrates you. I did not like a lot of the Hajis who seemed insincere and just there to show off their wealth, but for every one of them, there were a hundred shedding tears for Allah.
We order an assortment of raisin cake, ice cream, and Crème Caramelle. There are at least eight kinds of coffee on the menu. In the past two years, gourmet coffee shops have sprouted all around Northern Tehran.

We end the get-together after an hour, and I offer to take three of my students home. One is on his mobile setting the other two up for blind dates. I press on the brake in front of the optometrist. My knee aches as I press, and Shadi jumps out to pick up her bifocals. In the back there are giggles, then, quietude. The yellow moon of Tehran, Carbon fume flowing out of exhaust pipes, and motorcycles weave in and out like flies. For this moment I feel old, unacknowledged by time. I tell the whispering shadows about my days when I was handsome, played guitar, and made the petro-dollar beauties cry with "Leaving on a Jet Plane" and "Suzanne".
When I take Shadi home, she proposes, I am going to Qom tomorrow. Do you want to come?
Why not? After all I have never been there and have never visited the mosque where the faithful come to pray to Imam Zaman -- Mahdi the Messiah, the last Shiite saint who vanished in a well. A well-kept promise assures the heart of every Shiite that Imam Mahdi will return some day.
Are we traveling alone?, I ask Shadi.
No, Agha Yahya and Nadia are coming along to renew their Persian visa.
Shadi is a skilled fashion designer who sculpts Channels and Diors right out of fashion magazines. Two years ago, she met Agha Yahya in a handicraft store. Yahya and his wife Nadia are Afghan refugees who fled the Taliban. He is a medical doctor sewing skirts in Tehran. They live in a poor part of town and Nadia bides her time in their apartment awaiting the return or her cousin, husband, and high-school sweet heart. Yahya's bus ride from the Shanti Fashion House to the apartment takes two hours.
Two months ago, the Afghani couple's lives began to take a series of quick turns. After the Taliban lost power, Yahya took a leave of absence to visit his ancestral home in Kabul. The American safekeeping forces were present but the home of his childhood had fallen into dirt. Hungry vandals had even dug up the pipes and power cables and bartered them for bread. Yahya squatted amidst the ruin whispering a farewell to Afghanistan. A neighbor girl ran over and told him Nadia is calling from Iran.
Yahya, we have an immigration interview at the Canadian Embassy in three days. Do whatever it takes, but get yourself over here!
Three days later, the Canadian Government approved the couple's application for immigration. Yahya is excited and eager to join his two brothers in Toronto and help out with the family pizza stand. Shadi has come to depend strongly on Yahya's sewing skills. These days, her soul is torn between well-wishing for a dear friend and concern about finding Yahya's replacement.
The three of them pick me up at 7:30, thursday morning. Tehran is already simmering like a samovar. The six-lane highway to Qom is seething with mushy asphalt. The landscape is parched and flat except for hills decorated with slogans -- Hail to Imam Reza; Buy an Emerson side-by-side freezer for your bride; This is the home of the 88th Army Infantry.
Off in the horizon, I gaze at the vast salt lake (Daryacheh Namak). One man recounted, Persia was an ocean before history began. When it dried up, all the salt receded to the deepest part of the ocean floor -- that, my friend, is now our great salt lake.
Every few kilometers, standing on the side of the road, is a deeply tanned banana vendor holding a cardboard sign, 450 Tomans per bunch. The bananas boast the Chiquita brand.
We are traveling fast and arrive in the holy city of Qom in two hours. Yahya goes off to pay his passport fees to Bank Melli while Shadi, Nadia, and I wait for him at a pastry store. We order cool, pistachio-colored melon juice (Ab Talebi) mixed with crushed ice and sugar.
The son of the store owner is watching a Robin Hood cartoon dubbed in Farsi. I gaze at the faces on the sidewalk. There are Mullahs everywhere. Many of them have slanted, Turkmen eyes.
I ask the store owner if he has a restroom.
Over there, he points at the mosque across the street. It's open to the public twenty-four hours a day.
I make my way across the street and pause to read a poster pasted on the mosque tiles. There is a picture of Bruce Lee flexing his biceps and snarling like an animal. The header says, Emperor Sports Club. We offer classes in Karate, Judo, and clarity of mind. Next to the mosque is a bookstore displaying its bestsellers. Two young men wearing black shirts leaf through a paperback-- How to Communicate with God.
Across the street is the Al Zahra Optician. There is a poster of Arnold Schwarzenegger sporting aerodynamic sunglasses. Right above it, the picture of a revolutionary leader peers down in disapproval. Another little store catches my sight. The owner maintains and sells antique Singer sewing machines, complete with oak drawers to hold needle and thread. Shadi passionately turns the wheel, and the rhythmic clack takes each of us back to our childhood homes.
Back at the pastry shop, Yahya is waiting, eager to show up with his bank receipt before the passport clerk retires for his noon prayers. We complete the task at hand. It is time to pay respects to the Messiah Mahdi. We follow the signs to the holy well. At high noon in July, there are at least two hundred cars parked near the mosque complex. These are not ritzy cars -- Paykans, working vans, taxis, buses, and mopeds.
The entrance, a roofed pavilion with no walls, casts its graceful shade on weary travelers. The pilgrims are lying down on straw mats and heavy blankets; their samovars are steaming. The more fortunate ones chew on goat cheese wrapped in Taftoon bread. A little boy of six sits next to his sleeping brother and father. He is staring into oblivion, perhaps waiting for a miracle.
We make our way to the holy well. The mosque officials charge us 20 Tomans for a slip of paper on which we write our wish to be granted by the vanished saint. Instructions on the back guide seekers on how one should request a favor from the messiah. By the well, everyone is quiet and pensive. The only sound is that of the public address system.
A mosque official speaks,
Dear Moslem brothers and sisters, we ask that you please shut off your mobile phones during the noon prayers. One other request to our brothers; the sisters at the Southeast corner of the mosque are complaining that the young brothers are casting impure looks at the sisters. Brothers, please return to the men's corner as soon as possible.
I write my wish on the official slip and let it twirl down to the bottom of the well. A cool breeze arises and brushes my cheek. An old man sits by the well, thumbing his prayer beads. His eyes are watery as he prays for the vanished saint to return.
* Send this page to your friends