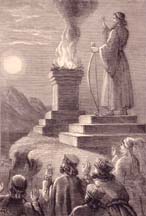 My land
By Reza Nabavian
March 26, 2003
The Iranian
The frail solitute, one night, calmly turning away,
at dawn I pray, surely, like a hair turning gray

One ray of light, one stream, one endless worry,
washing my hands, standing, one blooming prairie

Half open eyes, this mind, and the ongoing story,
palms crossed, reciting , the tale of our glory

One land, one love, beating on our long ago doorsteps,
a fire, a lion, one sun and the sound of our footsteps

The treacherous path, the north air, do I dare?
one lake, one home, a cool breeze and the heroine flair

The arid beauty, of a wrinkled hand, caressing my hair,
one vase, one tulip, and water, nothing more to spare

A lion, one sun, a red promise protecting this land,
some bread, a feline beauty, and the caress of her hand.
Does this article have spelling or other mistakes? Tell me to fix it.