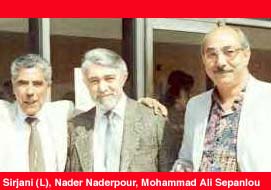 If he were alive
Interview with Ali Akbar Saeedi Sirjani's daughter, Sayeh
By Fariba Amini
August 12, 2003
The Iranian
Omidvaar vojoudi ke az jahaan beravad
Miaan Khalgh be niki bemaanad aassaarash -- Sa'di
In Iranian neo-classical literature the name of Ali Akbar Saeedi Sirjani is engraved in gold. His contribution to the many aspects of Iranian literature is without a doubt impressive and phenomenal. Saeedi was not just a poet, a writer, a critic, a teacher, but above all a gentle human being.
There is only handful of the literary crowd that remains. Most have died, either from grief over the loss of their homeland or have been eliminated by those who have seized their homeland. Individuals like Gholam-Hoseein Saedi, Mohammad Mokhtari, Mahmoud Tafazoli, Ahmad Shamlou, Nader Naderpour, Feryedoun Moshiri and many others who died in the name of Iran and for Iran. Saeedi Sirjani, lived for Iran and died for Iran.
Sayeh is his reflection; she is the daughter who speaks as eloquently as her father. As her name suggests, she is his shadow. With a low voice she speaks of him, of her life, of what her father taught her and of the bleak past and of a bright future. She is the echo of Saeedi Sirjani. Like others, Sirjani died, not in vain, but in the highest form of death, for the devotion to his country and his culture.
Who killed him? Who came to his house and found nothing and took everything and anything. Who accused him of wrongdoing? Who portrayed him as a traitor? Who accused him of sodomy! Who took him to prison and tortured him, then poisoned him and then shamelessly and in the most coward way, said he died from a heart attack? THEY are those claiming to represent God while perpetuating a vicious carnage far worse than that of Chengiz and the Mongols or former and recent dynasties.
THEY are not foreigners. They are from the very land Saeedi came from. They are our homeland's bad seeds. They are ignorant thieves who have placed their sinful hands on the natural resources of Iran and have attempted to silence the best of its human resources. They killed Saeedi Sirjani. By killing him, they tried to eradicate not a man but a literary legend. By destroying him, they killed a priceless treasure. By his murder, they tried to strangle Iran.
Sayeh spoke to me after a short stay in Washington, DC where she talked at a gathering for Mothers in support of the Students in Iran. Here is Sayeh Saeedi Sirjani in her own words:
My father was born on December 11, 1931 in Sirjan. His own father was a poet and had a bookstore in Sirjan. My father's interest in literature was as a direct result of the teachings of his own father. He began his career in the schools of Sirjan and Bam. And he studied in the higher education in the field of philosophy. He became the deputy of Iranian Cultural Foundation. He worked extensively on Farhang Dehkhoda and in fact was responsible for the N portion of this famous encyclopaedia.

It was sometime after the revolution of 1979, while working with the late Pourvali in the journal Bamshad, that their office was burned to the ground. I was in India at the time and my father came to visit me there and from there he wrote his famous articles of Sheikh Sanaan. He also worked with Mr. Enayat and was an active contributor to his journal Negin. Later that year, Ghoddousi, (former Prosecutor General) came on state TV and accused my father of using foul language against the Islamic regime. Their constant harassment of my father would continue until the time he was taken and detained.

What I recall from our very last meeting was when they called us at home, and told us to come and meet him for only ten minutes. I drove fast and got to the meeting place at Esteghlal Hotel, (former Hilton) in north Tehran. I saw him there and ran towards him. I hadn't seen him for over 4 months. He looked much skinnier and had bruises on his hands. But he was happy to see me, as he had been so worried that we hadn't heard from him for so long.

We went to the 15th floor of the hotel. Those people ran the whole establishment. They were well groomed and wore ties and suites. They didn't look like intelligence people. In the room there were cameras and all kinds of security apparatus. Four people were present. I don't remember their names. But if I saw them I would recognize them. In any case, they would change their names later on. But I am certain that Saeed Emami [former senior intelligence official who "committed" suicide in prison] was not there. My father said to one of them: "Seyed, you have injured me so badly," and then he laughed and in a joking way said, "they want to make a good Moslem out of me!"

It was 13 of Tir (July 4) 1992. They claimed he died 6th of Azar (November 27) that year but we believe it was earlier, in late August, when they killed him. When I think that he spent the last days and months of his life in captivity and under torture and that they changed his words and his writings, it makes me sick to my stomach. I tremble at the thought of it. But I remember his famous verse, beh yek baareh jaan dar setam soukhtan maraa behtar az baa setam saakhtan. (Better to be burned by tyranny, than to live with tyranny.)

It gives me strength and comfort that he is always with me. The price of freedom is very high. And there is a big difference between pain and suffering and misery. There is a world of difference. I feel the pain but I am not miserable like those who killed him.

We sort of had an emotional and telepathic relationship. He knew what I thought or what was on my mind. And vice versa. Everything that made him happy or sad would make me feel the same way. We had a lot of common interests. I feel it even now. I feel him close to me as if he is sometimes speaking to me. The first few months it was very difficult. I couldn't handle it. I felt a gap in my life, a big gap. But now I can function a little better.

Nonetheless, I think that If he were alive, he could have said so much and would have written so much more. His pen was broken too soon. Who do I think is responsible? Well the totality of the Islamic regime is accountable but the Vali Faghih (Ayatollah Khamenei) is on top of the list. It was a fatwa from Khamenei to get rid of my father; it was on his specific orders. Hossein Sharitmadari had an important role with this crime as my father had made a formal complaint against him.

Nevertheless, they are all responsible for this heinous crime. They used to send their thugs in front of our house with chains and they would shout, "Death to Saeedi Sirjani, the home-made Salman Rushdie". It was an orchestrated plan to get rid of my father who was outspoken especially after his famous letter to Khamenei where he courageously condemns the regime for use of violence against voices of freedom.

Mr. Kioumars Saberi who is now the editor of Gol Agha, a former satirist for Towfigh, used to meet with Khamenei every Thursday. My father once told him, "Shame on this country that now you are issuing my death sentence through the fatwa of the Vali faghih. Don't you remember who you were and what you did?" My father never stopped being a critic in every word and in every deed.

Now I am keeping busy with some legal work. I am involved in creating an Iranian legal working group and working on Iranian immigration law. Moreover, I am reading about our literature and history to learn and understand its importance. My father would have wanted it.

I think his most valuable piece of work is "Dar Asteen Moragha" and "Sheykh Sanaan", which depict twenty-five years of Islamic rule in Iran.

When I was younger, I always wished that I would never see the day that my parents would be in harm's way. And then my father was taken away from me in this horrid way. We used to have long conversations on literary issues and were trying to find out what the meaning of death was in the works of our beloved poet Hafez. My father was doing research on the subject. He was my true teacher, in life and in death.

Now he is gone and he can never speak or write. My father always had this message for those living abroad, not to ever forget their homeland and return to Iran and never let go of their culture.

He wrote an article about the meaning of Vatan (Homeland). We are Iranians and we are proud of our heritage, of our culture and of our language. He always emphasized about the importance of our language, and that the Persian language must continue to flourish.

There were some serious mistakes made during the reign of the Shah, especially in the last 15 years. Who knows, if right decisions were made, the course of history might have been different. And today, we would not have the catastrophe of what is called the Islamic Republic. Thus, we fell from one hole into a deeper one. Az chaah be chaaleh oftaadim.

There is no question that the crimes of this regime are not comparable to that of the Pahlavi period. The [current ruling group] has shown its very malevolence to the world. And have not stopped at any sin. All the same, any type of one-man dictatorship will eventually lead to tyranny. Therefore, I do not see my national identity as having a king.

I am Iranian and whatever I am is from my heritage to Iran and its people no matter from which ethnic minority or religion. This I consider the soul of being Iranian. It isn't enough that I am opposed to such and such, but I do not give credibility to Monarchy. When the rule of law and justice was to develop in our country, both monarchy and religion destroyed it. Fortunately we live during the time that these concepts, justice and rule of law are highly regarded by all people around the world. We have said no to both types of tyranny.

Let me clarify one point, that I personally do not consider the revolution of 1979 as a mistake. It was due to a wave of solidarity and cooperation that the revolution took place. And if there were political parties to explain issues to the people and bring awareness, then the outcome would have been different. There were tremendous emotions and sacrifices in those days against the monarchy and now against the Velayat Faghih. Since I, as an Iranian, have lived through both, I cannot bring myself to vote for any of the two.

It is up to us, every one of us, in the final analysis. Az mast ke bar mast. No one, neither from the sky above nor by the aid of foreigners can bring us to our goal of achieving a democratic state. We must work together, and separately to change things and make our country prosperous. We must criticize ourselves for our shortcomings and we must begin with our self.

We must take responsibility for our actions and words and we must uphold this banner of freedom. We must have commemorations every week but it should not end here, we must have one voice and demand justice. Every step should be taken carefully and knowledgeably. We must recognize our strength and weaknesses and hopefully with one voice, we will overcome.
It is vital to recognize the importance of Sirjani in the modern Iranian literature. He has a very special place. In Simayeh do Zan (Images of Two Women. See excerpt) in which he dedicates this literary book to Iranian women (be dokhtaraanam, be dokhtaraan mihanam) he compares and brings into light the disparity between the classic love stories of Leily and Majnoun and that of Khosrow and Shirin.
Leily is different from Shirin because she becomes the victim of love whereas Shirin takes control. Shirin is strong and is in charge. It is love that both women struggle with but in the two stories, Shirin handles it differently than Leily. As a man, Sirjani, understands the plight of women in the two societies and beautifully portrays the two women and yet he clearly distinguishes between the culture of the Arab world and that of Iran.
Leily is passive and becomes a victim of her love for Majnoun, whereas Shirin is the strong one who takes control of the situation, and what he feels for Khosrow. In the society where they live, Shirin is accepted. On the other hand, Leily is condemned. In the book, Sirjani shows the differences between the Arab culture and that of Iranian culture. Sirjani also teaches us the meaning of nationalism and our appreciation for our culture and its many aspects.
Sirjani will be remembered as a writer who took his words and his writings seriously and as a result, he was condemned to death by those who unsuccessfully undermined his efforts. His name and his contributions in Persian literature will forever live in the hearts and minds of all Iranians.
* Send this page to your friends