Saturday was my daughter's 13th birthday (which is always on Veteran's Day) – She and 10 of her friends were at the Santa Monica Pier doing rides, etc. I noticed on the beach they had an exhibit about the number of dead in Iraq (they always have it on weekends, but Saturday because of Veteran's Day it was a bit more elaborate.)
It was a surreal image – a picture perfect Santa Monica day, with seagulls guarding the beach. A solo saxophone player was playing a sad melody in front of the endless rows of white crosses. A young man went and hugged the saxophone player and started crying. "Who did you lose? Your brother?" Then they both cried. There was an eerie silence against the background of distant screams and laughter from the rides on the pier. The photos of dead soldiers stared at you proudly in their ironed uniforms.
Then my cell phone rang. It was my daughter. Her friends wanted more french fries.
Photos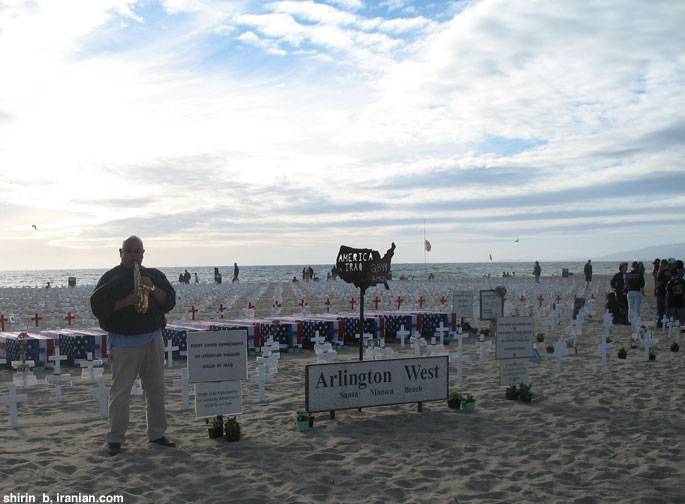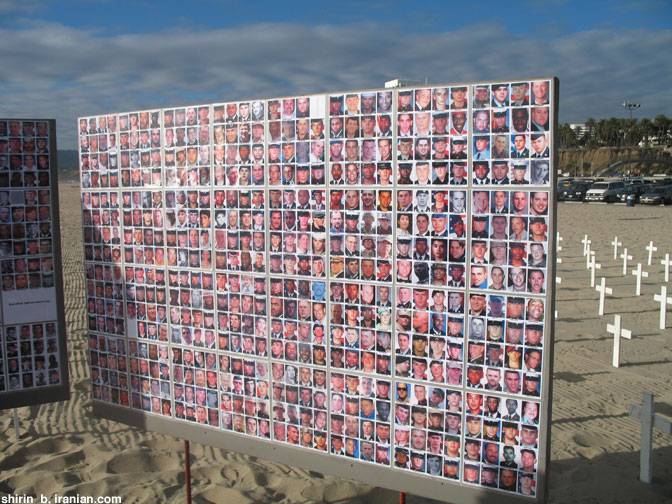 ---

Subscribe to The Iranian newsletter
Sign up for our daily newsletter to get the top news stories delivered to your inbox.
Support The Iranian
The Iranian is an online magazine for those who care deeply about all things Iranian: identity, culture, music, history, politics, literature, and one another. Stories like this are made possible by readers like you.
Please

donate

 or

subscribe

to help fund independent journalism for the Iranian Diaspora.