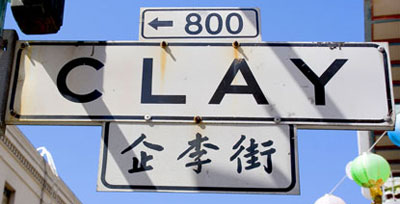 "I don't wanna go there! It looks too ethnic. I don't like this! It tastes too strange." I have heard these sayings before and their hundreds of variations, putting down whatever that is out of the ordinary, whatever that does not line up with the mainstream. I am bored with the mainstream. It is a light cream color over white. It is lifeless. You look and probe but you find nothing to excite your senses. Boredom weighs over your entire being and you feel deader than a dead man, being busy to be dead, while you, being bored to be alive, if you catch my wandering drift.
I walk in the Mission District of San Francisco and I am immediately and magically transferred to the barrios of Papasquiaro.  The smoke and smell of cooking carnes which saturates the air, delights my senses and excites me with anticipation of a magnificent feast to follow.  My gastric juices start running and my head feels light.  I pass one of the many produce markets that spot the neighborhood.  The whole storefront is meticulously decorated with all kinds of leafy green and red vegetables and colorfully round and oblong fruits with strange foreign names and even stranger looking shapes and textures. I am in heaven or what, I ask myself. The music is in the air and the pretty girls are out showing off their figures in tight jeans, skirts, and open neck blouses. They are tightly wrapped in shiny fabrics of blues, yellows, purples, and reds.
Not too faraway north from the Mission is the Mama Mia neighborhood. You know you are in the Italian section of the city with your eyes closed. You can smell the sauteed and roasted garlic from a mile away. There are scores of restaurants and coffee shops open till late at night serving the hungry and the thirsty.  One can see the young and the old, the rich and the homeless mingle and live, for this is the Little Italy in this city of seven by seven miles. Seize the moment and breathe in the magnificent scents of garlic and freshly baked pizzas, all mixed with smell of stinky cheeses. Do it, it is all free.
Come just a few blocks south and you are in the largest Chinatown in the United States. The whole neighborhood is alive with locals and the tourists. Hundreds of restaurants are jam packed with starving customers waiting and salivating to bite into a crispy roast duck or crack open a crab or other shelled fish. Large open faced stores display their goods all the way out to the sidewalk and with heavy accents call in the passersby.  Herbalists and Oriental doctors are ready and waiting to attend to anyone who goes in with an ailment or a complaint.  They have the herbs for all possible problems and very long needles to jab away any pain or disorder. Iranians love Chinatown because they can practice the art of haggling.
There are also Japanese, Russian, Korean, filipino, and Vietnamese neighborhoods, each with their own unique characteristics and offerings.  
This is where I call home and all these ethnic groups bring to this city different styles of living, architecture, color, music, and food. Without them San Francisco would not be the city that it is. It would not be Bagdad-by-the-Bay.