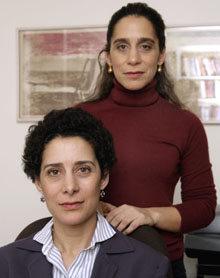 In his recent article, Facing up to violence in Iran, The Guardian's Alan Johnson writes:
The touch of unremediable violence, and the invitation to feel broken and conquered, was felt in extremis by the Iranian writers and human rights activists Ladan and Roya Boroumand. In 1991 their father social democrat who was a leader of the National Movement of the Iranian Resistance was stabbed to death in his Paris apartment presumably by agents of the Islamic Republic of Iran. Years later Ladan reflected: "The moment the crime is committed there is an eclipse of humanity. The moment is transient but, paradoxically, those framing the unspeakable become eternal. There is nothing you can do. It is done. The day after I did not want to wake up and if I had the strength to put an end to my life I would have done it. The shame of living after that day was very strong. One does not believe in life anymore."
"And the genius of Ladan and Roya Boroumand has been to organise. Refusing to be conquered and broken, the sisters looked each other in the eye and created the Abdorrahman Boroumand Foundation for the Promotion of Human Rights and Democracy in Iran (Omid), an online human rights memory project and resource. Omid, said Ladan, was "our way to remedy the irremediable. Evil consists in the eclipse of humanity, but at Omid we acknowledge each victim's humanity and create a space for empathy."
If you have the heart and courage, visit the Omid website.  Browse through the more than eleven thousand names of individuals whose violent deaths are attributed to the Islamic Republic of Iran.  Look at as many names as you can.  Read as much as there is about each individual.  Then think.  Ponder the macabre dimensions of what you are looking through.  Free yourselves from who and what and what system you would like to rule Iran.  Think how you would help for this which you just read and saw to end and to never happen in Iran again.  Now, that's a comment worth reading.  Share it with us if you wish.
Photo shows Ladan and Roya Boroumand.