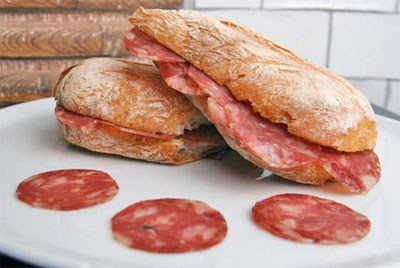 "Two slices of limp bread with a bland filling, doth not a sandwich make".  Aristotle?  Not quite.  I hold my hand up to this statement.  In a world where time is if the essence and gourmet meals are fast becoming 'De Rigueur'…I ask you, is the humble sandwich still able to cut the mustard in the cut-throat world of delis and ready-to-eat Gastrodomes?  My friends, alas I fear for its extinction.  Long gone are the days of a simple sandwich with two slices of normal white bread, a humble yet fresh filling, simply sliced in half and eaten quietly in the tranquil confines of our own homes. 
These days a sandwich isn't a sandwich anymore!  It's a toasted goat's cheese and roasted vegetable Panini, it's Peking duck wrap with Hoi Sin sauce and spring onions or a stale baguette with limp lettuce and a grey tuna mayonnaise mixture.  What's worse is that the manufacturers (or deli / gourmet market's) innovative attempts to create a filling to tantalise your taste buds, are now approaching dangerously high levels of calorie and fat contents.  England's 'Prêt-a-Manger' (or 'Prêt' as it has no become known) has earned its place as market leader for gourmet sandwich chains here since the late 80's.  I remember working in my local branch of Prêt, in the summer of 1995.  Gruelling 6am starts were required in order to freshly prepare the hundreds of sandwiches that were to be sold that day.  Dainty little instruction cards with a step-by-step guide of how to build each sandwich to achieve the consistent high standards.  Pictures illustrated each step. How to lay the tomatoes, which lettuce to use and which mayonnaise to slather all over both slices of whichever fancy-schmancy bread that was 'En Vogue' that year.  It was a fun few months though, no doubt about that, but I didn't really draw too much experience from Prêt back then.
Now I have become an adult, I look back and realise that my experience educated me more than I had thought.  Looking back at my early career, I worked in McDonalds followed by Prêt-a-Manger.  Two very different entities perhaps?  Or so you would think.
A few years ago in a vain attempt to stay slim on whichever bound-for-failure diet I was on, I logged on to Prêt's websites to view calories of what I believed to be the lowest fat of all the sandwiches, tuna, mayo & cucumber on granary bread.  A wholesome choice of bread, fish, salad and a little mayo.  Wrong!  With a whopping 442 calories and 22.7 grams of fat, it seems that our innocent looking tuna sandwich is very much a wolf in sheep's clothing, concealing a very sinister truth.  Now over to our friends at McDonald's, how does the gut-busting Big Mac compare? 490 calories and 24 grams of fat.  Not quite the result you had expected?  Me neither and in fact my findings prompted me to write a letter to Prêt asking them to make better choices available to people and to have nutrition labels on all the fridges to show people what they are buying into.  My letter was met with the usual defensive "We care" (blah, blah) response which lacked concern and instead offered the traditional bribe of £10 worth of Prêt vouchers.  In Prêt's defence, I would like to point out that their tuna sandwich contains less saturated fat that the McDonalds Big Mac, but how about Pret's "All Day Breakfast" sandwich with 595 calories and 27.5 grams of fat?  That's more calories, fat and even saturated fat than a McDonalds Big Mac!  So there it is folks… The humble truth sandwiched in between (pardon the pun) two slices of innocent looking granary bread!!
I don't mean to harp on about Prêt or McDonalds or anyone else for that matter… All I'm saying is that appearances and packaging can be incredibly deceptive and therefore once again proving the old adage "If you want something done properly, you should do it yourself!"  And here comes the fun part!  Sandwiches can be delicious, nutritious and as off-the-wall as you want them to be.  You don't even need to pay £4 for a gourmet sandwich!  You can make fantastic, fabulous and creative sandwiches using just a few simple ingredients in the very comfort of your own home!
I don't like to boast, but I have always been told I make great sandwiches.  Ok, so I'm boasting a little.  But lets be honest… it's not actually rocket-science!  There is no 'Art' to making a sandwich.  Sandwiches, much alike cookery in general, takes a little creativity, a lot of willingness and a degree of patience.  That's the real difference between someone who can cook and someone who can't and I'd like to think that it's perfectly acceptable to be either of these people.  So, back to sandwiches… I remember how the passion first started.  It was a cold wet rainy winter's eve in London and my boyfriend at the time, was leaving to play football with one of my best friends (a guy) together with another friend and before leaving their hunger bubbled over and yours truly had to come up with something quick to satisfy.  Luckily the fridge was well stocked and so I constructed my first 'proper' sandwich which was a outstanding success with the boys.  A real meal in itself… char-grilled chicken breast, lean bacon, avocado and tomatoes with a touch of light mayonnaise.  For a few weeks after that, the boys would meet at my house prior to football practise, in a totally unobvious (yeah right!) attempt to secure a similar warming treat before the game.  I believe seared steak, rocket and onion chutney baguettes were another hit.
But I believe the talent in making sandwiches lies in treating it as a meal and not just a snack.  My first rule is DO NOT use any kind of butter or margarine spread on your bread.  This is a total waste of time, unless you are intending on eating just bread and butter!  Most fillings are greasy anyway, such as cheese and deli meats, so omit unnecessary fats.  If you have crusty breads like a nice Ciabatta, Baguette or simple Bloomer, why not drizzle it with a smattering of olive oil, then take some well salted slices of juicy red tomatoes and lay they onto the bread.  This is actually a fantastic way of flavouring the bread.  The salt draws juices out of the tomato and thus on to the bread and the olive oil will help create a tasty emulsion ready to be topped with your desired filling.  My next step would usually be some meat or cheese… my preference would be several generous slices of fantastic Italian Mortadella (accept no substitutes) thrown in a devil-may-care fashion onto the bread.  Don't lay your filling flat!  You are layering here, not flat packing a suitcase!  Height and bulk is everything so ruffle your meats and fillings.  It allows juices and content to flow through the sandwich, making every bite deliciously different to the next.  Now after the Mortadella, I would repeat the salted tomato layer and drizzle the other piece of bread with olive oil again and perhaps a little mayo, if desired.  Place the top slice down and don't be afraid to squish it together… Cohesion is everything!  Throw in some pickles if you want, but DO NOT add lettuce.  Lettuce has no business in most sandwiches in my opinion.  Especially not iceberg lettuce, which adds a bland watery crunch that doesn't add anything exciting into the mix and only becomes limp after a while.  If you want to add leaves, be creative!  Add spinach, rocket, watercress, herbs, Swiss chard… Anything other than plain old boring lettuce!
Instead of using spreads like butter or mayonnaise, what about crème fraiche?  You can use a low fat version as a substitute to mayonnaise and even add herbs or seasoning to make it more exciting!  One of my favourite sandwiches is a simple low fat tortilla wrap slathered with low fat Greek yoghurt (I use "Total 0%" which has NO fat but still tastes great) which I grate a little garlic into (half a clove only) and add a pinch of dried mint and some freshly chopped mint.  Then lay slices of Tandoori chicken in the middle (whether shop bought or just made by marinating chicken in curry paste and yoghurt and grilling) add some thinly sliced red onions, then wrap it up and chomp away!  It's so good and so incredibly low in fat!
I think one of my favourite sandwiches has to be crusty white bread like bloomer or sourdough, with a thick spreading or Horseradish cream, sliced tomatoes, a few rocket leaves and some wonderfully juicy slices of rare roast beef piled high with another layer of Horseradish on top.  It's so good that anytime I make it for anyone, it becomes a favourite!  I love making club sandwiches and making them at home can reduce fat content and calories as well as salt content too.  I used toasted white bread, lean back bacon, thinly sliced avocados, salted tomatoes and home-cooked roast chicken with a little mayo, piled high into a single or double-decker sandwich.  Fabulous!  Although my cousin Pasha will say that his favourite of my sandwiches has to be my spicy salami sandwich, using salami 'Ventricina' which is typical of Abruzzo in Italy laden with many (many) spicy Peperoncino peppers, which are small, but incredibly lethal chillies.  On toasted Ciabatta bread with mayonnaise, many slices of 'Ventricina' salami and lots of salted tomatoes, forms Pasha's personal favourite. 
But if you ask me to epitomise "Heaven in every bite" when speaking of a sandwich, only one memory comes to mind.  A visit to the Chorizo stand at 'Brindisa' in Borough Market, where I tasted the only sandwich that ever made me think "This is it… I have found the Holy Grail of all sandwiches" and for only £4.50 you can experience it too.  A double flame grilled spicy Spanish Chorizo sausage, sandwiched in between olive oil drenched crusty bread topped with lustrously red, juicy Piquillo peppers and a handful of rocket.  The first mouthful is nothing short of orgasmic and every subsequent mouthful is a symphony of flavour explosions in your mouth.  It's salty, spicy, meaty, juicy, sweet, peppery and absolutely the kind of simple meal that makes life worth living.  It's essentially just four ingredients, Chorizo, bread, rocket and pepper.  A drizzle of olive oil is up to you really… The sausage just oozes juice and fat in abundance, so you don't even really need it.  It's just the most amazing sandwich-related experience ever!  So amazing… that it's almost religious.  There is nothing more to be said.
Sandwiches can be accredited to John Montagu, an 18th century English Aristocrat, also known as the 4th Earl of Sandwich.  Although he was not responsible for this creation, he they were named after him and without his penchant for these filled bread dishes, we would never have known this food in quite the same way we do today.   Perhaps they wouldn't existent in the thousands of different forms that they so clearly do these days!  So in honour of his memory, I ask you to not settle for the bland, limp creations that sit in triangular shaped clear plastic packaging.  If you cannot find what you crave in store, take three or four great ingredients and make your own sandwich.  Make something unique, something delicious that contains all the things that you like (don't listen to others!) and layer it with the love and attention that every meal deserves.  I always think the best meals are often the ones that are too good to share with anyone else – and who am I to disagree with that kind of wisdom!