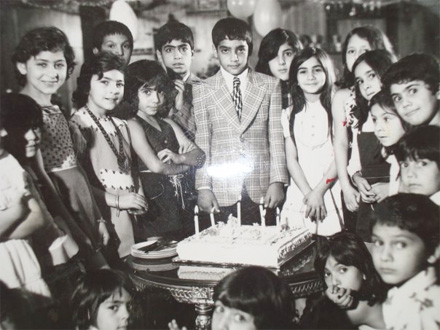 We were living in Shiraz for a few years my Dad was working for the Petro-chemical company there. Despite the beauty of Shiraz, its melancholic evenings used to make me sad.
Shiraz had its own light. Every city does but Shiraz evenings were very distinct. Or perhaps it was the new school, and my father's absence, and being left in the hands of our domineering stepmother. I don't know. Whatever it was I was waiting for something exciting to happen and one day it did.
The phone rang. It was Nemat, the driver assigned to Dad. He was a young man in his mid twenties so full of dreams. One of those dreams was to become an actor. There was a film crew in town and they were looking for extras. Nemat had a small part as a Paseban "police on the beat". They were looking for a few kids to play as schoolchildren. The word for extras in Persian is Siahi Lashkar or "black crowd". It was the first time I had heard the phrase so I thought they were going to paint our faces black. I had visions of playing a native in a Tarzan film. Cool!
We went and met the director. The kid who was chosen to play the main boy part had cried and didn't want the part so the director chose me. It wasn't Hollywood and the casting was not for Macaulay Culkin. The decision making process took a few seconds and the crew restarted to shoot the film.
So here was the plot, as the recipe has been used so many times I'm sure you've seen or heard it before!
I was the rich kid; the girl standing next to me was the poor girl living without her father but with a loving mother. Unknown to us she was my cousin because her father was my uncle. Her mother had been a dancer and when the respectable husband had made the discovery, thanks to the appearance of the evil cabaret owner blackmailing her, the faithful wife whilst she was pregnant was kicked out in a storm and made homeless.We were school sweethearts, and in reality too I had a big crush on the girl who played the part. See the picture, which is from the birthday scene. Judge for yourself if you were an eight year old boy wouldn't you think she looks cute?I had some competition though, there was a poor boy that played the part of young Beyk-Iman-verdi and also liked the girl.I have a fantastic birthday party and invite her and as I get driven off in a nice Cadillac, she waves goodbye to a world she could not be a part of.
I lose my father and my uncle (the girl's father) becomes my guardian. The young Jamila and Beyk hook up, and become con artists. She lures rich men, who have something to lose into hotels acting the part of the sexy pickup, and Beyk walks in acting very across and Gheyrati, and they get all the money they can from the guy.One day, by chance she bumps to my grown up version, and we start meeting up. I'm now a successful lawyer. Beyk who loves Jamila and has always taken care of her doesn't want to stand in the way of her happiness and the life she could have as a lawyer's wife.But they pull one last con, and it turns up to be on my uncle who has been on the trail of the new girl, she brings the lawyer to witness for himself, and the relationship goes sour. Through various circumstances, which I can't remember, she gets blackmailed by the same evil Cabaret owner and starts as a dancer, but when he tries to rape her after she has done her great dance, in self-defence she kills him.
So she is on trial for murder, my grown up version is her lawyer and when Jamila starts losing the case, Beyk says he killed the man. Jamila's mother turns up and the uncle finds out the truth about Jamila being her daughter, the blackmails and with a good lawyer the truth comes out that she killed the man in self-defence and ends up with Beyk who put his life on he line for her and always loved her, or at least that is how I remember it, but for the life of me I don't know what the title of the film is!Anyway, we did the filming and I had to go back to my depressing life in Shiraz and after all that excitement found it difficult to adjust to reality.
Lucky for me, the kid who played Beyk shaved his head for school and we had to film the scenes a few months later with a new Beyk, and it also gave me chance to see the girl I had a crush on.Nemat's dreams were never fulfilled; I heard that a few years later poor Nemat had died. My life moved on, a few years later we moved back to Abadan where I spend my happiest years of childhood and eventually, I came over to UK for a few years of solitude.
Dad turned up for the last scene that I did. Later he said that the director wanted me in a few other films and even offered to pay 8000 tomans. You could buy a Yamaha cross-country bike something I dreamt about with that kind of money so I was excited, but he never accepted. I guess after the excitement of meeting a few famous people had waned off, he had looked around and didn't think that he wants his son mixed up in such a crowd.
The confidence of all that made it easy to do small parts in the Iranian theatre in London, and I had the privilege to be once again an extra again for people like Farzaneh Taeedi, Behrooz Behnejad, Mr Khandan who was a sweet old man and used to be Arhame Sadr's theatre buddy and even Shohreh Agdashloo do their craft, but that is a blog for another day!