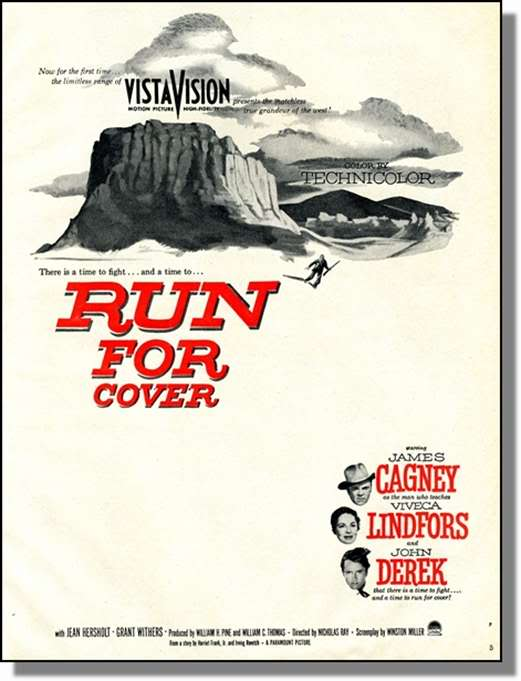 Released from a six-year prison term for a crime he did not commit, Matt Dow (James Cagney) goes West, where he meets Davey Bishop ( John Derek). Riding along, they innocently become involved in a train robbery and are later ambushed by a posse… Davey's leg is smashed and is taken to Helga Swenson's (Viveca Lindfors) farm where she nurses him and falls in love with Matt …
The townsfolk offer Matt the tin star, and he appoints Davey (who is now a cripple), as his deputy…
Davey's bitterness over his bad accident separates the two men in different directions and soon are seen on opposite side in a fight involving a widely known gang and a group of Indians…
Run for Cover (1955) directed by Nicholas Ray and starring James Cagney, Viveca Lindfors, John Derek, and Ernest Borgnine
Scene in Persian:
Same Scene in English:
Plot:
"Odd little Western that gets off to a snappy start when a man (James Cagney) is mistaken as a train robber. After the town's sheriff shoots the kid he's riding with (John Derek) Cagney clears his name and ends up as the new sheriff. He romances a Swedish woman (Viveca Lindfors) and settles in to a peaceful life only to find that the boy has a few secrets of his own."
Movie Trivia:
Nicholas Ray will be remembered for "The Lusty Men," "Johnny Guitar," "Run for Cover," and "The True Story of Jesse James." With a slight echo of "High Noon," the film is Cagney's first Western, shot in stunning Technicolor and VistaVision, since Lloyd Bacon's "Oklahoma Kid" in 1939…
Cagney was beginning to show his age, but his performance is colorful as always… It is interesting to remark that Grant Withers whom Cagney had supported in his film debut ("Sinner's Holiday," 1930) and his third movie ("Other Men's Women", 1931) is in his support as Gentry….