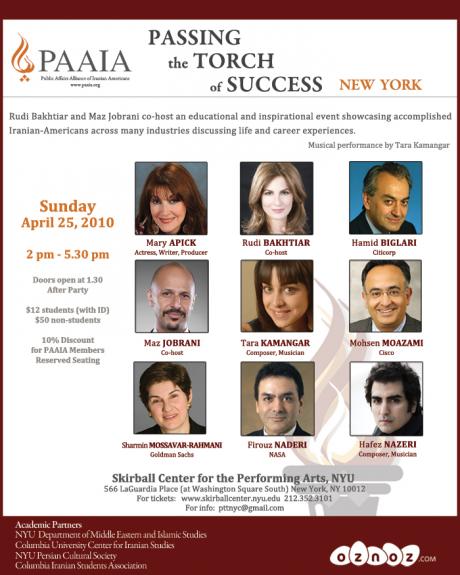 Building on the success of similar events held at UCLA and
Orange County, PAAIA is pleased to bring its signature event "Passing the Torch of Success" to
the Tri-State New York area on Sunday April 25, 2010 at NYU's Skirball Center for the
Performing Arts.
The event, co-hosted by former CNN anchor, Rudi Bakhtiar, and accomplished actor/comedian,
Maz Jobrani, is both educational and inspirational, showcasing a group of Iranian Americans
who are at the top of their professions to pass on life and career experiences. PAAIA is
dedicated to serving the Iranian-American community ~ in particular, we are focused on the
younger generation and leveraging our group of distinguished professionals to help forge the
path for a better future for the next generation.
Speakers represent a broad spectrum of professions including:
o Mary Apick – award-winning actress, writer & producer;
o Dr. Hamid Biglari – Vice Chair Citicorp, Princeton nuclear physicist turned Wall Street executive
making strategic decisions about a global business in over 100 countries with $1.5 trillion dollars
in assets;
o Mohsen Moazami – Member of Cisco executive staff and the strategic leadership team
overseeing Cisco's entire operations across Emerging Markets;
o Sharmin Mossavar-Rahmani – Goldman Sachs Partner and Chief Investment Officer of the
Private Wealth Management Group;
o Dr. Firouz Naderi – Associate Director of NASA's JPL and former Mars Exploration Program
Manager who headed the Program during the spectacular Mars rover landings; and
o Hafez Nazeri – prominent composer and musician, expanding the boundaries of Persian/Sufi
music, most recently performing to a sold-out audience at NY's Carnegie Hall.
The program also will feature a musical performance by Tara Kamangar, world-class concert
pianist, violinist, and composer.
PAAIA is pleased to organize this event in conjunction with our Academic Partners including
NYU's Department of Middle Eastern and Islamic Studies, Columbia University's Center for
Iranian Studies, NYU Persian Cultural Society, and Columbia Iranian Students Association.
Sponsors of the program include the Persian Cultural Foundation (www.persiancultural.org),
Modern Prophecy (www.modernprophecy.com) and Oznoz Entertainment (www.oznoz.com).
The event will begin at 2:00 pm (doors open at 1:30pm) at NYU's Skirball Center for the
Performing Arts (566 LaGuardia Place, New York, NY 10012). Ticket prices are $12 students
(with identification) / $50 non-students. Tickets are available for purchase:
Online: www.skirballcenter.nyu.edu.
By Phone: 212.352.3101 or 866.811.4111
In Person: 566 LaGuardia Place, Tuesday-Saturday 12noon-6pm
For additional information regarding the upcoming "Passing the Torch of Success" event, please
contact Ryan Fateh at pttnyc@gmail.com or 646.339.6855.
ABOUT PAAIA ~ The Public Affairs Alliance of Iranian Americans (PAAIA) is a nonprofit, nonpartisan,
nonsectarian, independent organization that represents the domestic interests of the Iranian American
community before U.S. policymakers, opinion makers and the American public at large. PAAIA seeks to
achieve its mission by focusing on three major areas of activities: Community Building, Image Building,
and Influence Building. Please visit www.paaia.org for more information.
ABOUT The Jack H. Skirball Center for the Performing Arts at NYU: The Skirball Center is the
premier venue for the presentation of cultural and performing arts events for NYU and lower Manhattan.
The programs of the Skirball Center reflect NYU's mission as an international center of scholarship,
defined by excellence and innovation and shaped by an intellectually rich and diverse environment. Since
2003, the 860-seat Center has provided a unique venue for enhancing a sense of community while
continuing the Greenwich Village traditions of creativity and artistic discovery with a broad range of
compelling performance events at affordable ticket prices. Led by Executive Producer Jay Oliva
(President Emeritus, NYU) and Director Michael Harrington, a natural and vital aspect of the Center's
mission is to build young adult audiences for the future of live performance. www.skirballcenter.nyu.edu