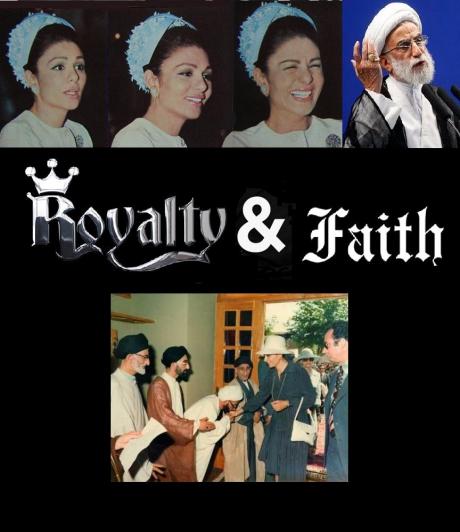 Before becoming the powerful conservative chairman of Iran's Guardian Council ( The IRI's State Within the State), Ayatollah Ahmad Jannati Massah was a modest cleric in Qom. Remember a Good Mullah is an Obedient One … Otherwise the minute You give them a Hand Rooshoon Ziad Meesheh and They will take the Arm ! … LOL
UPON RESTORATION I WILL PERSONALLY MAKE SURE HE KISSES HER MAJESTY's FEET BEFORE BANISHMENT FROM THE KINGDOM TO NEVERLAND !  … Hee Hee

In a Friday prayer sermon on 29 January 2010 in Tehran, Jannati "praised Iranian judicial authorities for executing two political dissidents" the day before and "urged officials to continue executing dissidents until opposition protests come to an end."
Jannati sees leniency with the dissidents as un-Islamic.
"God ordered the prophet Muhammad to brutally slay hypocrites and ill-intentioned people who stuck to their convictions. Koran insistently orders such deaths. May God not forgive anyone showing leniency toward the corrupt on Earth."
George Michael – Faith:
NOTE:If You cannot see Embeded Video CLick Here
Shahbanou Farah pahlavi mosahebe ba voa jan 15 2010:
Bio of Ayatollah Ahmad Jannati Massah:
Ayatollah Ahmad Jannati Massah (Persian: احمد جنتی, born 1926 in Esfahan) is a hardline Iranian politician, fundamentalist Shi'i cleric and a founding member of Haghani school with close ties with Mahmoud Ahmadinejad and Mesbah Yazdi. He is the conservative chairman of the Guardian Council, the body in charge of checking legislation approved by Majlis with the Constitution and sharia, and approving the candidates in various elections. He is also a temporary Friday prayer imam of Tehran. His son Hussein Jannati was a member of People's Mujahedin of Iran and was killed in a street battle by the Islamic Republic security forces in 1981.
He has been a member of the Guardian Council since 1980 and has been its chair since 1988. Ahmad Jannati wields considerable influence because he simultaneously holds seats in the Guardian Council, Expediency Discernment Council, and Assembly of Experts.
Jannati was one of the founders of Haghani School, one of the most influential religious schools in Iran, and has had an influence on President Mahmoud Ahmadinejad.
Jannati is considered close to the Iranian Islamic conservatives, and is heavily criticized by the reformists for his active role in not approving reformist candidates to run in various elections and blocking their legislation.
More Here