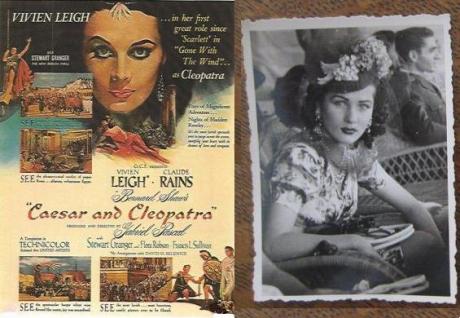 Princess Fawzia of Egypt in a Very "Vivien Leigh" pose cruises the nile with in the background her Fiance Mohamed Reza Pahlavi then Crown Prince of Iran. She is to embark on a journey to Iran to marry the Prince of Persia (Known as Iran since 1926). (circa 1938) 
Caesar and Cleopatra (1945) Trailer starring Vivien Leigh, Claude Rains and Stewart Granger based on a Play by George Bernard Shaw:
Plot: Cleopatra hasn't been on the throne of the pharoahs of Egypt very long when Julius Caesar pays a visit. Caesar finds the prospect of romance more tempting than he expected, since Cleopatra is a rare woman who is bright as well as beautiful. And for Cleopatra, a friendly relationship with the most powerful man in the world may pay dividends in the future.
The Princess of the Nile (1954) starring Debra Paget, Jeffrey Hunter:

Debra Paget RULES as "Princess of the Nile" :
Plot: A.D. 1249. Shalimar, an Egyptian princess, striving to rid her country of its Bedouin conquerors, forms an alliance with Prince Haidi, son of the Caliph of Bagdad. She practices her intrigues both at the court and, disguised as a dancing girl, in the market place.
Related Blog:
CLEOPATRA VISITS PERSIA: Elizabeth Taylor Visits Isfahan's Chehel Setoon (1974)