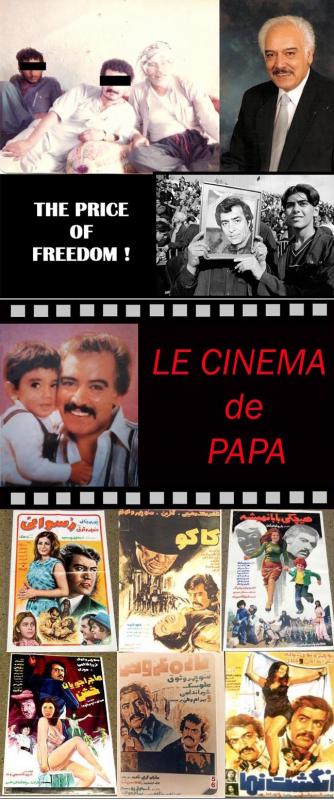 In March 1979 many Iranian Singers and actors were ordered to appear at the Revolutionary courts. Amongst those who felt threatened and were lucky to leave the country was movie Star Manouchehr Vossough. In their bid for Freedom and new but uncertain life the Kurdish Rebel Region was the only pathway to that goal. Others were less Lucky …
See pictory: Revolutionary Summons Singers and actors to appear in the Revolutionary court soon after the 1979 revolution (March 1979): Page One, Page Two. 
Manoocher Vossough started his movie career when he was 22 years old, in the mid 60s. Between then and 1979, he starred in over 90 movies, including Kako, Tak-khal, Ba Ham Vali Tanha, Derakhtha Istade Mimirand, and Charkhe Bazigar. This was at a time when the Iranian film industry was at it's pioneering years. Manoocher Vossough starred with many of the leading female actresses of the era, including 11 films with Foroozan and 9 films with Poori Banaie. He starred in 2 films with Googoosh; one of those was called Asseman Bi Setareh in 1970 (pictured above). Manoocher Vossough, like many of his colleagues, was banned from ever appearing in front of a camera again by the  Islamic government of Iran in 1979, forcing him into very early retirement, at the age of 35. 
Manoocher Vossough Up Close and Personal Portrait on Bebin TV: 
Unhappy by the treatment of actors and actress' by the Islamic Republic after the revolution of 1979, Legendary Actor Fardin speaks bitterly in 1992 at Ali Tabesh's memorial service. Fardin was one of the guest speakers. When Fardin passed away in 2000, a crowd of over 20,000 mourners gathered to pay their respects (See BBC Report).
Abbas Kiarostami at the SF Intl Film Festival Pays Tribute to Legendary Pahlavi Era Film Star Behrouz Vossoughi:
Kurds Resist Ayatollah Khomeini's Revolution (BBC-Black Footage in the begining) :
Kurdistan – Iran – Turkey Troubled Relations:
DIPLOMATIC HISTORY: Shah of Iran Grants Assylum to Kurdish Prince Dawood Beg Jaff (1958)
ROYALTY AND THE PEOPLE: Shah meets Kurdish Representatives (1948)
Iraq Kurdistan comes under Iran, Turkish bombardment
HISTORY OF VIOLENCE: Pulitzer Prize Photo of Rebels Executed by Iran's Revolutionaries (1979)
PJAK Kurdish rebels lay down arms
Iran Urges Iraqi Action On Kurdish Rebels which it brands as "Terrorist Groups" 
Human Rights Watch: "End Repression in Kurdish Areas of Iran"
Recommended Readings:
 By Darius KADIVAR
by Darius KADIVAR
Sultan of my Heart : Monika Jalili and Noorsaaz's Remembrance of Things Past by Darius KADIVAR
by Darius KADIVAR

David & Layla : When Love Transcends Religious Prejudice by Darius KADIVAR
by Darius KADIVAR
Related Blogs:
UNITED ARTISTS : Manoocher Vossough and Googoosh Re-United in London For The First Time in 30 Years
NEO CON WARMONGERS ? Tehrangeles Demo in Support of Iran's Greens