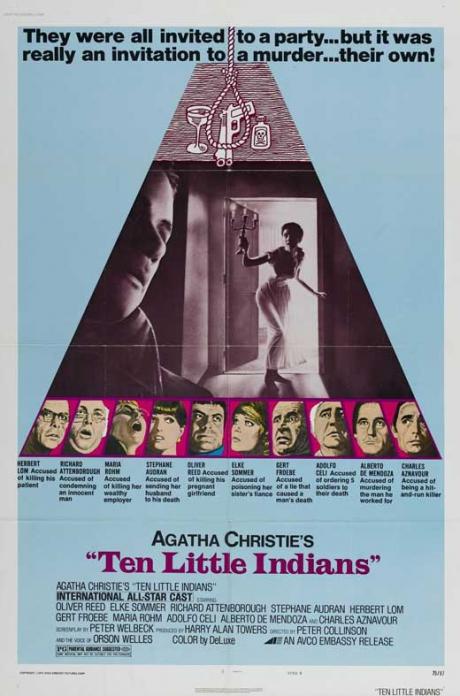 Trailer for the 1974 film version of Agatha Christie's 1939 novel, "Ten Little Indians" aka "And Then There Were None" Shot in Iran at various locations notably Shah Abbas Hotel in Isfahan, Persepolis near Shiraz and the Bam Citadel.
"And Then There Were None" Directed by Peter Collinson and Starring Charles Aznavour, Maria Rohm, Adolfo Celi ("Thunderball"), Stéphane Audran, Alberto de Mendoza, Richard Attenborough, Gert Fröbe ("Goldfinger", "Chitty Chitty Bang Bang"), Herbert Lom, Elke Sommer and Oliver Reed, and  Orson Welles provides the voice of Mr. U. N. Owen. And Iranian Star Nasser Malekmotei plays a cameo role as Persian Inspector.
 
PLOT:
A group is invited, under false pretenses, to an isolated hotel in the Iranian desert. After dinner, a cassette tape accuses them all of crimes that they have gotten away with. One by one they begin to die, in accordance to the Ten Little Indians Nursery rhyme. After a search is made of the hotel, they realize that the murderer is one of them. A few members of the group attempt to trust each other, but the question still remains, who can one trust? and who will leave the hotel alive?
Recommended Reading:

Dark emerald: Agatha Christie in Shiraz by Cyrus KADIVAR
Related Blogs:
AN EASY RIDER IN PERSIA: Tribute To Dennis Hopper (1936-2010)
CLEOPATRA VISITS PERSIA: Elizabeth Taylor Visits Isfahan's Chehel Setoon (1974)
 
A MAN WITH A MISSION: A Tribute to Peter Graves (1926-2010)
A PERSUADER IN IRAN: Tony Curtis Greeted at the Tehran International Film Festival (1974)