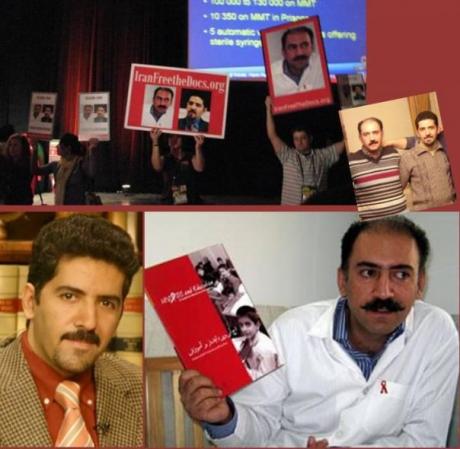 This week marks the second anniversary of Arash and Kamiar Alaei's detention in Iran. Brothers and Iranian educated doctors, the Alaei's have worked tirelessly for the rehabilitation of substance abusers in Iran as well as for the health and welfare of Iran's ostracized HIV/AIDS community. They were part of the team of Iranian physicians and health experts who developed Iran's triangular clinic system, a model that has recieved much international acclaim. According to the 2008 Report on the Global AIDS Epidemic (published by UNAIDS on 29 July 2008) "support for needle exchange projects in countries such as the Islamic Republic of Iran … serve as clear examples of courageous, visionary leadership in the response to HIV." Maziar Bahari's documentary, Mohammad and the Matchmaker, is a window into some of Arash and Kamiar's extraordinary accomplishments during the past 10 years.
On June 26th, 2008 Arash was detained by Iranian authorities with Kamiar suffering the same fate less than a day later. Kamiar was named Asia Society Fellow earlier that year, "one of 23 new Fellows identified as being among the most promising trendsetters and emerging leaders in the Asia-Pacific region." He had just completed his Masters in International Health from Harvard and was studying his doctoral studies at SUNY at Albany's School of Public Health. Arash, former Director of the International Education and Research Cooperation of the Iranian National Research Institute of Tuberculosis and Lung Disease (NRITLD), and a researcher at the Shahid Beheshti University of Medical Sciences was also running the Middle East's first and only all women's drug rehabilitation clinic. 
Their whereabouts remained unknown for two months, before it became apparent that they were being held in solitary confinement at Tehran's notorious Evin prison. The first national news on their charges came from Iranian E'temad newspaper, reporting that the brothers were being "held on suspicion of plotting to overthrow the government." On December 31st, 2008 Kamiar and Arash were finally charged with conspiracy to over throw the Iranian government by way of a "velvet revolution" under article 508 of the Islamic Republic of Iran's Penal Code, in a clandestine secret trial. 
After their case the brothers were finally moved to the general prison population, showing amazing energy and resilience. They continued right where they left off starting Anti-Tobacco, Drug Rehab Programs, HIV/AIDS control and health education for their fellow inmates, and even using their five minute phone call per day to contact regarding public health programs for the prisoners. Kamiar and Arash, sentenced to 3 and 6 years in prison respectively, continue to reside in captivity. Word on the appeal to their court decision has been more than a year pending.
For more information also read .