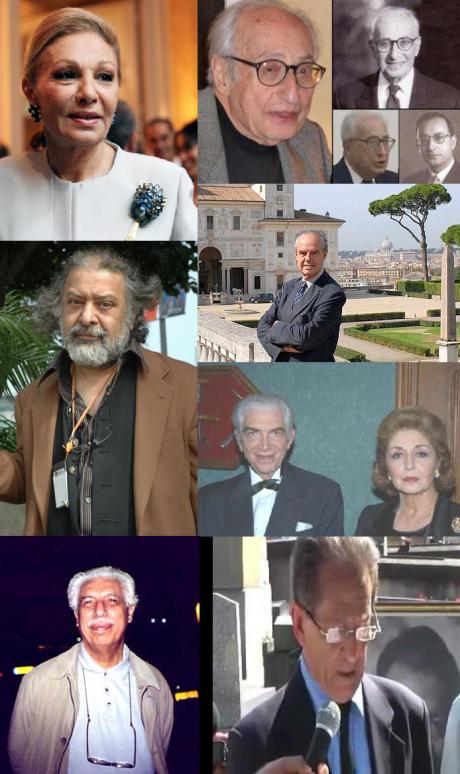 A memorial  was held in Paris, in memory of academic Shodjaedin Shafa , at France's Ministry of Culture, on July 13th in presence of Shahbanou Farah, Prince Golam Reza Pahlavi ( The Shah's brother), Hadi Khorsandi, Cyrus Amouzegar, Daryoush Shafa ( his son), Pierre Lecoq, Manoutcher Razmara and France Minister of Culture Frederic Mitterand.
Born in Qom, Iran in 1918 He studied Persian Literature before being Specialized in Literature and Philosophy at the Universities of Beirute and Paris. Shodjaedin Shafa translated many European authors ranging from Goethe to Andre Gide, Dante and was in charge of the National Pahlavi Library in Tehran, Iran before the Revolution. He studied in France and was confered honerary doctorates from various universities and academies in Rome, Moscow, Madrid and Vienna.
(Official Family Website of Ostaad Shojaeddin Shafa )

Recommended Watching:
Eminent Persians: the Men and Women Who Made Modern Iran, 1941-1979  a Conference by Abbas Milani Library of Congress
Related Blogs:
EMINENT PERSIANS:Lily AmirArjomand Managing Director of Kanoon (Andisheh TV)
EMINENT PERSIANS: Abbas Veteran Photographer for MAGNUM (Interview June 2009)
EMINENT PERSIANS: Arash Derambarsh Future French President?
EMINENT PERSIANS: Henry Dallal Official photographer of Queen Elizabeth II
EMINENT PERSIANS: Music Conductor Alexander (Ali) Rahbari 
EMINENT PERSIANS: Poetess Parvin E'tesami Greets Iran's Crown Prince at Library (1940's)
Eminent Persians: Mahnaz Afkhami International Women's Conference in Mexico City (1975)
EMINENT PERSIANS: Sahab Ekhtiar Qajar Minister and Constitutionalist 
EMINENT PERSIANS: Opera Director Lotfi Mansouri and Shahbanou Farah (1970's) 
pictory: Documentary film on Kanoon Institute (1973) 
NOSTALGIA: Khanoum Atefi, The Happy Prince, The Little Mermaid and Malek Khorshid
CANNES: Kiarostami's "Certified Copy" (Official Trailer & Poster)