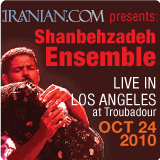 The Shanbehzadeh Ensemble offers a unique aspect of hypnotic dances and traditional music from the Persian Gulf and more precisely from the unknown region of Boushehr.
"a mesmerizing set of what may be called the hidden Afro-Persian tradition…transfixing" – NPR
TICKETS – General Admission (limited seating / first come / first served) $35 advance – $45 at the door
Online at http://www.ticketfly.com/purchase/event/16717
Stores at: starting 9/17/10
MUSIC BOX – KETAB – QMARKET – WH MARKET
INFO: 310.994.7930 info@bflybuzz.com
Doors open 7:30 p.m. – Show starts 8:30 p.m.
The main instruments include the Neyanban (Iranian bagpipe), Neyjoti (double flute), Dammam (dual faced percussion), Zarbetempo (percussion), traditional flute, Senj (local type of cymbals) and Boogh (horns).
Saeid Shanbehzadeh: Neyanbânn, Neydjofti, Traditional Dances
Naghib Shanbehzadeh: Tombak, Zarbetempo
Habib Meftah Boushehri: Dammâm, Zarbetempo, Flute
The Shanbehzadeh Trio, with its driving rhythms, trance-inducing songs, and hip-swinging dances, offers a rare opportunity to experience the fascinating music and dance of the southern Iranian province of Bushehr in the Persian Gulf. A cultural crossroads for centuries, Bushehr has been influenced by Sufi, Persian, Arab, African and Indian traditions. The ensemble is led by Saied Shanbehzadeh, who traces his ancestry to Zanzibar in East Africa, and includes his son Naghib Shanbehzadeh and Habib Mefhta-busheri. Their luring instruments include neyanban (double-reed bagpipe), neydjofti (double flute), and boogh (goat's horn). Shanbehzadeh was a highlight at globalFEST in 2009.