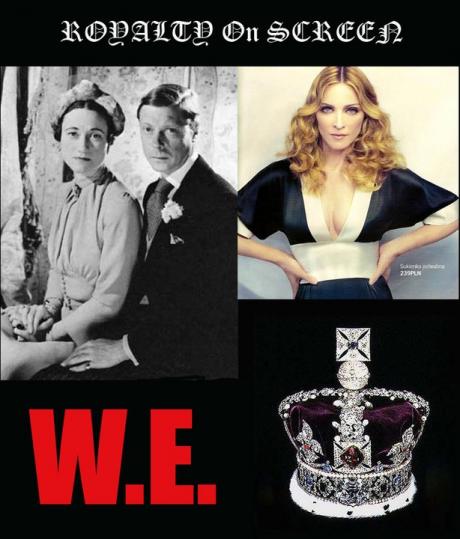 Madonna is currently Directing a Bio Epic W.E. on the Royal Romance between British King Edward VIII and American Divorcee Wallis Simpson which led to the British Monarch's Abdication in favor of his brother King George VI ( currently also the subject of a film starring Colin Firth as King George in The King's Speech).
W.E. directed by Madonna and Starring James D'Arcy in the Title role of King Edward VIII, and Richard Coyle, and Abbie Cornish in the Role of Wallis Simpson, Also starring James Fox as King George V due in US Theaters on June 3rd 2011
Madonna in France this summer on the set of W.E., Villefranche-sur-Mer [France 3]:
Plot:

A two-tiered romantic drama focusing on the affair between King Edward VIII and American divorcée Wallis Simpson and a contemporary romance between a married woman and a Russian security guard.
Abdication speech of King Edward VIII in 1936:

Edward VIII (1894-1972) became King of England after the death of his father, George V, on January 20, 1936.
Nearly 42-years-old and a bachelor, Edward then made known his desire to marry an American woman named Wallis Warfield Simpson, whom he had known since 1931. He sought the approval of his family, the Church of England, and the political establishment to marry her, but met with strong opposition. She had been married twice and her second divorce was still pending.
This love affair and possible royal marriage resulted in sensational newspaper headlines around the world and created a storm of controversy, but did not sway Edward. On December 10, 1936, King Edward VIII submitted his abdication and it was endorsed by Parliament the next day. He thus became the only British monarch ever to resign voluntarily.
The speech is from December 11, when Edward publicly announced his decision via radio to a worldwide audience.
His younger brother, George VI, took the throne and immediately gave Edward the title, Duke of Windsor. The Duke and Simpson were married in France on June 3, 1937 and lived in Paris. During World War II, Edward served as governor of the Bahamas. He died in Paris on May 28, 1972. His wife died there, April 24, 1986.
HRH The Duke of Windsor at the Queen Mary Memorial Unveiling, 1967:
Duke of Windsor – discusses meeting Wallis:

Madonna's Touch of Class in VOGUE Clip:

Related Blog:
ROYALTY ON SCREEN: Colin Firth in "The King's Speech" (2010)