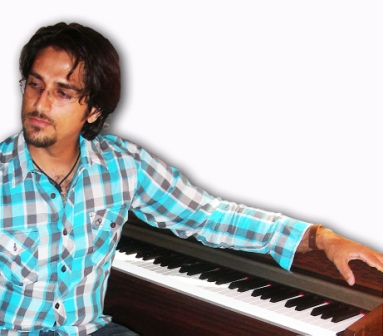 We have less than two weeks to Iranian.com's music event, and the excitement is building up in our community. The event which will feature the Paris-based Saeid Shanbehzadeh Ensemble and several very talented Bay-Area based artists will be held on Saturday, October 23, 2010 at San Francisco's Herbst Theater. I would like to introduce another one of our fabulous artists to you today. His name is Kamran Thunder.
Born in 1976, Kamran Thunder (Tondar) is an accomplished composer, poet, and multi-instrumentalist, who continues to perform with various artists in Southern and Northern Callifornia. He began his formal musical training at Tehran Conservatory of Music, where he graduated specializing in ney. He also plays the piano, daf, and setar. Kamran is a human rights activist who has employed his music and his expertise as a media artist to write music and direct and produce video in support of human rights in Iran. His songs "edame gol" and "ma bishomaranim" are some of the pieces he has written in support of Iranian people's struggle for freedom. Kamran is the founder of Studio Thunder, NeyArt, and director of RooyeshTV. He has also published a collection of his poems called "Divar, Zanjir, Hesar". Kamran Thunder has recently relocated from Southern California to Berkeley.
Kamran will be accompanying Parisa Vaaleh on piano on October 23rd, and the two of them will be joined by the talented percussionist, Pezhham Akhavass. I leave you with a clip of a song he has written for his old school friend, Mohammad Hassani. See more of Kamran Thunder's works on his Facebook fan page.