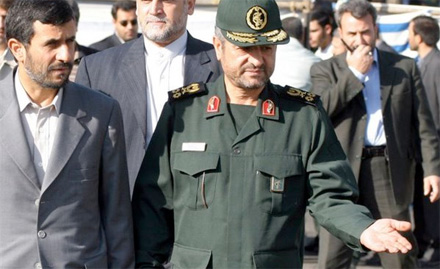 obtained by WikiLeaks, Iranian President Mahmoud Ahmadinejad was slapped in the face by Revolutionary Guard Chief of Staff Mohammed Ali Jafari.
According to the cable, Ahmadinejad surprised the Supreme National Security Council by taking a liberal posture on opposition protests. The president allegedly argued that people felt "suffocated," and that allowing more social and personal freedoms, as well as more freedom of the press, would help to defuse the situation.
Chief of Staff Mohammed Ali Jafari apparently disagreed. The cable, dated February 11, 2010, reads:
According to source, Ahmedinejad's statements infuriated Revolutionary Guard Chief of Staff Mohammed Ali Jafari, who exclaimed "You are wrong! (In fact) it is YOU who created this mess! And now you say give more freedom to the press?!" Source said that Jafarli then slapped Ahmedinejad in the face, causing an uproar and an immediate call for a break in the meeting, which was never resumed.

Source said that SNSC did not meet again for another two weeks, after Ayatollah Janati succesfully acted as a "peacemaker" between Jafarli and Ahmedinejad. Source added that the break in the SNSC meeting, but not the slap that caused it, has made its way on to some Iranian blogs.
The source, who is located in Azerbaijan, is described later in the cable as "a former non-Marxist revolutionary activist." The source goes on to say that political strife is growing within the Islamic Republic, stating that "recent speeches reflect an ongoing effort to split [Supreme Leader Ali] Khameini from the Ahmedinejad group."
Rumors of dissension within the Iranian political elite have been leaking out of Iran in recent months, with criticism of the president allegedly coming from all sides. :
In Tehran these days, the outspoken hard-line politician is under withering attack from all political directions. His detractors in recent weeks have included assorted fundamentalist clergymen who have accused him of interfering in religious affairs, a judiciary that humiliated him by delaying the release of American hiker Sarah Shourd, the editor of a right-wing newspaper handpicked by supreme leader Ayatollah Ali Khamenei, the moderate head of the powerful Assembly of Experts, and a member of parliament who condemned him for praising the pre-Islamic Persian king Cyrus, who is an icon of secular nationalists.
Most recently, , Manouchehr Mottaki, in a move that was seen as directed at Khamenei. The cable notes that some politicians in Iran believe that the president will not be able to finish his term.