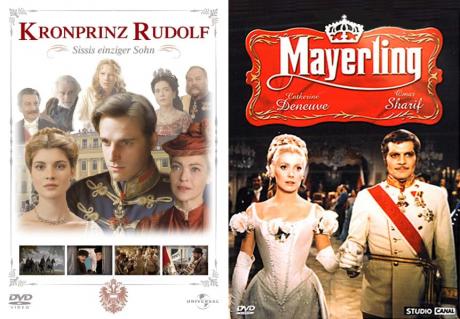 A retelling of the tragic love affair between Austrian Crown Prince Rudolf and Baroness Mary Vetsera that led to their mutual suicide. First Put to screen in 1968 by Terence Young Starring Omar Sharif and Catherine Deneuve in the title roles.
Official Trailer:
The Crown Prince (an Austrian 2007 Remake of the 1968 Original)
The story of Crown Prince Rudolf, whose famed and tragic love affair sparked headlines around the world, enlivens this sweeping miniseries made for Austrian TV. Max von Thun stars as the dashing heir to the Austro-Hungarian throne. Dissatisfied with his arrangedmarriage, Rudolf starts an affair with the young Baroness Mary Vetsera(Vittoria Puccini) — and sparks the anger of Emperor Franz-Joseph (Klaus MariaBrandauer). Omar Sharif co-stars. In the rôle of the Prince's confident.Ironically Sharif played the role of Prince Rudolf décades earlier in the film« Mayerling » Opposite French Star Catherine Deneuve in her firstEnglish speaking rôle.
Cast :Max von Thun, Vittoria Puccini, Klaus Maria Brandauer, Omar Sharif, Christian Clavier , Alexandra Van Der Noot , Sandra Ceccarelli , Joachim Król , RobertStadlober , Birgit Minichmayr , Julia Jentsch
Kronprinz Rudolf / The Crown Prince: the Confrontation:
An excerpt from near the end of "The Crown Prince" (Kronprinz Rudolf),2006. Rudolf gathers the courage to ask his father to abdicate in his favor;what actually happens is quite different.
Master of the Strings- The Crown Prince, Musical Tribute:
An Ordinary Man : Musical Tribute to the Film:
This song is from the English demo album. In this song, Rudolf reflects on his life as crown prince and longs to live as an ordinary man, in an ordinary town, just to escape the Viennese court.
Plot:
Agreat Empire, once famous for its enlightened traditions, is taken over by a ruthless political establishment. Religious fundamentalists and nationalseparatists are tearing at the fabric of its liberal society. Under theinfluence of his conservative advisors, the Emperor fails to initiate thereforms that could save the Empire from annihilation. One man alone can avertthe cataclysm to come. The year is 1888 and the 600 year-old Empire ofAustria-Hungary is at a cross-road of history. Crown-Prince Rudolf, son offabled Empress Sisi, the most beautiful woman of her time, is the man with thevision and the ability to lead his Empire into the 20th century. Yet his enemies,the all powerful Prime Minister first and foremost, scheme to isolate Rudolf from his father and from access to power. Against the backdrop of one of themost dangerous, exciting and colorful periods in history, at the dawn of the modern age …
*******************************************************************
******************************************************************* 
The Original 1968 Terence Young Classic film "Mayerling"
**************************************************************************************************************************************
Mayerling is a 1968 romantic tragedy film starring