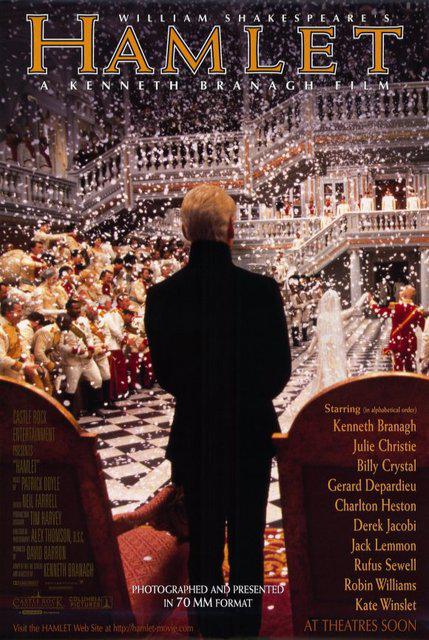 Hamlet, Prince of Denmark, returns home to find his father murdered and his mother remarrying the murderer, his uncle. Meanwhile, war is brewing.
Hamlet (1996) Directed by
Kenneth Branagh, and starring Kenneth Branagh, Kate Winslet, Robin Williams, Billy Crystal, Charlton Heston,Jack Lemmon
 in William Shakespeare's Hamlet
Official Trailer of Hamlet (1996):

Plot :
Hamlet, son of the king of Denmark, is summoned home for his father'sfuneral and his mother's wedding to his uncle. In a supernatural episode, hediscovers that his uncle, whom he hates anyway, murdered his father. In an incredibly convoluted plot–the most complicated and most interesting in all literature–he manages to (impossible to put this in exact order) feign (or perhaps not to feign) madness, murder the "prime minister," love and then unlove an innocent whom he drives to madness, plot and then unplot against the uncle, direct a play within a play, successfully conspire against the lives of two well-meaning friends, and finally take his revenge on the uncle, but only at the cost of almost every life on stage, including his own and his mother's.
*************************************
*************************************
Miscellaneous Scenes
*************************************
*************************************
Hamlet Movie Hightlights :

Hamlet Act1 Scene 2 Soliloquy:

To Be or Not to Be Act 1 Scene 2:
The First Player Speech Scene with Charlton Heston:
« Save me and hover o'er me with your wings »Kenneth Branagh and Julie Christie:

The Fencing scène Featuring Robin Williams:

The Gravediggers Scene Act 5 Scene 1:
Now could I drink hot blood :

« To a Nunnery, Go … » Kenneth Branagh and Kate Winslet. Act Three, Scene One:


About the Film :
Hamlet is a 1996 film version of William Shakespeare's classic play of the same name, adapted and directed by Kenneth Branagh, who alsostars in the title role as Prince Hamlet.It co-stars Derek Jacobias King Claudius, Julie Christie as Queen Gertrude, Kate Winslet as Ophelia, Michael Maloney as Laertes, Richard Briers as Polonius, and Nicholas Farrell as Horatio.
The film is notable as the first unabridged theatrical film version of the play. The complete film runs just over four hours. The longestversion of the play prior to the 1996 film was the 1980 BBC television version starring Derek Jacobi,which runs three-and-a-half hours. A shorter edit of the Branagh film,approximately two-and-a-half hours long, was shown in some markets.
Although the dialogue isunchanged, the play's setting is updated to the 19th century. Blenheim Palace is the setting used for Elsinore Castle and is used for exterior scenes.
Hamlet also has the distinction of being the last major dramatic film to be filmed entirely in 70 mm film as of 2010.
Aspects of the film'sstaging are based on Adrian Noble'srecent Royal Shakespeare Company production of the play, in which Branagh hadplayed the title role.
In a radical departure from previous Hamlet films, Branagh set the internal scenes in avibrantly colourful setting, featuring a throne room dominated by mirroreddoors; film scholar Samuel Crowl calls the setting "film noir withall the lights on." Branagh chose Victorian era costuming and furnishings, using Blenheim Palace, built inthe early 18th century, as Elsinore Castle for the external scenes. Harry Keyishan has suggested that the film is structured as an epic, courting comparisonwith Ben Hur, The Ten Commandments and Doctor Zhivago. As J. Lawrence Guntner points out, comparisons with the latter film are heightened by the presence of Julie Christie (Zhivago's Lara) as Gertrude.
Despite using a full text, Branagh's film is also very visual; it makes frequent use of flashbacks to depict scenes that are either only described but not performed in Shakespeare's text, such as Hamlet's childhood friendship with Yorick, orscenes only implied by the play's text, such as Hamlet's sexual relationshipwith Kate Winslet's Ophelia. The film also uses very long single takes for numerous scenes.
Branagh's own interpretation of the title role, by his own admission, was considerably less "neurotic" than others; gone completely was theOedipal fixation so prominently featured in Olivier's 1948 film. However, somecritics, such as Leonard Maltin, felt that Branagh's performance was at times too "over-the top" (inthe scenes in which Hamlet pretends to be insane, Branagh portrayed the Prince as manic; other members ofthe court are visibly exasperated by his behavior).
Hamlet was screened out of competition at the 1997 Cannes Film Festival.
Hamlet received largely positive reviews. It has a 94% "fresh" rating at Rotten Tomatoes. Roger Ebert awarded the film four stars, comparing it to Laurence Olivier's lauded 1948 version while Janet Maslin praised both the film and Branagh's performance.
The film did have its detractors however, with Lloyd Rose of The Washington Post calling it "the film equivalent of a lushly illustrated coffee-table book"
and Desson Howe writing of Branagh's performance "…the choices he makes are usually over extended.
Hamlet was not a success at the box office, playing on fewer than 100 screens in the U.S. and earning only $5 million in its limited American run.
Related Blogs:
ROYALTY ON SCREEN: Timothy Dalton and Valeria Golino in "The King's Whore" (1990)
ROYALTY ON SCREEN: Yul Brynner and Deborah Kerr in "The King and I"
ROYALTY ON SCREEN: Omar Sharif in The tragedy of Mayerling 

ROYALTY ON SCREEN: Johansson, Portman and Bana in "The Other Boleyn Girl"
ROYALTY ON SCREEN: Bernardo Bertolucci's "The Last Emperor" (1987)
ROYALTY ON SCREEN: Jack Black and Emily Blunt in "Gulliver's Travels"
ROYALTY ON SCREEN: Jonathan Rhys Meyers is King Henry VIII in The "Tudors"   
ROYALTY ON SCREEN: Mylène Farmer's "Libertine 1 & 2" (1986/89)
ROYALTY ON SCREEN: Franklin J. Schaffner's "Nicholas and Alexandra" (1971)
ROYALTY ON SCREEN: Ian McKellen is "Richard III" in a fascist-inspired version of Britain (1995)
ROYALTY ONSCREEN: Peter O'Toole in "The Lion in Winter" (1968)
ROYALTY ON SCREEN: The Chronicles of Narnia: The Voyage of the Dawn Treader (3D)
ROYALTY ONSCREEN: The Madness of King George (1994)
ROYALTY ONSCREEN: Robert Downey Jr. in "RESTORATION" (1995)
ROYALTY ONSCREEN: Madonna's Bio Epic Romance on Edward VIII & Wallis Simpson (Due 2011)
ROYALTY ONSCREEN: Colin Firth in "The King's Speech" (2010)
THE KING's SPEECH: Press Conference with Cast and Crew at BFI 2010 
ROYALTY ON SCREEN: Disney's take on Grimm Bros' Rapunzel Tale "Tangled" (3D) 

ROYALTY ON SCREEN: McBride, Franco, Portman in "Your Highness"   
ROYALTY ON SCREEN: Helen Mirren is Queen Elizabeth II in Stephen Frears' "The Queen" (2006)