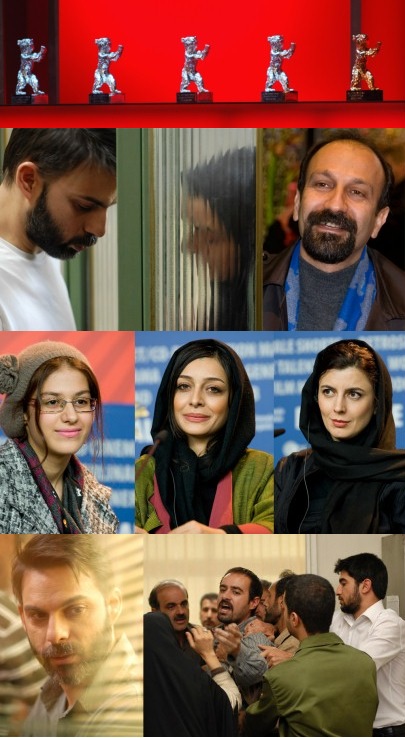 BERLIN –The Berlin Film Festival's red carpet could wellhave been painted green, the Iranian color of freedom as Nader and Simin, A Separation from Iranian director Asghar Farhadi won the 2011 Golden Bear for Best Film. (See Related News Here)
To Watch Double Click Here
Interview in Persian with Asghar Farhadi on his Nader and Simin:
Photos List of Award winners and Jury here
The ensemble cast of Nader and Simin took both the Best Actor and Best Actress Silver Bears, beating out higher-profile competition including Coriolanus stars Ralph Fiennes and Vanessa Redgrave, and Kevin Spacey and Jeremy Irons, who appeared in J.C. Chandor's financial meltdown drama Margin Call.
Farhadi's drama traces the breakup of a Iranian family set against the political tensions in Tehran. While not overtly political, Nader and Simin is starkly critical of conditions in Iran, notably the country's huge class divide. It was widely tipped to win Berlin's top prize, not least because of the current upheaval in the Middle East.
Many will see the decision by Berlin's jury, led bypresident Isabella Rossellini, as sending a political message to Tehran.The Berlin Festival has openly condemned Iran's conviction of director Jafar Panahi who was scheduled to be a member of this year's jury but is insteadsitting in jail serving a six year sentence and a 20 year work ban for making afilm without government approval.
But whatever its political credentials, Nader And Simin was also the stand-out critical hit of this year's Berlin Film Festival. You can read our review of it here.
Given the picture's timeliness and with the extra clout of the Golden Bear, international buyers will likely be scrambling to secure rights for world sales group Memento Films International. Expect Nader And Simin to also turn up in next year's foreign language Oscar category.
Nader And Simin was Berlin's big winner but it wasn't theonly one. The Turin Horse, a stark, minimalistic drama from the greatHungary director Bela Tarr, took the Silver Bear Jury Grand Prix.
Ulrich Kohler won the best director Silver Bear for drama Sleeping Sickness and U.S. director Joshua Marston and writer Andamion Murataj took the best screenplay Silver Bear for The Forgiveness of Blood,a coming-of-age story set in the world of family blood feuds in Albania. TheSilver Bear for extraordinary artistic achievement was shared by thecinematography and production designer of Argentinian drama The Prize from director Paula Markovitch.
The Alfred Bauer Award, named after the founder of the Berlin Film Festival, went to German director Andreas Veiel for his terrorist biopic If Not Us, Who?
Winners of the 61st Berlin International Film Festival:


Golden Bear: Nader And Simin, A Separation, Director Asghar Farhadi

Silver Bear, Jury Grand Prix: The Turin Horse, Director Bela Tarr

Silver Bear, Best Director: Ulrich Kohler for Sleeping Sickness

Silver Bear, Best Actor: the cast of Nader And Simin, A Separation, Director,Asghar Farhadi
Silver Bear, Best Actress: the cast of Nader And Simin, A Separation Dir.Asghar Farhadi

Silver Bear, Best Screenplay: Joshua Marston for the script to TheForgiveness of Blood

Silver Bear, Extraordinary Artistic Achievement: Cinematographer WojciechStaron and production designer Barbara Enriquez for The Prize Dir. PaulaMarkovitch

Alfred Bauer Prize: Andreas Veiel for If Not Us, Who?
Related Blogs:
BERLIN: Isabella Rossellini Reads Jafar Panahi's Prison Letter