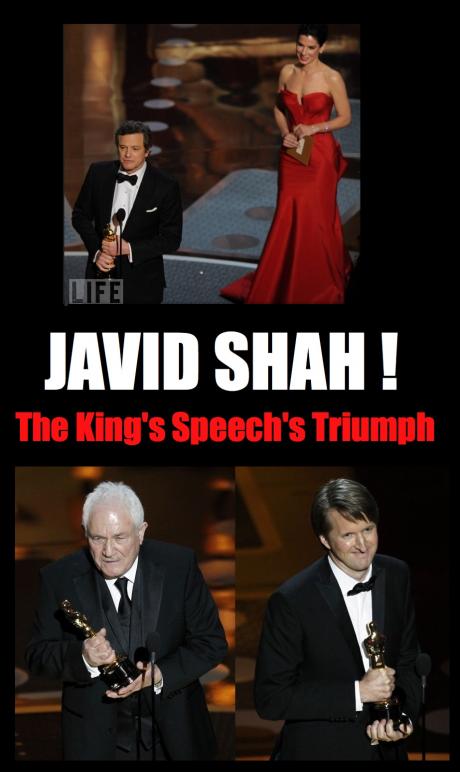 British film The King's Speech has been crowned best picture at the Oscars, with star Colin Firth named best actor. (See Orginal BBC report here)
Recommended Readings:


In Speechless Awe by Darius KADIVAR
The King & ThePrince by Ari Siletz

Oscar winners
The King's Speech – 4 awards
Inception – 4 awards
The Social Network – 3 awards
The Fighter – 2 awards
Alice In Wonderland – 2 awards
Toy Story III –2 awards
*******************************************
*******************************************
HIGHLIGHTS OF 2011 OSCAR's CEREMONY
******************************************
******************************************
AP Report : 'King's Speech' Wins Best-picture, 3 Other Oscars :
Best Actor for Colin Firth :
Colin Firth accepts the Academy Award for Best Actor for his portrayal of the stammering King George VI.
Natalie Portman wins Best Actress Oscar :

Natalie Portman praises the other nominated actresses in her category when accepting her Academy Award.
Brits' Oscar speeches :
Christian Bale breaks down,Tom Hooper is shocked and The King's Speech cleans up at the Academy Awards.
Oscar Luncheon:

Colin Firth, Geoffrey Rush and Helena Bonham Carter from the Oscar Nominees Luncheon 2011. 

*******************************************
*******************************************
INSIDE ACTOR's STUDIO :
Colin Firth's Masterclass hosted by James Limpton
******************************************
******************************************
Host James Lipton welcomes Colin Firth, whose performance as King George VI in "The King's Speech" is widely considered to be the one to beat in this year's Oscar race for best actor. The British star discusses his life and career.
Part I :
Part II:
Part III:
Part IV:

Oscar Night Highlights :
Tom Hooper was named best director for the film, which also won for best original screenplay at theceremony.
Its best picture rival, The Social Network, won for adapted screenplay, film editing and score. Natalie Portman won best actress for Black Swan.
Briton Christian Bale and Melissa Leo won supporting acting awards for boxing drama The Fighter.
Firth, who had been firm favourite to win for his portrayal of King George VI battling a stammer, joked: "I have a feeling my career's just peaked."
The success of The King's Speech denied director David Fincher and his film The Social Network, the story of the creation of Facebook that was considered its closestrival at the ceremony in Los Angeles' Kodak Theatre.
Paying tribute to his film's stars, Hooper said: "Thank you to my wonderful actors, the triangle of man-love which is Colin Firth, Geoffrey Rush and me. I'm only here because of you guys."
Screenwriter David Seidler thanked the Queen for "not putting me in the Tower of London" for the swearing that featured in his Oscar-winning script.
'Truly wow'
The King's Speech had led the nominations, competing in 12 categories, ahead of the 10 nominations for True Grit – from which the Coen brothers' Western won nothing.
There had been eight nominations each for Inception and The Social Network, the adapted screenplay for the latter winning an Oscar for The West Wing creator Aaron Sorkin.
Portman had been the favourite for the best actress prize for her performance as a disturbed ballet dancer in Black Swan.
"This is insane, and I truly, sincerely wish that the prize tonight was to get to workwith my fellow nominees – I'm so in awe of you," said the pregnant actress.
Among the women she beat to the Oscar was The Kids Are All Right actress Annette Bening, who has now been nominated four times without success.
After being named best actress in a supporting role, Leo said: "Really, really, really truly wow. I know there have been a lot of people saying some real, real nice things to me for several months now, but I am just shaking in my boots here."
Youthful feel
Her triumph denied Briton Helena Bonham Carter, nominated for her role as the future Queen Mother in The King's Speech, as well as The Fighter cast-mate Amy Adams.
Leo had to be bleeped by broadcasters when she swore during her acceptance speech and later apologised, saying it had been "very inappropriate".
During his acceptance speech, also for The Fighter, Bale joked: "I'm not going to drop the F-bomb like she did."
The Welsh-born actor said: "What a room full of talented, inspirational people – and what am I doing in the midst of you?"
He also paid tribute to his wife, whom he described as "my mast through the storms of life".
Sci-fi spectacular Inception won four awards, for cinematography, visual effects,sound mixing and sound editing, while there were two for Alice in Wonderland,for art direction and costume design. The best make-up prize went to The Wolfman.
Danish film In a Better World collected the best foreign language film prize.
The best animated feature award went to Toy Story 3, which also picked upthe best original song Oscar for We Belong Together. The Lost Thing was named best animated short film.
The bestdocumentary feature Academy Award went to Inside Job, an examination of the recent global financial crisis.
After collecting his award, director Charles Ferguson said: "Forgive me, I must start by pointing out that three years after our horrific financial crisis caused by financial fraud, not a single financial executive has gone to jail – and that's wrong."
The documentary short film prize went to Strangers No More, and the live action short honour to God of Love.
James Franco and Anne Hathaway hosted the 83rd Academy Awards and joked about the organisers' plans for a more youthful feel to this year's ceremony.
"You look very appealing to a younger demographic," Hathaway told her co-host.
Related Ceremonies:

OSCAR BOUND: The King's Speech sweeps BAFTAs including for supportive cast

GOLDEN GLOBES 2011 HIGHLIGHTS: Colin Firth, Portman and the Social Network honored

Related Blogs:


Colin Firth Presents Bahman Ghobadi's powerful film

BERTIE & AHMAD: Ahmad Shah Qajar greeted by Future King George VI

COLIN REIGNS: The King's Speech Nominated in Seven Golden Globe Categories

THE KING's SPEECH: Press Conference with Cast and Crew at BFI 2010

ROYALTY ON SCREEN: Colin Firth in "The King's Speech" (2010)