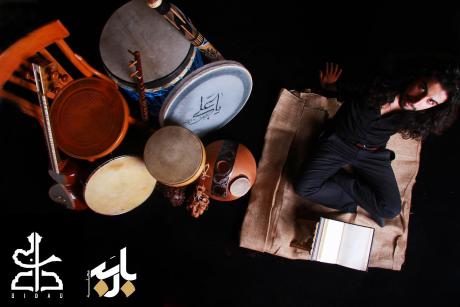 by Jigsawnovich/Julie Ashcraft
NEW YORK–21yr old Bidad achieves spine-chilling intensity with traditional Iranian vocal techniques, yet he risked prosecution by collaborating with rappers Hichkas and Quf as they rose to fame from the forbidden cultural underground in Tehran. The most extreme Islamic clerics tend to persecute music in general, and all Iranian citizens seeking to perform or publish their music are at minimum required to request permission from Ershaad, the Iranian Ministry of Culture and Islamic Guidance. Many requests are denied, and arrests of "illegal" recording artists in Iran accelerated during the last few years when more songs with lyrics addressing Iranian socio-political issues were set to "Western" beats and defiantly distributed via the internet. But rather than dissuading outlaw musicians and their fans, the arrests seem to have contributed further to the esteem with which these recording artists are held.
Interestingly the Iranian president's Chief of Staff, Esfandiar Rahim Mashaei, recently braved the vitriol of conservative clergy by stating that clerics declare music haraam because they do not understand it. This statement, plus Mashaei's reported emphasis on Iranian (as opposed to Arab Islamic) culture lead some to warily speculate that Mashaei is merely trying to win the support of targeted demographics who could propel him to the presidency when Mahmoud Ahmadinejad completes this term. Iranian politicians recognize the influence that figures from the cultural underground have, and several musicians and rappers were reportedly approached by opposition presidential candidates Mir Hussein Moussavi and Mehdi Karroubi before the 2009 presidential election. Yet, in a political environment where even a regime politician such as Mashaei may recognize that advocating for music could garner him wider support, my analysis is that Bidad's traditional vocal style combined with modern genres including Hip Hop could potentially position Bidad as a bridge between generations, and even between urban and rural Iranians. Could Bidad's music lead to Iranian cultural ministers approving a wider range of music in the future? Or will the severity of the crackdown on culture in Iran only increase, eventually forcing Bidad to flee like many musicians before him?
In the promotional photo for "Arghavan," Bidad sits before a barred door with Tehran's Milad Tower in the background. Bidad is not associated with overtly political lyrics, however, the Bidad pseudonym he chose for himself does mean "outcry." And on a teaser track from his forthcoming album, he sings the poem, "Arghavan," by respected 83yr old Master Hushang Ebtehaj. "Arghavan" means "purple" in Persian, and lines include: "I'm in this corner which is out of the world, where there's no sun up in the sky. I no longer know about Spring. All I see is the wall…so close I can't breathe…even air is imprisoned here."* Ebtehaj was imprisoned in Iran for a year after the 1979 Iranian revolution, and later fled to Germany.
Bidad loves the music of internationally acclaimed singer and composer Mohammad Reza Shajarian, and the inspiration provided by 61yr old traditional Persian music master can be heard in Bidad's younger voice as he exhibits his ability to "touch lyrics." Bidad also likes Frank Sinatra, Bob Marley, Michael Jackson, Tupac, Dr. Dre, 50 Cent, Beyoncé and Mariah Carey. Bidad's dynamic ability to adapt and combine musical genres from different cultures intensifies his unique sound.
Traditional Iranian music tends to convey deep emotions while at the same time being very technical, and difficult to play. Bidad first began singing when he was 5 years old. He sings 3 or 4 hours every day now (he doesn't smoke), and he also plays these instruments: udu, cajon, conga cajon, bongo cajon, daff, and setar. His production skills include Q Base, Logic and Pro Tools. In addition to performing, Bidad composed, arranged and produced the "Arghavan" track. Bidad lives in Tehran and gives music lessons there. Bidad's official Facebook fan page is: http://www.facebook.com/pages/-BIDAD-Official-Page… and his Facebook group with chat is here: http://www.facebook.com/home.php?sk=group_16277429… check out Hichkas feat. Bidad on "Pa Bar Ja" and "Dide o Del;" Quf feat. Bidad on "Basse Moftbari," "Saghi" and "Bia Pisham;" Satrap feat. Bidad on "Ghasedak," and many more Bidad collaborations with other artists.
Julie Ashcraft A.K.A. Jigsawnovich is an artist, writer and musician living in New York. Performing under the name Julie Jigsaw, she co-formed the German band Ja Ja Ja, and with the song "Katz Rap" she became the first female rapper on record in Europe. See www.facebook.com/pages/Ja-Ja-Ja/ Julie has now recorded a new track with Iranian producer and composer, Dalavar, and plans to release it soon. Contact her at: jigsawnovich1 (at) gmail (dot)
* Thanks to Adel G. for the translation This article originally appeared at: http://goo.gl/99DSz