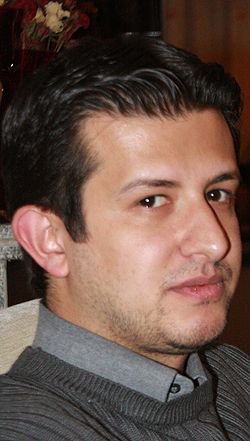 This is Emad Bahavar. Today is his 34th birthday (June 28). He is held in the notorious Evin prison in ward 350; the location where prisoners have been heavily deprived of their basic rights since summer 2010. He was among the 12 political prisoners recently on hunger strike to protest the death of Haleh Sahabi and Hoda Saber.
He has been arrested four times following the results of the disputed 2009 Iranian Presidential election.
Emad Bahavar is the head of the youth branch of the pro-democracy group Freedom Movement of Iran (Nehzat-e Azadi). He earned an Industrial Engineering degree from Yazd University and was also a political science graduate studies student at the University of Babol before he was bannedfrom writing his thesis paper. Emad Bahavar will still be banned from his graduate studies upon his release from prison.
The political activist was sentenced to 10 years in prison on the charges of "Assembly and conspiracy against national security," "Spreading propaganda against the regime," and "Insulting the Supreme Leader".
In January 2011, the Appeals Court upheld the 10-year prison sentence and a 10-year ban from political activities, membership in parties, and access to the cyber world.
HAPPY BIRTHDAY EMAD BAHAVAR! YOU ARE NOT ALONE!!
http://persian2english.com/?p=22157
عماد بهاور چند روز پس از اعتصاب غذا تولدش را در پشت میله های زندان می گذراند
امروز سی و چهارمین تولد عماد بهاور است. او در زندان اوین بند 350 نگهداری می شود. بندی که زندانیان ان از تابستان سال گذشته از بسیاری از حقوقشان محروم شدند. عماد بهاور از جمله دوازده زندانی بند 350 زندان اوین بود که به تازگی در اعتراض به جان باختن هاله سحابی و هدی صابر اعتصاب غذا کرده بودند.
او پس از انتخابات ریاست جمهوری در سال 2008 چهار بار بازداشت شده است.
عماد بهاور مسوؤل شاخه جوانان نهضت آزادی ایران می باشد. او فارغ التحصیل رشته مهندسی صنایع در دانشگاه یزد می باشد. او هنگام ارئه پایان نامه خود در مقطع کارشناسی ارشد در رشته علوم سیاسی در دانشگاه بابل از ارائه پایان نامه خود به دلیل فشار های امنیتی باز ماند.
این فعال سیاسی از سوی قاضی صلواتی، رییس شعبه پانزده دادگاه انقلاب به تحمل دهسال حبس تعزیری محکوم شد.وی به اتهام تبانی برای تجمع بر ضد امنیت ملی، تبلیغ علیه نظام و توهین به رهبری محاکمه شده بود.
عماد بهاور عزیز تولدت مبارک! تو تنها نیستی!!!