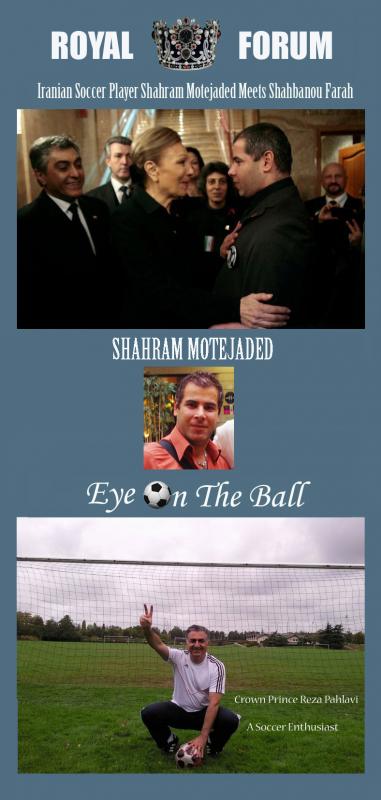 Soccer Player and Photo Journalist Shahram Motejaded has fled Iran and asked for Political assylum in France. He met Shahbanou Farah during her recent visit to Paris. He displayed on his chest a photo of the late Princess Leila and the Shahbanou in happier times.
Photo © Shahram Motejaded, Photocomposition © DK
The Next Generation : A Patriotic Ode
Poem and vocals by Massoud Azar

Farhad Manam Iran:
Man Iranam 

************************************************
************************************************
POLITICAL REFUGEE :
Interview of Shahram Motejaded With French Media

Shortly after his arrival in France
************************************************
************************************************
From Iran to Lense : How a Soccer Champ has become an assylum seeker inFrance. Friday December 11th, 2009) by Philippe Bessin
On his assylum Card it reads Mohammad Ali, but he prefers to be called Shahram. His real name Banna Motejaded. Born in 1982 in Rasht, a province inthe North of Iran. He openly criticizes the regime of the mullahs eversince his arrival in France. We met him here in Lens where this Iranian former Soccer Champ hopes to start a new life at the age 27, once procedures for his regularisation are completed.
When did you come to France for the first time ?
Actually It was a month before the world cup of 1998. I had come With the junior Iranian team composed essentially of players most of whom were 17 years old at the time. We played against the teams of Montpellier, Saint-Etienne and Montferrand. Not my best souvenier I must say due to an accident during the games. I was hurt : a rupture of the ligaments in the knee. I was operated4 times since. After 9 months, I started to play again … this time my knee cracked ! The Following Monday, I was admitted at the Bois-Bernard Clinicfor my 5th operation.
What have you done other than play soccer ?
I received my degree as a trainer in 2006. At the same time I worked as a sports journalist for three different magazines. I love taking photos. In June 2008, I got aninvitation from the FIFA ( International Soccer Federation) to follow the Iranian team at the world cup of beach soccer in Marseille.
How did you end up here in Lens ?
It's nearly 10 years that I am on the black list of the regime because I am not muslim. In july 2008, I left Iran for good thanks to fellow compatriots who helped me cross the frontier into Turkey. I stayed 21 days in Istambul. After six days I arrived in Calais in North of France. There I was helped by the Secours Catholic (Catholic Charity) and a priest from Lillers offered me his hospitality for more than a month after which I made my official request for assylum at Arras.
It's nearly one week that I have once again returned to see the Priest. Prior to that I lived in a Hotel in Lens close to the train station then I was able to find shelter in a flat for refugees and assylum seekers in Amiens. I would love to come back to lens to learn French. My major problem is to find a place to live. For the time being I don't have my card as an assylum seeker. So to date my addresse is the Secours Catholic of Calais.
How do you feel about what is currently taking place in your home country ?
I am not staying in France to earn a living but because I cannot go back without risking my life. It is nearly 30 years that the regime in Iran behaves in this Stalinist way. It's behavior is absurd to say the least. I have been very critical of the regime of the mullahs. We are a rich country which hasgaz, oil and uranium but all these assets are squandered not for the well being of Iranians but spent on foreign entities like the Hamas, the Hezbollah, Syriaor Venezuela.
Are you well treated here in France ?
It's not always easy for I have asked assylum. Most people come to France only to cross the channel into Great Britain. As such I understand President Sarkozy's tough stance in regard to the increasing numbers of refugees like me.
What are you planning to do in the coming days ?
I am supposed to be hospitalized once again on Monday. But I hope to get to see the soccer match in Lens. It's more than a year that I have not been able to touch the grass on a soccer field. I miss it very much.
Link To Original Article in French:
De l'Iran à Lens, le jeune footballeur est devenu demandeur d'asile de Philippe Bessin (LaVoix Du Nord, Vendredi 11, 12 , 2009)
Recommended Readings:
by Darius KADIVAR
RESPONDING TO REZA's CALL: An Iranian Solidarnosc in the Making … By Darius KADIVAR
Related Blogs:
BELLA CIAO: Shahbanou Farah Warmly Greeted by Green Supporters in Paris
FOR KING AND COUNTRY: Tribute to Nasser Hejazi & Pahlavi Era Soccer Champs
IRANIAN SOLIDARNOSC: Shahbanou Farah Speaks to Greek Press on Iranians Plight
Other Related blogs:
IRANIAN SOLIDARNOSC: Crown Prince Reza's First Public Rally in exile at the LA Stadium (1992)
IRANIAN SOLIDARNOSC: Shahbanou Farah Speaks to Greek Press on Iranians Plight
IRANIAN SOLIDARNOSC: Farah Pahlavi Signs Petition (# 40216) for Sakineh Ashtiani
IRANIAN SOLIDARNOSC: Nazanin Afshin Jam and Marietje Schaake Dutch MEP on Human Rights In Iran
IRANIAN SOLIDARNOSC: Nazanin Afshin Jam Goodwill Ambassador for Democracy and Human Rights
IRANIAN SOLIDARNOSC: Crown Prince Reza Pahlavi, Nazanin Afshin Jam and Amir Abbas Fakhravar
IRANIAN SOLIDARNOSC: Yasmine Pahlavi, Nazanin Afshin Jam and Arash Sobhani (July 9th 2009)
IRANIAN SOLIDARNOSC: Defecting Revolutionary Guard's confession and support to Reza Pahlavi