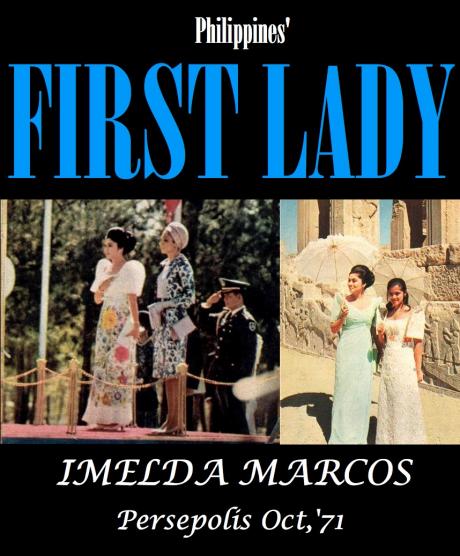 Persepolis Celebrations of October 1971 hosted a great deal of world leaders. This rare clip reports on Philippine's First Lady and daughter's visit to Imperial Iran.
********************************************************

********************************************************
FROM DICTATOR's WIFE TO DEMOCRATICALLY ELECTED
CONGRESSWOMAN:
Eccentric, Controversial, Yet Paradoxically Still Popular 
********************************************************
********************************************************
Imelda Trailer:
Trailer to Ramona S. Diaz film entitled "Imelda".The documentary on controversial former First Lady of Philippines The flamboyant widow of former dictator Ferdinand Marcos.
Assassination Attempt:
On December 7, 1972, a man named Carlito Dimahilig attacked Imelda Marcos with a bolo. Dimahilig was shot to death by security police and Imelda's hands reportedly required 75 stitches.
Al Jazeera Correspondent -Imelda Marcos Interview :
Philippines – Unrepentant Imelda Marcos defends her own take on history :
First Lady of the Philippines (1965–1986):
Imelda R. Marcos (born Imelda Remedios Visitasion Romualdez on July 2, 1929) is a Filipino politician and widow of 10th Philippine President Ferdinand Marcos. Upon the ascension of her husband to political power, she held various positions to the government until 1986. She is the first politician elected as member of the Philippine legislature in three geographical locations (Manila, Leyte, Ilocos Norte). In 2010, she was elected to become a member of the House of Representatives to represent Ilocos Norte's second district. She is sometimes referred to as the Steel Butterfly or the Iron Butterfly. She is often remembered for symbols of the extravagance of her husband's political reign, including her collection of 2700 pairs of shoes.
In December 1965, Ferdinand E. Marcos became the 10th Philippine President of the Philippines. Imelda was featured in countless magazines locally as well as abroad. She was considered as the youngest and most beautiful first lady the Philippines had. In 1969, Ferdinand Marcos became the first President of the Philippine Republic to be re-elected a second and last 4-year term amidst charges of vote buying and election fraud. Ousted President Marcos died in exile on September 28,1989. President Aquino refused to permit the repatriation of his remains for national-security reasons. The Supreme Court upheld the decision of the governmentin Marcos vs. Manglapus. In 1991, Marcos was allowed to return home.
Marcos was the first wifeof a foreign head of state to stand trial in an American court. In 1990, shewas acquitted of racketeering and fraud charges, alongside co-defendant Adnan Khashoggi, a Saudi Arabian former billionaire and arms dealer. The "theatrical" trial involved many celebrities: Marcos and Khashoggi were represented by trial lawyer Gerry Spence; Marcos' $5-million-dollar bail was posted by tobacco heiress, Doris Duke, who befriended her while they both lived in Hawaii; and actor George Hamilton was a star witness for the defense. In 1992, Mrs. Marcos ran and finished fifth in the seven-way presidential race. Her votes were split between her, with 2,338,294votes, and Ambassador Eduardo Cojuangco, Jr., a close advisor and friend of Ferdinand Marcos, with4,116,376 votes. Fidel Ramos, the candidate endorsed by Corazon Aquino, received 5.3 million and won the election.
In 1995, she was elected Congresswoman of Leyte, representing the first district of her home province. She overwhelmingly defeated then Rep. Cirilo Montejo by a landslide victory (70,471 votes against Montejo's 36,833 votes). Initially, a disqualification case was filed against her but the Supreme Court ruled in favor of her. (More on her Here)
Related News:
Imelda Marcos denounces 'phallic' Filipino art installation (The Telegraph)
Former Philippine first lady Imelda Marcos has denounced an art installation that combines religious symbols with phallic objects in a heated debate about freedom of expression.
Related Blog:
WE ARE AWAKE: Manoto TV Documentary on the 1971 Persepolis Celebrations
Related « First Lady »Blogs :
FIRST LADIES: Shahbanou Farah and the late Betty Ford (1918-2011)
Danielle Mitterand (1924-2011): MKO & Kurdish Separatists pay tribute to France's First Lady
STUNNING CARLA: Did French First Lady Make Republican Guard Go Weak At The Knees?
PREMIERE DAME:France's First Lady Carla Bruni Gives Birth to Baby Daughter
LES SEINS DE LA REPUBLIQUE: French First Lady's Breasts Trigger Diplomatic Stir ;0)
SORAYA & GUNTER: The Life and Death of Jet-Set King Gunter Sachs