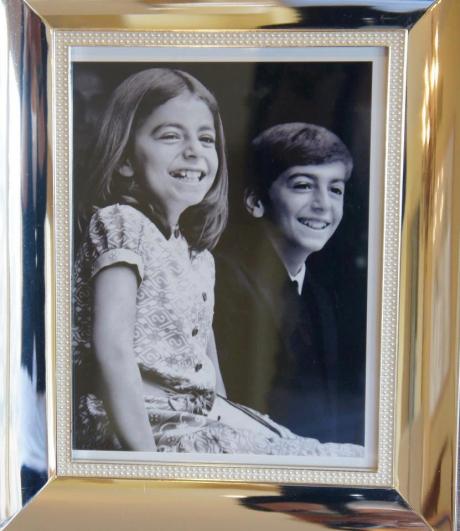 Happy Birthday to Princess Farahnaz born on 12th March 1963, Tehran Iran. She is Shahbanou Farah's First daughter and Crown Prince Reza's sister. (Photo courtesy of Princess Yasmine Pahlavi)
Official Bio:
Princess Farahnaz Pahlavi (born March 12, 1963) is the eldest daughter of the late Shah Mohammad Reza Pahlavi of Iran by his third wife, Empress Farah Diba.
She was born Princess Farahnaz Pahlavi, as per official dynastic usage, with the style Her Imperial Highness. She resides inNew York City.
EDUCATION:
She studied at the Niavaran Special School in Tehran, the Ethel Walker School in Simsbury, Connecticut, United States, and the Cairo American College in Cairo, Egypt. From 1981 to 1982, she attended Bennington College in Bennington, Vermont. She received a Bachelor of Arts in social work from Columbia University in 1986 and a Master's degree in child psychology from the same university in 1990.
According to a 2004 article in The Los Angeles Times, she reportedly attempted to find employment at international aid agencies such as UNICEF, but, according to her mother, was rejected because of her name.
Related Blog:
British Monarchy Removes Gender Rules Regarding Royal Succession
Related « Blue Blood » Blogs:
POINT DE VUE: Shahbanou Farah Presents Her grandaughter Iryana
BLUE BLOOD: Sweden's Princess Victoria gives birth to baby daughter and future heir
ROYALTY: Princess Ashraf in Her Early Thirties (1950's)
ROYALTY: Yasmine Pahlavi A Princess in Love
Princess Iman Pahlavi's High School Graduation Photos
NOOR GRADUATES: Princess Noor Pahlavi's High School Graduation Photos
IRANDOKHT: Tribute to Princess Azadeh Shafigh Pahlavi (1951-2011)
ROYAL MARTYR: Prince Shahriar Shafiq Remembered

ROYAL FORUM: Prince William and Harry – Prisoners of Celebrity