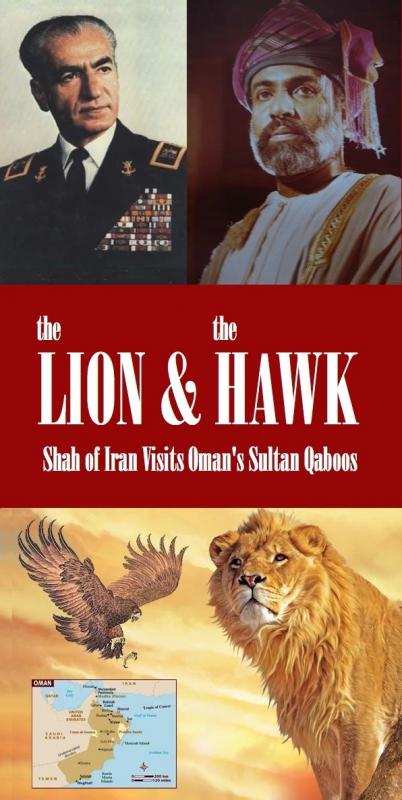 The Shah of Iran arrives to Muscat and is greeted by Sultan Qaboos bin Said al Said of Oman. He then flies from Muscat to Sullala in Dhofar province to personally visit the Iranian troops and air force personnel who are based there. (Source: persianrealm.com)
Shah of Iran visits Oman's Sultan Qaboos and Dhufar (1977)
(Video Courtesy : frauenatz)
*********************************
*********************************
THE KINGDOM OF OMAN
*********************************
*********************************
Palace Coup:
Qaboos bin Said Al Said rose to power after overthrowing his father, Sa'id ibn Taymur,in a palace coup in1970. He is the 14th-generation descendant of the founder of the Al Bu Sa'idi dynasty
Silver Jubilee: Oman TV on the Celebrations marking his rule:
*********************************
*********************************
A UNIQUE FOREIGN POLICY
*********************************
*********************************
Karim Sadjadpour Comments on Oman's Particular Relationship with Iran:
The Sultanate of Oman, involved in the U.S. hikers' release, is being held in Iran. CNN's Mohammed Jamjoom reports.
Oman's most important foreign relations accomplishment in the 1970's concerned Iran, which at the time had taken back three islands in the Persian Gulf. Oman at this time had few resources for solving its internal problems, let alone region alones. Acknowledging the Shah's regional pre- eminence, Qaboos sought and obtained Iranian military assistance in fighting the Dhufar rebellion, as well as an Omani-Iranian border agreement in the Straits of Hormuz.
By offering the Shah the explicit support and direct involvement in quelling Omani instability that could spill over into Iran, Qaboos secured a border agreement, essential aid, and the stature associated with being treated as an equal by the region's then most powerful country.
A staunch ally of the Shah of Iran, he is said to have been deeply troubled by the 1979 revolution. Oman's Sultan Qaboos has since developed a unique foreign policy in the region. Sultan Qaboos seems equally at home in traditional Arab and modern Western society.
Recommended Reading:
Oman: A Unique Foreign Policy (RAND Corporation)
Related Blogs:
Karim Sadjadpour on Sultan Qaboos' 'honest broker' role in ending US hikers Ordeal
VOA's OFOGH: Abbas Milani & Mansour Farhang on IRI "Plot" on Saudi Prince

Related Pictory:
PAN IRANIST: Pezeshkpour objects to Shah's decision on Bahrain Independence (1971)
pictory: Shah of Iran Greets Crown Prince of Iraq (1949)
Diplomatic History:Shah and King Faisal discuss Future of Persian Gulf (1971)
Other Related Blogs on Persian Gulf Monarchies:
Bahrain's King Vows Human Rights Reforms as Independent Report Exonerates Iran
SOPHIE's CHOICE: UK Countess' Bahrain 'gift' criticised on IRI's Press TV
Saudi Crown Prince Nayef, next in line to throne, dies "outside the kingdom"
Saudi Arabia names Prince Nayef as heir to throne
LOOK WHOSE TALKING ? Press TV denounces "Saudi Dictator Who Seeks to Halt Protests"