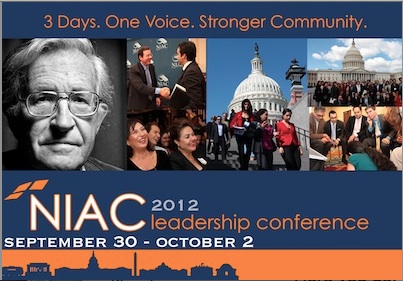 From September 30, 2012 to October 2, 2012 , The National Iranian American Council (NIAC) will be hosting their its second annual Leadership Conference in our nation's capitol, Washington, DC.
During these three days, we you will get to hear from some top opinion leaders and decisions makers, including Thomas Pickering (Former Under Secretary of State for Political Affairs), Noam Chomsky (Political Theorist and Author), Maziar Bahari (Author and former Newsweek journalist), Colonel David Crist (Author, The Twilight War) and Lt. Colonel TG Taylor from the Pentagon's Central Command, just to name a few.
Additionally, the conference will include interactive workshops that will help youour members to learn how to increase their your own individual political influence and will prepare participants you for meeting with their your Representatives on the last day of the conference.
As you can tell, The National Iranian American Council's NIAC's 2012 Leadership Conference is packed with important and rare events guaranteed to leave you more educated about issues important to the Iranian-American community , including U.S./Iran relations, the risk of war, and how the Jewish-American and other Diaspora groups organize and advocate. Additionally, you will learn first-hand how government works, all while having fun and networking with your fellow NIAC members and supporters.
With all the benefits the conference has to offer, here's a list of some of our top reasons to register:If you are still not convinced to attend the conference maybe these reasons will assure your spot on our list:
1. Walking the halls of Congress to meet with Representatives and participate in a Hill Staffer Briefing will leave you feeling powerful. And, we mean this powerful. (see what I mean here)
2. Watching first-hand how politics works in DC is WAY better than watching an episode of the West Wing from your couch.
3. Fun receptions, galas and networking with your fellow NIAC members.
4. You'll get to hear from all sides of the debate. Want proof? Where else will you get to meet both Noam Chomsky and the former Executive Director of AIPAC? (Click here to listen to interview with former Exec. Dir. of AIPAC)
5. DC celeb sightings beat Hollywood celeb sightings. Why? Because Justin Beiber's cool and all, but Obama can sing AND he's got the nuclear codes.
6. Collecting cards doesn't just mean baseball, birthday and credit cards–it's time to build your collection of business cards! Three days of networking with some of the top policymakers, community leaders, and DC movers and shakers?? Yes please!!
7. The NIAC staff and our wonderful interns (see our pic here) want to meet with and hear from YOU! That's right … it's YOU we're pointing at.
8. DC during an election year is just as exciting as being in London for the Olympics … only instead of warm-up suits, track suits and bathing suits, you'll find a whole lotta power suits.
9. Because the DC-area has over 20 Persian restaurants and over 500 Congressional offices you can visit. Sign up to experience Ghoremeh Sabzi and Government, Kabob and K Street, and Fesenjoon and Foreign Policy!
"If you want to make the world a better place take a look at yourself and then make a change." – Michael Jackson. Well … let's listen to the man. Let's come together in DC to show our strength and make some change!
This is our chance to show our strength in numbers on Capitol Hill.
Learn more and register for NIAC's 2012 Leadership Conference: www.niacouncil.org/2012leadershipconference.
THE REGISTRATION DEADLINE IS FRIDAY AUGUST 3RD SO MAKE SURE TO SIGN UP AS SOON AS POSSIBLE.
**Student rates are available** Thanks to the very generous support of the Houtan Scholarship Foundation, we are able to offer a discounted rate to 12 students. Since student tickets are limited, the sooner you sign up, the better!