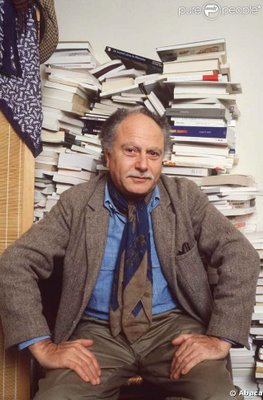 In Tribute to the talented and uncompromising French Journalist, Columnist, writer and critic best remembered for his talk show : Droit de Réponse … (Source: persianrealm.com)
Michel Polac Interviwes Christine Ockrent:
French Journalist Christine Ockrent gives her account of the fatal interview which was said to be greatly responsible for the Shah's Prime Minister Amir Abbas Hoveyda's execution.Ockrent is Married to France's current Foreign Minister Bernard Kouchner ( Former Founder of Doctors Without Frontiers aka Medecins Sans Frontieres).

Related : DOWNLOAD Ockrent's Report and Interview of Hoveyda in Prison Here (WMV File)
************************
************************
DROIT DE REPONSE
************************
************************
Droit de réponse – 11 juin 82 – Mort de Charlie Hebdo :

Thierry Ardisson interview of Michel Polac -2003:
(NOTE: To Watch Double Click Here)
About Michel Polac:
Michel Polac was briefly married to an Iranian ( a certain 'Princess' Hoveyda … not clear if she was related to the former Prime Minister of Iran or was a Qajar Princess). They divorced or parted but he said in a rare interview that the two most happiest years of his life were spent in Iran prior to the revolution.
I recall in the 1980's he was the first to report on the predicament of the Bahai's in the Islamic Republic and later in his life he regularly attacked the Islamic Republic for it's human rights violations. Polac loved contradiction and paid the price for speaking his mind once too often notably on a French Channel sponsoring his own tv show "Droit de Réponse" which put an end to his tv career.
A Veteran of TV and Radio he was also the founder of a famous radio show which has lasted the test of time called "Le Masque et La Plume" on France Inter which reviews films, books and plays each week with a series of top French critics in the world of Arts.
Despite a prolific career, Polac had many enemies due to an uncompromising and at times anarchical behavior but his legacy as a free thinker against all odds will remain …
RIP …
Related Blogs:
ENDURING GUILT: French Journalist who interviewed Hoveyda (27/05/2010)
SACRE CHARLIE: Charlie Hebdo Coverage on Shah (1975)

Other Obituaries:
CLOSER TO GOD: Iconoclastic author of «Creation», Gore Vidal, dies age 86

Fereidoun Farrokhzad's Remembered (Radio Farda)
FAHRENHEIT 451: Author Ray Bradbury (1920-2012) dies, aged 91
In Memoriam: Christopher Hitchens, 1949–2011

ARGUABLY: Jeremy Paxman's Last Interview with Christopher Hitchens (1949-2011)