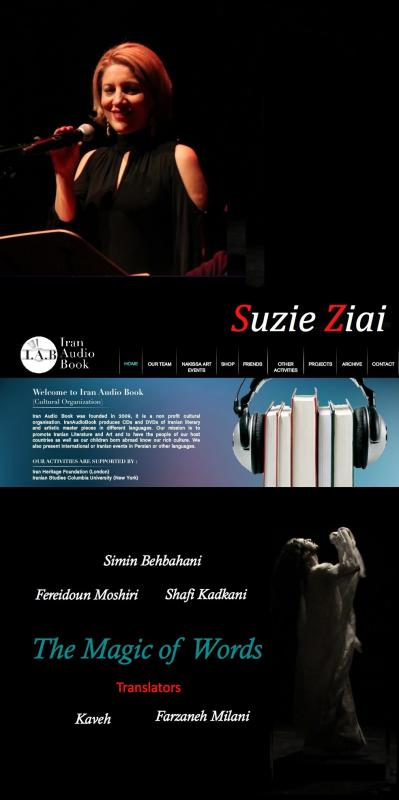 Suzie Ziai President of Nakissa Art has launched the Iran Audio Book Project Founded in 2009 with the aim of making Persian Art and Literature available to an International audience. Amongst various artists the works include a double CD, bilingual booklet in English and Persian (Soon also available in French) of poems by Simin Behbahani , the story of Arash Kamangir by Siavash Kassrai, As well as Shafii kadkani poems.
The project is sponsored by Iran Heritage Foundation in London and supported by Iranian Studies Colombia University. (Source: persianrealm.com)
The Translations of these series are done by Farzaneh Milani,Kave Sardari from the University of Virginia, and Sara Khalili translator of Iranian Contemporary literature, The Arash Kamngir project was supervised by Houra yavari, Center for Iranian Studies University of Colombia,
The voice over artists are Fereidoun Farahandouz , Iraj Adibzadeh and Suzie ziai.
to Learn More about the Iran Audio Book Project and Products you can visit Website Here
VOA Persian's Behnoud Mokri, Speaks to Suzie Ziai and Iraj Adibzadeh:

Photo Top and Bottom: Suzie Ziai and Shahrokh MoshkinGhalam © Nakissa Art
Photo Middle : Iran Audio Book Website © Iranaudiobook.org
***********************
***********************


DEEPLY ROOTED PASSION


***********************



***********************


Suzie Ziai's interest in Persian History and Culture dates back to her early years as an NIRT Journalist (1977/78):

*************************

*************************


THE MAGIC OF WORDS


*************************

*************************
Simin Behbahani's Collection of Poems and English Rendering by Suzie Ziai:
A selection of Shafii Kadkani poems:
Read by Iraj Adibzadeh in Farsi Suzie Ziai in English


Haft She'er:


Shahrokh Moshkin Ghalam poems in Three languages
 Persian, English , French
 Read by Suzie Ziai
 Technical Engineer: Kamran Souresrafil
Mokarrameh Ghanbar :


Directed by: Majid Mahichi
 Camera: Faramarz Sarmadi
 Narrator: Suzie Ziai
Location : Babol-Iran- 1998


Mokarrameh Ghanbari (1928 – October 24, 2005) was a heuristic and self made Iranian painter who won several international talent prizes.
Mokarrameh was born in the village of Darikandeh between Shahi and Babol, in Mazanderan, and despite her great talent, she never received any formal training in painting.
She began painting at the age of 63 when she came across some artist's paintings which her son had left at her home. She continued her painting using bright, original colors inspired by the beautiful natural surroundings of her neighborhood, and within a few years her works were noticed by painters in Iran and overseas.
She held her first exhibition at the Seyhun Gallery in Tehran in 1995. The artist also participated in ten other exhibitions and was awarded the jury prize at the Roshd Film Festival and another award at the Rural Artistic-Literary Festival. In 2001, she was awarded an honorary certificate at the Conference of the Foundation of Iranian Women's Studies in Stockholm, Sweden and was named the year's exemplary woman.
In addition, she was named the "Female Painter of 2001" by the Swedish National Museum. 
She died at the age of 77 and is buried in the courtyard of her house.


Recommended Reading:

A Labour of Love by Darius KADIVAR (payvand)

About Iran Audio Book:


The Team :
Suzie Ziai : Founder and President
Voice Over Artists : Freidoun Farahandooz (Persian), Iraj Adibzadeh (Persian), Suzie Ziai (Persian, English, French)
Mokhadareh Amouzegar (Ziai): Advisor
Ramin Norousi: Cooridnator & Sales
Nazanin Farshad : Web manager and Graphic designer
Darius Kadivar: Press
Background :
Iran Audio Book was founded in 2009, it is a non profit cultural organization. IranAudioBook produces CD's and DVD's of Iranian literary and artistic master pièces in different languages. Our Mission is to promote Iranian Literature and Art and to have the people of our host countries as well as our children born abroad know our rich culture. We also Present international or Iranian events in Persian or other languages. Website Here