Maryam Namazie appearing semi-nude at the Louvre on International Women's day has generated strong opinion both for and against the act. Those opposed view it as vulgarity that works against the cause of women's rights in Muslim societies. Those in favor see it as a brave act that confronts patriarchal attitudes, exposing gender bias even among those with modern liberal views on gender equality. We'll have to wait and see which view is more on the side of history. Regardless, Namazie's display qualifies as a work of art.
Here's why:
1. Her demonstration took place on the grounds of the most visited art museum in the world . An art museum is one of the few places where the nude human body is displayed as a form of  public expression. This shows an awareness–at some level– that Namazie's intent isn't to offend but to publicize a state of mind. Any shock or offense was perhaps necessary as a tool of artistic rhetoric but it wasn't Namazie's primary message.
2. Her altering the Iranian flag was cleverly symbolic. She cut out the "Allah" symbol and wrapped the flag around her waist in such a way that her vagina would be where the "Allah" symbol used to be. By itself this isn't enough to be strong art. But combined with her suggestion of a visual parallel (see above graphic based on Namazie's idea), it works as a reasonably competent visual arts expression.
Here's a criticism:
Namazie clutters her clever visual statement by writing on her body.  The Femen group which influences Namazie's style of protest uses nude body graffiti to good effect, but Namazie's own visual innovation with the flag goes further if it remains undiluted by the overly urban feel of Femen body graffiti. Also the Farsi writing, "Woman = Man" on Namazie's body is a separate metaphor, a mathematical one, and so her display suffers from a case of mixed metaphors.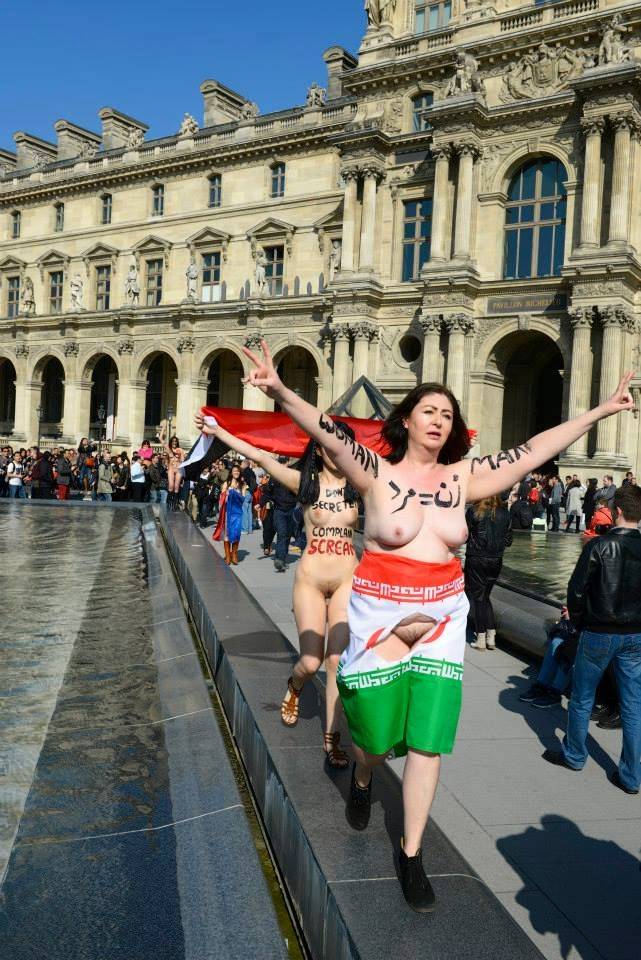 ---

Subscribe to The Iranian newsletter
Sign up for our daily newsletter to get the top news stories delivered to your inbox.
Support The Iranian
The Iranian is an online magazine for those who care deeply about all things Iranian: identity, culture, music, history, politics, literature, and one another. Stories like this are made possible by readers like you.
Please

donate

 or

subscribe

to help fund independent journalism for the Iranian Diaspora.