As the world reverberated with the news of Iran's lifted sanctions, the Fajr International Film Festival recently unveiled its official selection of films for 2016. With Iran predicted to become a major tourist destination in the coming years, it is only logical that interest in the country's culture – and cinema – will become more widespread.
Iranian cinema has already gained a reputation for excellence, with work such as Jafar Panahi's The White Balloon and Asghar Fahadi's A Separation widely regarded as masterpieces in poignant storytelling. This trend looks likely to continue into 2016.
This year, we can look forward to work from Mostafa Kiaei, whose film Barcode will be shown, and Houman Seyyedi, who starred in the wonderful I am Diego Maradona last year. We can also expect a new film from esteemed director Kiomards Pourahmad, titled Where Are My Shoes.
In preparation for a tidal wave of Persian interest, let's take a look at some of the highlights of 2015.
10. Nahid (Ida Panahandeh)
"It wasn't my intention to make a film about the situation of women in Iran. It is a love story about a woman in Iran. It is not a story about all Iranian women." So says director Ida Panahandeh of this atmospheric tale of a woman faced with an enormous dilemma.
The divorced Nahid lives in a coastal town with her troubled teenage son Amir, where she is trying to make a fresh start. However, as her gambling, addict of an ex-husband has stipulated in the divorce settlement, she is not allowed to remarry as long as she has custody of Amir.
Nahid, who has begun a relationship with gentle hotel owner Mas'ood, finds herself in a quandary – should she sacrifice her new love to maintain custody of her son? Temporary marriage, or sigheh, might just be the solution to Nahid's problem, but it doesn't come without problems of its own. Temporary marriage, a measure that solves all kinds of loopholes in Islamic matrimonial law, allows Nahid to continue her relationship with Mas'ood, but does not come without social stigma of its own.
The film's haunting beauty lies in its subtlety – Sareh Bayat's nuanced lead performance captures the character's desperation, and perhaps Panahandeh's background in documentary film lends a sense of the chaotic realism of everyday life.
Nahid must contend with the day-to-day struggle of sickly relatives, as well as her increasingly rebellious son. Her love life is continually put on the backburner. Just as in real life, Panahandeh's women do not make romantic ties the center of their universes, but simply a small part of their daily existence. The film's meditative pace also works to lend a sense of the circuitous way we conduct our lives.
9. Unwished (Borzo Niknejad)
The lives of several people become intertwined in this mesmerizing drama. A road movie of sorts, the film focuses on a young driver and the fares he picks up.
The spirited Nabat and her brother Sadeq are the first to join him, and while it is not clear what their incessant squabbling is about, it is soon apparent that they are on the run from someone. They are shortly joined by a woman of mysterious circumstances (played by the wonderful Mahtab Keramati), who claims she wishes to be reunited with her trucker husband in Kashan.
As Nabat bonds with the woman and her baby, she begins to open up about her past – stuck in a temporary marriage to an invalid more than twice her age, she has no wish to have her life dictated to her.
Unwished takes a bold move in setting the drama almost entirely in the car interior. The claustrophobic, contained space of the vehicle allows the camera to examine a group of people who do their best to keep their cards close to their chests. Almost in contrast to the isolated, sweeping desert landscapes the characters traverse, the car is crowded, enclosed, and inescapable.
As the group thins out to Nabat and our driver, we embark on a fable-like journey, where every chance encounter seems to take on spiritual meaning. Nabat and her companion experience moments of joy, playfulness, and mistrust as they become more at ease with one another's company. The power of the film lies in its clever use of dialogue and naturalistic performances, while beautiful, dream-like imagery of the country's topography serve to celebrate the gift of life itself.
8. Crazy Castle (Abolhassan Davoodi)
Winner of the Best Director and Best Film awards at the 33rd Fajr Film Festival, Crazy Castle takes its name from the chess piece that, once its team has lost all hope of victory, chooses its own demise to end the game with a tie. The same strategy seems to be employed by the characters in Davoodi's riveting drama, which focuses on the lives of several young people, or 'Orphans,' as they refer to themselves, who meet through a social media group.
Pirooz comes to term with his father's death, while drug addict Madana, engaged couple Kaveh and Ghazan, and the mischievous, military service evader Masood have all lost a parent.
When they meet for an evening of fun, a seemingly harmless prank goes horribly wrong, and the group struggle to handle the aftermath of a terrible accident. Mind games and ultimatums ensue, and as the 'orphans' come to understand one another's histories more, they learn that what we see on the surface of people's personas can be misleading.
Crazy Castle examines the way we portray ourselves on social media, and if we can ever fully 'know' those we interact with online. Pirooz ponders how far he would, or should, go to help his new friends, and if they can even be considered friends at all.
In this digital age, the film questions what it means to form connections on the web, and whether we should stop to consider the consequences of doing so. The lead actors' portrayal of the privileges of contemporary youth injects new life into Iranian drama, while the sharp twists of the script keeps the audience perpetually on its toes.
7. Muhammad: The Messenger of God (Majid Majidi)
The first in a proposed trilogy, Muhammad boasts the highest production budget in the history of Iranian cinema. With cinematography by Vittorio Storaro (of The Last Emperor fame) and a soundtrack by Slumdog Millionaire composer A. R. Rahman, the film also has a far more international collaborative team behind it than we are accustomed to seeing in Iranian film. This, coupled with the film's subversive subject matter, created strong anticipation for its scheduled premiere at the Fajr Film Festival.
The story chooses not to focus on the life of Muhammad himself, but the oppressive circumstances of his immediate world. Under the king of Habasha's orders, an attack is launched on Mecca in order to destroy the most sacred Muslim site in the world. Muhammad is born a month after this event.
Visually, the film is stunning; a palette of amber and midnight hues bring a romantic mysticism to the events, while epic overhead shots emphasize the vast, sprawling Mecca of the sixth century. A complete replica of the Ka'aba shrine was built for the set. The overall effect is more reminiscent of Hollywood than anything we have ever seen in Iranian film before.
While the film has met with criticism from mainly Sunni Arab regions for its depiction of Muhammad, Majidi's decision to focus more on his formative years means that we glimpse the world from the point of view of a boy who is not yet the Prophet. As we do not see his face directly, the camera itself often becomes Muhammad's eyes. A new dimension is thus added to this ambitious work, and it will be interesting to see how the next installment fares.
6. What's the Time in Your World? (Safi Yazdanian)
This first feature from documentary filmmaker Safi Yazdanian takes a look at the nature of love. Starring real-life couple Leila Hatami and Ali Mostaffa, the film explores how it is possible to harbor strong feelings for someone without expectation or demand.
Artist Goli (Hatami) returns to her Iranian hometown Rasht after years of living in France. She is somewhat surprised to be greeted by the quirky Farhad, a local frame-maker, who claims to know her well, despite her having no recollection of him. Soon, he seems to appear wherever she goes, gradually bringing Goli's hidden memories of her life to the surface.
The pair fall into a pattern of ambling walks and leisurely conversation, while flashbacks to their younger days reveal that Farhad's past is much more strongly linked to Goli's than she imagines. Soon, it is Goli's life in Paris that seems far off and imaginary as the two discover, or rediscover, a meaningful friendship.
The film's beauty lies in its chemistry between the leads, and the astonishing elegance of its imagery. A memory of orange peel roasting on a grate is almost alchemistic in its ability to evoke a sense of childhood, while Farhad's romantic reimagining of Parisian streets conjures up a private dream world only inhabited by Yazdanian's characters. The languid communication creates a sense of intimacy between Goli and Farhad, and is reminiscent of interactions in Krzysztof Kieslowski's Three Colours trilogy.
The soundtrack is similarly minimal, with simplistic, layered acoustic guitars mirroring Goli's memories as they are uncovered one by one. Winner of the New Currents section at the Busan International Film Festival, What's the Time in Your World? is by far one of the most romantic, original offerings from Iran in recent times.
5. I am Diego Maradona (Bahram Tavakoli)
A somewhat eclectic cast of characters is the driving force of this energetic black comedy about a family feud that spirals out of control. Azar and Azadeh are two sisters from different walks of life who find themselves at odds with one another when an arranged marriage between their children doesn't come to fruition. When a stone is thrown through a window, simple tension becomes an all-out war.
Azar's rather hapless son Fahrad narrates the story, and we cannot help but delight in the chaos that rains down around him as he tells his story within a story.
The film's most outstanding feature is its perpetual playfulness. No matter how violent the family feud becomes or how deeply the characters curse their circumstances, a mischievous joy pervades every scene. Darkly funny, sometimes touching, and occasionally violent, the film's fast pacing and episodic format brings The Royal Tenenbaums to mind.
A master storyteller, Tavakoli made his debut with Barefoot in Heaven (2007), a drama about military service in a medical institution, before moving on to make A Walk in the Fog (2010) and the moving family drama Here Without Me (2010).
4. The Sale (Hossein Shahabi)
The idea of multiple marriages, although a mostly unfamiliar concept to a western audience, is handled with remarkable dignity and discretion in this revealing film. A daring look into the world of polygamous marriage, Shahabi probes the delicate relationship between the indomitable Forough and her younger counterpart, whom Forough's husband has married without her knowledge.
Farida Khademi plays the indomitable Forough, who must sell her possessions in order to pay off her husband's debt. The debt in question also gives her reason to be incensed – her husband cannot afford his second wife's dowry, and has been imprisoned as a result.
As Forough watches her old life being sold piece by piece, she keeps a stiff upper lip and perseveres, confiding only in her close friend, Nasrin. When Forough's rival pressures her to sell her house to pay off the debt, Forough deliberates whether or not to take a stand.
Shahabi's second feature film, The Sale takes steps not to demonize either wife in the story, and instead sets to portray them for what they are; two women with their own worries and desires, and their own expectations of what their marriage should be. In time, the two learn to communicate with one another, and a surprising revelation soon changes their dynamic.
This film, which made an appearance at the 21st Vesoul International Asiatic Film Festival, is essential viewing for anyone who wants to learn more about the intricacies of Iranian matrimonial law.
3. The Man Who Became A Horse (Amir-Hossein Saghafi)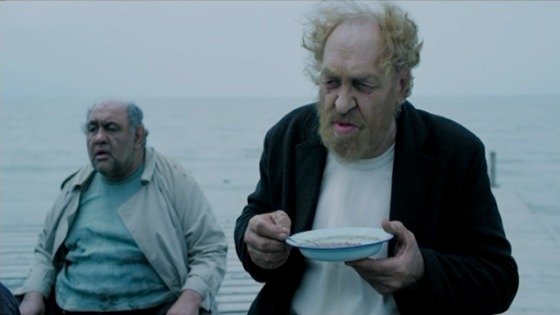 Based on Anton Chekhov's short story, 'Sorrow,' Amir-Hossein Sagafhi's third feature film is a mesmerizing contemplation of loss and the frightening nature of possessive love.
An old man mourning his wife refuses to give up his daughter, despite the fact that she is a married woman. Seldom venturing far from their farmland homestead, the pair's grief manifests itself in different ways – as the patriarch slowly descends into lunacy, and even contemplates murdering his son-in-law, his daughter becomes increasingly isolated and detached. The only comfort she has is caring for the dying horse her mother left behind before her own passing.
The film serves as an allegory for loss, and uses imaginative, poetical devices to carry its theme. Misty seas, torrents of rain, and of course, the frail, fragile figure of the horse itself contribute to the haunting, metaphorical imagery of how death affects us. Languid and evocative, The Man Who Became A Horse explores how grief can drive man to madness.
2. Sky Reaches the Earth (Hossein Rajabian)
Marriage laws in Iran are a popular topic for films, and Rajabian uses it as a premise for this post-war story of a woman caught between two men.
Under pressure during the Kurdish Civil War, a man finds himself in the unusual position of being forced to divorce his wife three times. Due to Islamic law, he is forbidden to marry her a fourth time. He formulates a plan – his trusted friend will marry and divorce her, thus allowing him to remarry her. This complicated strategy backfires when the friend refuses to divorce his new wife, as due to his orphan status, he can acquire an identity and family name through his bride. The couple are subsequently pursued across the post-war country.
Bleak desert landscapes and mountain vistas add a dreamlike quality to this evocative study of a love triangle. Dialogue takes second place in this film; often, it is the scenery itself that tells us the characters' moods. A beautiful, atmospheric piece of work.
1. Taxi Tehran (Jafar Panahi)
King of contemporary realism Jafar Panahi takes to the streets in his latest docu-fiction, despite a twenty year ban on making films. His controversial 2011 work This Is Not a Film focused on Panahi cooped up in his apartment, deliberating over the trouble surrounding his court case. This time, the action takes place in the confines of a taxi, and we watch a day in his life unfold through the windscreen.
The director plays a rather hapless version of himself in this enthralling work; the question of whether he has been forced to change career paths due to his legal battles is never explained. As Panahi flogs DVDs from the backseat, we cannot help but wonder if this is a glimpse into the director's own prediction of how his life as a filmmaker will pan out.
Watching Panahi interact with his fares is a delight; no two passengers seem to share ideological backgrounds. Passengers range from the privileged to the neediest of Iran. From a woman who complains that there aren't enough public executions to human rights lawyers, all walks of contemporary life in Tehran seem to find their way into Panahi's work. Scripted scenes blend seamlessly with events that seem to take place organically – fiction and reality become blurred in this poignant, often comedic film.