Sacramento, once known as a 'staid government town,' has been undergoing a gradual evolution. While retaining its historical character, a raft of regeneration measures has converted the urban profile of California's capital into a walkable and much lauded community within the downtown area. The new look is partly due to Ali Youssefi, Vice President of CFY development, a real estate development company that builds and manages apartment complexes throughout California. And it could just be the start of an urban revolution.
Youssefi explained how he got there and how his approach is a great way to create an integrated and diverse community.
Going back home
"I was born and raised in Sacramento. My father was in this business since the mid 1980s doing property development for what we call affordable housing . . . a type of rental housing where tenants – if they qualify on an income basis – are able to pay rents below market rate for that area".
Since 1986 in the US, the government has had a tax credit scheme available for affordable housing where developers can receive funding to build units that those on lower incomes can rent at around 50% of the market rent or below.
While mixed-income property development is something Youssefi is passionate about now, this isn't what he always did.
After going to college at Dartmouth studying investment banking and cognitive science, Youssefi had no intention of coming back to Sacramento, and moved to San Francisco to pursue investment banking. But shortly after he did so, he started to develop a stronger interest in what his father was doing back home.
"My mom played a pretty convincing role in trying to get us to talk to each other. I think she was just trying to get me to come back to Sacramento and be closer to home. But she seemed to also recognize that I could help [my Dad] with the company and some of the larger projects that CFY was doing at the time."
In 2006, CFY was breaking ground on a 143-unit project in downtown Sacramento, renovating an old flour mill and converting it into an apartment complex. "I thought my Dad would be retiring soon after this project. So, if there was ever going to be an opportunity to learn from him then it would have to be then."
An urban vision
So, Youssefi moved back to Sacramento and shortly after joining CFY, he realized he had an interest in infill housing – a type of urban development that utilizes existing infrastructure. He explains this type of development is inherently more environmentally friendly than suburban development on greenfield land as well as several other benefits: "when you're doing infill development you reduce the use of scarce resources and you promote more sustainable forms of transportation. Infill development is just that – filling in gaps where certain infrastructure already exists."
While the company utilizes both new construction and adaptive reuse within the urban development scene, it is preservation of historic structures in the city that forms part of the company's corporate mission. But Youssefi's vision is about more than just preserving the historic character of the city.
There are many reasons why I am passionate about doing development work in our downtown. I'm a big believer in transit oriented, pedestrian-friendly development. I think it promotes a healthier, more active lifestyle.
Youssefi is referring to the idea of being able to walk to and from the places you most frequent in a city – from where you live to where you work, to where you shop and go out. And this formed a big part of how he has adapted CFY's development of the ground floor of its properties.
"The streetscape should be enlivened with pedestrian-friendly uses. That applies to urban development anywhere. If I'm developing a site in a downtown area, in all likelihood I'm going to want to activate the ground floor with some type of commercial activity. That approach naturally turned us into mixed-use developers. That's what it's called when you have a mixture of commercial and residential units [sic] in the same building".
Developing the urban landscape in this way, Youssefi believes that it's not just creating a benefit and amenity for the people that live there but that its creating the kind of urban lifestyle, neighborhood and environment that people are attracted to and moving for. He points out that if his ground floor was merely a parking garage or residents' lobby, pedestrians would just walk by and the streetscape wouldn't be as energizing as if people were out on the patio having a beer for example.
"That's what we in Sacramento are trying to do. We are trying to build a more active and walkable downtown. In fact, there is no reason why Sacramento can't be one of the most walkable cities in the country."
In this way Youssefi has taken an active part in the community he is trying to develop and his role in the city, or even country, has not stopped at property development.
Getting civil
In 2013, a new ownership group was put together to purchase NBA team the Sacramento Kings. Youssefi took the opportunity to be part of the investment vehicle that bought the team and along with it a brand-new arena.
"It's been a major economic catalyst for development, business attraction and retention in our downtown."
This is by example a way in which Youssefi has been actively engaged in improving the community in downtown Sacramento. An attitude he practices because he preaches it too.
Saïd Amin serves as an Executive Board Member alongside Youssefi on the National Iranian American Council (NIAC), a DC based grassroots organization that advocates on behalf of the Iranian American community throughout the US political system. Amin notes:
"Ali really showed his commitment to the democratic tradition of the United States when he took the lead in organizing Iranian-Americans to meet with their lawmakers, to both prevent Iran from getting a nuclear bomb and a devastating war with Iran."
In this way Youssefi believes it is important to remain civically engaged and to participate and help shape the system. Although NIAC is a national organization trying to give Iranian Americans a voice in US politics, he says:
"One of the reasons Sacramento is such a great place to live is because it is such a diverse community. So, if you are Iranian like we are or from a different type of background, there is an opportunity to get involved and contribute to the city's growth."
Youssefi himself has developed a good relationship with representatives of his city at both a state and federal level, "whether it's an issue related to development or civil rights or Iranian American affairs, I have a voice and am able to communicate with our representatives to raise issues that are important to us."
Diverse, integrated communities
This is where Youssefi's vision gets admirably utopian. As a developer Youssefi and CFY don't just deal in mixed-use property development mixing commercial with residential, they build mixed-income housing – placing affordable housing units within the same building as market rate rentals. He says this is important to create a diverse and integrated neighborhood. On asking 'why?', Youssefi's answer is straight-forward:
"It's the right thing to do."
But the method is far from simple.
"As with anything in real estate it's easy to do cookie cutter stuff. It's easier to fund a project that's one dimensional because it fits within a box. When you start to mix income levels you start mixing the different worlds of financing that are available to real estate development. And that adds a certain level of complication to what we are trying to do."
It's a practice that more and more developers are adopting. But Sacramento is creating its own identity. "We are developing a city that's unique to any other city in the country," says Youssefi.
29-year-old musician James Cavern, a resident in one of Youssefi's developments agrees. Cavern was fortunate enough to be able to gain a place on affordable rent in WAL, a community project for creatives, which has helped rejuvenate the downtown's old warehouse district.
Cavern says this experience has been life-changing in many respects. Because of the huge demand, the process of renting a unit, however, was not easy.
Now that he has an affordable place to live, Cavern says he can invest more into himself and the art that WAL was envisaged to cultivate. Cavern moved to downtown Sacramento from a nearby suburb five years ago, and the project was the reason he says he stayed in Sacramento rather than moving to Seattle or LA to pursue music.
Now having seen a lot of change in the area he says, "I would rather be part of curating a scene than joining an existing one."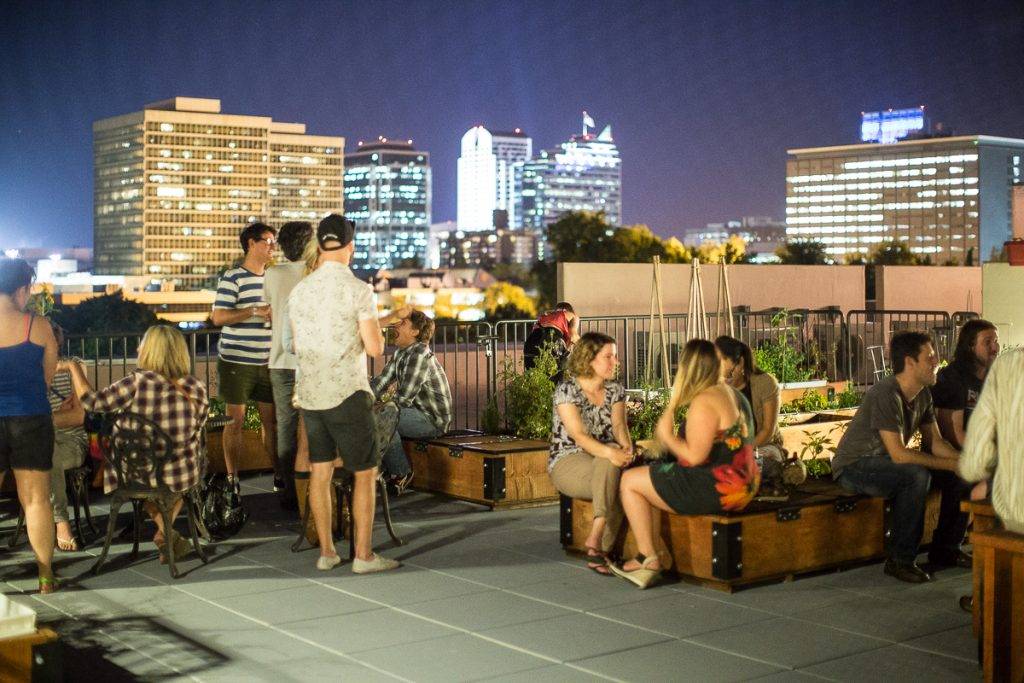 Leading America's urban scene
Sacramento has come a long way but there's still lots to be done.
"We have a housing crisis in Sacramento, and we still don't have all of the policies in place that can help us adequately address it", says Youssefi of a housing crisis that has hit cities across the whole country. And with resources almost always diverted to those on the lowest incomes, it's the middle classes who lose out as market rate rents are still too expensive. But this is something he has been discussing with policy makers, and he believes Sacramento can lead the rest of the country in best practice.
But there's no easy fix. And at the same time affordable housing for those on the lowest incomes is still incredibly lacking.
Luckily there's no intention of giving up.
"I'm proud of being from Sacramento and proud to be part of the city's growth, and I hope to do everything I can to see the city fulfill the potential that it has, which is to become one of the most walkable and diverse cities in America."
Cover image: Ali and his father Cyrus Youssefi (photo credit: Nicholas Wray)