NASA has hired its first class of astronauts in years to help it get to Mars. There are 12 new "astronaut candidates" whose dreams of going to space have just come within reach. NASA officially introduced its 2017 class of astronauts on Wednesday afternoon in a briefing from the Johnson Space Center in Houston.
The selected astronaut candidates will report in August for a two-year preparation program at the Johnson Space Center in Houston, Texas where they will begin two years of training that will make them eligible for spaceflight assignments. NASA selects its top astronauts from a diverse pool of applicants with a wide variety of backgrounds, according to its website. The current class includes seven men and five women with backgrounds in science, engineering, medicine, math and military. Given the few slots available, competition is tough, and of the 18,300 applications received, only a dozen were chosen for the intensive astronaut candidate training program. Since 1959 only 338 astronauts have been selected, and of those, only 44 are active NASA astronauts.
The handful of men and women who made it through the grueling selection process will have a couple of months to make arrangements to move to Houston with their families. They are due to report to Johnson in August to begin two years of training that will make them eligible for spaceflight assignments.
About Jasmin Moghbeli
Moghbeli graduated from Baldwin Senior High School in Baldwin, New York. She earned a Bachelor's degree in Aerospace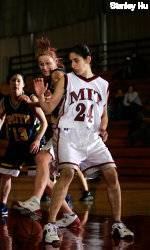 Engineering with Information Technology from the Massachusetts Institute of Technology where she played college basketball for the MIT Engineers. She went on to earn a Master's degree in Aerospace Engineering from the Naval Postgraduate School in Monterey, California and is a graduate of the U.S. Navy Test Pilot School in Patuxent River, Maryland where she accumulated more than 1,600 hours of flight time and 150 combat missions.
Her work experience includes testing H-1 helicopters and serving as the quality assurance and avionics officer for Marine Operational Test and Evaluation Squadron 1 in Yuma, Arizona, when she was selected by NASA.
As though that's not impressive enough, Moghbeli has been awarded four Air Medals, the Navy and Marine Corps Commendation Medal, three Navy and Marine Corps Achievement Medals and various unit commendations. Awarded the US Navy Test Pilot School Class 144 Outstanding Developmental Phase II Award and the Commander Willie McCool Outstanding Student Award as the Class 144 Honor Graduate.
We congratulate Jasmin Moghbeli for being selected by NASA to join the prestigious 2017 Astronaut Candidate Class!