The Alavi Foundation, formerly called the Pahlavi Foundation, was back in the news last week when FBI surveillance team member George Wineriter took the stand in a government bid to seize the Foundation owned 36-story, $1 billion Manhattan building to compensate victims of Iran-linked terrorism; including the bombings of the Beirut Marine barracks in 1983 and the Khobar Towers in Saudi Arabia in 1996. If successful it would be the largest ever terrorism-related forfeiture.
About The Foundation
The Pahlavi Foundation was first set up in the 1970s by Mohammad Reza Pahlavi, the late Shah of Iran, to advance Iran's charitable interests in the US. The organization, with alleged links to Iran, has been under the scrutiny of federal investigators for years. Re-branded as the Alavi Foundation, the organization's mission statement is to "promote the study of Persian culture, language, art, literature, and civilization. We have long supported programs in interfaith studies. We stand for democracy, freedom of expression, religious co-existence and pluralism, and equal rights for all."
Background
The government has had ongoing legal efforts to take over the 36-story mid-town Manhattan office tower at 650 Fifth Avenue, with an estimated worth of just under $1 billion. The Alavi Foundation holds a 60-percent stake in the building with the other 40 percent owned by Assa Corp., which is now known to be controlled by Iran's state-owned Bank Melli. U.S. Attorney Preet Bharara says the co-owners have been funneling rental income back to Iran, and that the U.S. government would pay proceeds from the seizure to victims of Iranian-sponsored terrorism.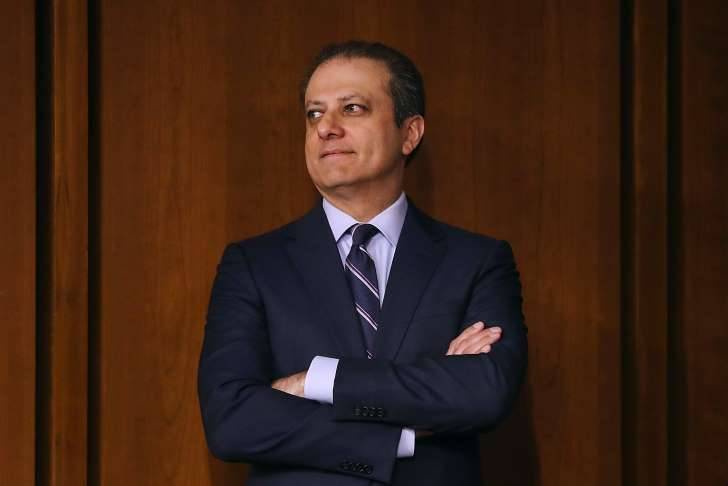 In November 2009, federal prosecutors in the United States seized its assets. The seized assets included bank accounts; Islamic centers consisting of schools and mosques in New York City, Maryland, California and Houston; more than 100 acres in Virginia; and the Piaget Building, a 36-story glass office tower in New York.
Judge Katherine B. Forrest of Federal District Court in Manhattan ordered the property's forfeiture in 2013 and the appellate judges found that there were enough questions about whether the building's majority owner, the Alavi Foundation, knew that its partner (Assa Corp.) was controlled by Iran to merit a trial on that issue. At the time, Bharara (Singh "Preet" Bharara), who served as U.S. Attorney for the Southern District of New York between 2009 – 2017, said in a statement that the decision "paves the way for the largest-ever terrorism-related forfeiture and provides a means of compensating victims of Iranian-sponsored terrorism."
Federal prosecutors struck a deal with lawyers for individual families or groups holding judgments against Iran under which those claimants were to receive a pro rata distribution of proceeds from the building's sale.
In 2016  the 2nd U.S. Circuit Court of Appeals in Manhattan threw out a lower-court ruling that had upheld the government's rare move to seize a landmark Manhattan building on charges that it was a front for Iran. The court, in a separate decision, also reversed a ruling that could have allowed people with relatives killed in terrorist attacks tied to Iran to collect proceeds from the sale of the property.
The 2nd Circuit decision written by Circuit Judge Richard C. Wesley said the buildings do not qualify as being owned by Iran under the Foreign Sovereign Immunities Act but a three-judge appeals panel left it for the lower court to determine at trial if they could be considered an agency or instrumentality of Iran under the Terrorism Risk Insurance Act.
"Given the lack of evidence demonstrating Iran's day-to-day control of Alavi, we conclude, as a matter of law, that defendants cannot be deemed Iran's alter egos," the appeals court said.
The Latest Developments
Last Tuesday's leadoff witness in the government's continued bid to seize the Manhattan skyscraper once again claimed that it is a secret Iranian asset and described how the head of the foundation controlling the building tore up documents and dumped them in a garbage can after getting a subpoena in 2008.
George Wineriter who was a member of the FBI surveillance team told jurors he watched then-president Farshid Jahedi, of the Alavi Foundation, sit in his car going through papers with the dome light on in an upstate Ardsley shopping center parking lot near his home, and then walk to a pair of garbage cans.
"He approached and stood there, looked left and right, and then reached into his pockets and threw in ripped up pieces of white and yellow paper," Wineriter, who retrieved the bits and pieces after Jahedi left, testified in Manhattan federal court.
Jahedi was arraigned in 2009 and sentenced to three months in prison on charges of obstruction of justice.
In opening arguments, prosecutor Martin Bell told a 9-person jury that the suspicious response to the subpoena was part of a pattern of evidence showing Alavi knew its partner was using building revenues to violate sanctions adopted in 1995.
"It looks like every other office building, but it's not," Bell said. "650 Fifth Ave. has a secret. . . . It has for years been used to perform services for, and launder money for, the government of Iran."
But Alavi lawyer John Gleeson said it was a legitimate New York nonprofit with an Iranian-American board that spent millions to support Islamic education, Persian culture and medical services out of centers in Queens, Houston, Maryland, Virginia and California, as well as donating to universities and disaster aid.
"This misguided case is looking to wipe us off the face of the planet, the U.S., and put an end to all the good things we do," said Gleeson, a former federal judge.
Gleeson said Alavi had borrowed construction money from Bank Melli and later converted the loan to an ownership stake, which was transferred to Assa Corp. years before sanctions were imposed. Despite suspicions, he said, Alavi's leaders never knew Assa was government-backed and never took orders from Iranian mullahs.
The lawyer said Jahedi had panicked and tried to destroy papers that weren't incriminating in the face of a furious FBI assault lasting more than a decade that led other Alavi employees to take the Fifth Amendment out of fear they would be targeted if they didn't say what agents wanted to hear.
"The FBI agents were salivating at the prospect of bringing a prosecution," Gleeson said. "The sole purpose of the blitz was to bully people."
The trial is scheduled to resume on Wednesday, and could last a month.