Mesmerized by KamanChello playing, a duo string performance of the Persian Kamcheh and occidental Cello, the highly diverse audience comprised of not only Iranians from all walks of life and places, but also with the eminent presence of others including peace and justice loving mainstream Canadians, found themselves in twilight nostalgic and humanistic trance on earth and beyond.
Tirgan 2017, the Iranian summer solstice festival ten years in the making in Toronto, had once again attracted 150,000 spectators which included many from the U.S. world down under, as well as from Europe and even Iran. The extravaganza has certainly become a pilgrimage point of destination for thousands who congregate to learn and reminisce about their arts, history and culture, to instill it in their children, and to showcase it to broader world audience. Whereas the current U.S. administration has regressively walked against the historical clock of immigrant contributions, it was refreshing to hear the welcoming message by the Prime Minster of Canada and other dignitaries and as the Canada is celebrating her 150 years of confederation.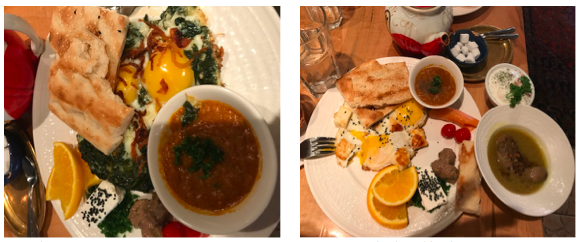 The music and dances, live shows, lectures, and demonstrations spanned across the historical Iran from northwest China and the Caucasus to Asia Minor and North Africa. Tirgan, the Iranian summer solstice, has also been celebrated elsewhere. In fact, not only have the 80 plus million Iranians both at home and in diaspora but also the additional 150 million inhabitants of the ancient Iranian hemisphere, been celebrating stronger than ever the four major solar seasonal solstices and equinoxes of Nowruz, Tirgan, Mehregan and Deygan. At Tirgan festival and ordinary to any Persian gathering, food was center-fold. We walked five miles to find ourselves in Takht e Tavoos, a traditional restaurant so we have Sunday brunch! We had Spinach Nargessi and Paneer Boreshteh along with Persian lamb tongue stew, the latter we had not had for 40 years!
What was most striking when attending the Tirgan festival this past weekend, was the heartwarming presence of many mainstream Canadians who were savoring every moment of the performances. This was in stark contrast to the majority of one million Iranian Americans, who despite their immense contributions toward the betterment of the American life, have increasingly felt betrayed by the current trump administrations and as they remain with intensifying trepidations for their safety, security, sustenance, and frankly their future in the U.S. It is not surprising that Canada has with open heart for decades accepted 300,000 immigrants, i.e., 1% of its populations every year. It may not be coincidental that Toronto rhymes in Persian as your Tehran!
---
Photos from Tirgan 2017