When you think of the WWE (World Wrestling Entertainment) household names such as John Cena, Triple H and The Undertaker will probably pop into your head. Well, what if I told you that the Iranian Olympian gold medallist Hassan Yazdani might be joining the likes of the names above? Many believe that the 22-year-old wrestler will be joining the professional wrestling company because his name and picture have continuously been used throughout WWE programming over the last couple of weeks.
Wrestling Career
Hassan Yazdani was born on the 28th of December 1994 in Lapu Sahra, Chapakrud Rural District, Juybar County, Iran. The Iranian wrestler began his career at the 2014 Junior World Championships in the 66kg division. At this competition, Yazdani collected a gold medal as he defeated his American wrestling opponent Aaron Pico in the final of the competition.
In 2015, Yazdani continued with his wrestling career when he was placed second at the 2015 Senior World Championships. Yazdani was defeated in the final by Russian wrestler Magomedrasul Gazimagomedov by a score of 10-3. After Yazdani had lost to Gazimagomedov, he became more motivated than ever to win the 2016 Rio Olympics. This led him to bump his weight up to 74kg which helped him win gold at the 2016 Rio Olympics by defeating Aniuar Geduev 6-6 with criteria by scoring the final points.
Yazdani was now on a winning streak as after he won the 2016 Rio Olympics he won gold a year later at the 2017 Islamic Solidarity Games in the 86kg division. The Iranian defeated former Olympic gold medallist Sharif Sharifov by a score of 11-0 and 2016 Olympic silver medallist Selim Yaşar with the exact same score on his road to victory in the tournament.
That was not all the gold that he won in 2017 as in July; he won the 2017 Iran Freestyle Wrestling Nationals at a weight class of 86kg by defeating Alireza Karimi with a score of 5-0 on his path to victory. Yazdani's win was so impressive that it earned him a place on Iran's prestigious Freestyle Wrestling National Team which will next compete at the 2017 World Wrestling Championships in Paris.
Possible WWE Signing
The first time WWE acknowledged Yazdani was back on the July 17th episode of Raw. This was because Ariya Daivari who is an Iranian-American WWE wrestler decided to dedicate his win over Akira Tozawa to Yazdani. Once Daivari dedicated his victory to Yazdani the Raw commentary team kept bringing up Yazdani's name almost every week.
It is worth mentioning that it is not only wrestling fans who are speculating that Hassan Yazdani is moving to the WWE but also trusted professional wrestling journalists.  Dave Meltzer who runs the beloved Wrestling Observer Radio podcast suggested on a couple of his podcasts that signing the 22-year-old wrestler is a distinct possibility.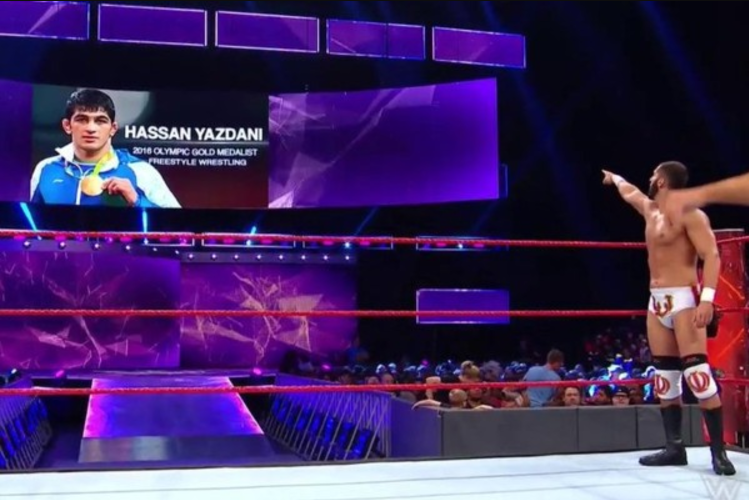 The popular wrestling website WhatCulture believes that the signing is more than likely as they said "WWE don't tend to do things like this unless they're planning on making a play for the acknowledged name." What WhatCulture said has proven to be true as WWE in the past made multiple mentions of the UFC star Ronda Rousey before she appeared as a prominent role in a Wrestlemania 31 segment with The Rock.
As stated above, Yazdani will next be seen with Iran's prestigious Freestyle Wrestling National Team at the 2017 World Wrestling Championships in Paris. If WWE continues to use his name frequently in their weekly programming, it will become increasingly likely that Yazdani will at some stage appear on the programming in some capacity.