Residents of both Seattle and Isfahan will sit down for a carefully designed dinner this Thursday, taking part in a unique and rather unprecedented cultural exchange. With curated menus managed by renown celebrity chefs Tom Douglas and Najmieh Batmanglij, attendees in each city will be able to experience each other's culture, interpreted through local ingredients and preparatory techniques. The logistics behind all of this are rather complex, but the act of eating itself? Nothing could be simpler.
This is one of the reasons that the Chefs Without Borders, Tasting Isfahan event is so accessible at its core, and the concept of "food diplomacy" came up frequently in my chat with Seattle-Isfahan Sister Cities Association (SISCA) board president Cathia Geller. The purposes of the relatively young, 500-member not-for-profit 501(c)(3) organization are tied to "reversing the hostility between the United States and Iran by building human relationships between Seattle and citizens of Isfahan, thereby emphasizing our common humanity and shared aspirations, and supporting efforts to find practical roads away from confrontation and war."
SISCA has been responsible for some excellent and well-attended events in Seattle, and while this scheduled dinner sold out its seats very quickly, Geller describes a related alignment of food-related local events to shortly follow.
The Iranian thanks Cathia Geller for taking some time to speak with us, in a conversation that includes Iranian food mores, details about the dinner, and working to shape perceptions of the cultural identity on a micro and macro scale.
For more information on SISCA and its upcoming events, check the main site here.
The Iranian: How long have you been in the Seattle area?
Cathia Geller: I've been here since 1994. It seems like it was just yesterday, but it's a lot of time! We moved in 94 from the other Washington, and lived here longer than anywhere else. It's a different world here. We put roots down and now our kid goes to high school here
The Iranian: What's the Iranian/Iranian-American presence in Seattle like? Are there many Iranian restaurants, stores, and the like, in the area?
Cathia Geller: I can tell you what I know, although I sometimes feel less plugged in than some of the other members of the community who have been here for longer.
My involvement started as a volunteer for lots of fundraisers for non-profits. Some friends who were more involved plugged me into it, and I started doing fund-raising for lots of the different Iranian organizations here. I think a lot of factors account for our good-sized Iranian community. The high-tech economy here is pretty strong and robust. We've got Microsoft, Google, Nintendo, Expedia, Amazon, and the like. A lot of Iranian engineers are working for these companies, and Code.org creator Hadi Partovi is here, he's local.
I wouldn't even be able to tell you exactly how many of us there are here, but we have a dozen or so restaurants, some bakeries, and little grocery stores. There's enough of a culinary community here to support Iranians. Then again, Iranians don't always go to Iranian restaurants. That's the thing about our immigrant community: we blend in. It seems like there are so many professionals, western-educated and otherwise, assimilated into our community, it seems like we sort of disperse. We come together for new year and specific celebrations and such, and we come out for festivals. Ali Ghambari [owner of Cherry Street Coffee House] is a fixture in the community and has done so much to bring people together. We are now more visible in that way.
The Iranian: One of the things that I've discovered in my continued research is that census data and tracking of Iranians in this country is really poorly done. The spread is enormous; some estimates clock it at between 500K to 2 million people, which is quite a spread.
Cathia Geller: There's a huge Baha'i population in California, and a huge Iranian population in California overall. But this problem of counting could have its roots in our history. I've always heard it said that we're like blades of grass: when the wind blows, we bend, and when it's gone we stand back up. We are too proud to be a burden on anyone.
I don't know if you've heard of Taarof as part of our culture. It's the extreme niceness we practice, where "You go through the door first, no you first." That last bite of food and who's going to eat it, because no one wants to be the one who does. We work in hospitals, we love to help people. Because of all the negative stereotypes in the media over the past decade, it seems like Iranians are trying to prove who they are individually, through their labors and accomplishments, and be proud of what they're doing, but it also seems like they rarely they want to stand up and say "I'm an Iranian"—sometimes they'll say they're Persian, but not Iranian. That's why we go uncounted.
I just want to draw your attention to a wonderful group that is putting together thorough statistics on the Iranian-American community and their contributions [Iranians Count 2010 Census Coalition or ICCC, more info here]. They're doing it scientifically. They had a booth at the second Iranian-American Women Foundation (IAWF) conference that I went to, I think they're doing an amazing job.
As for SISCA, we are apolitical, and that's why we get so much participation from the many factions and groups in our community.
It was clear that people were hungry to find out more about these countries, to learn something about them that was outside the mainstream media, something that spoke about who these countries are.
The Iranian: Shifting topics to the dinner, in specific: has a joint international dinner like this been done before, or is this the first of its kind?
Cathia Geller: I believe it's the first of its kind, especially since the revolution. There were Nowruz celebrations at the White House a few years ago during the Obama administration, though.
The Iranian: It sounds new, this exchange that sort of traverses land and time.
Cathia Geller: It definitely traverses boundaries, hence the name. We sort of got the idea from a wonderful thing the Seattle Symphony did here, right after the ban came out. They put together a concert from the seven banned countries, and were able to get composers, musicians, and singers, to come and participate with the full symphony. It was a free concert, and they were overflowing with an attendance of over 2000 people, and even had an overflow room where it was then broadcasted on a screen. It was called Music Beyond Borders.
It was clear that people were hungry to find out more about these countries, to learn something about them that was outside the mainstream media, something that spoke about who these countries are.
The Iranian: I love the philosophical idea that food is this essential thing that doesn't really need to be translated. It's something that people can experience in a really vital way without addressing things like language or religion. That seems really interesting to me.
Will there be any multimedia connectivity aspects that will be occurring throughout it, or any live communication between guests of both nations?
Cathia Geller: Not technically or directly, and given the time difference it wouldn't be a possibility; there's like a 12 hour time difference between Seattle and Isfahan.
We're still putting the final touches on the location and chefs in Isfahan. What will happen is that they will have their dinner, at their time. We're trying to have them do it before the Seattle event so that we can get some pictures and video content for the attendees, to be worked into a video for our guests. This would include aerial footage of Isfahan and Iran, images of the dinner, comments from Tom Douglas, hopefully some comments from Najmieh Batmanglij—the chef who wrote the Isfahan recipes—and others.
There was a couple in Boston I learned of who travel the world and take professional pictures and videos. They come back and teach high school students in the US about the rest of the world, with the goal of opening the eyes of the new generation. They traveled to Isfahan about a year ago, and had such a wonderful experience. A friend forwarded me their pictures and I connected with them. They were so positive about their experience that I asked them for some recorded comments and pictures to include in the video as well. So, we're going to incorporate multimedia in that way.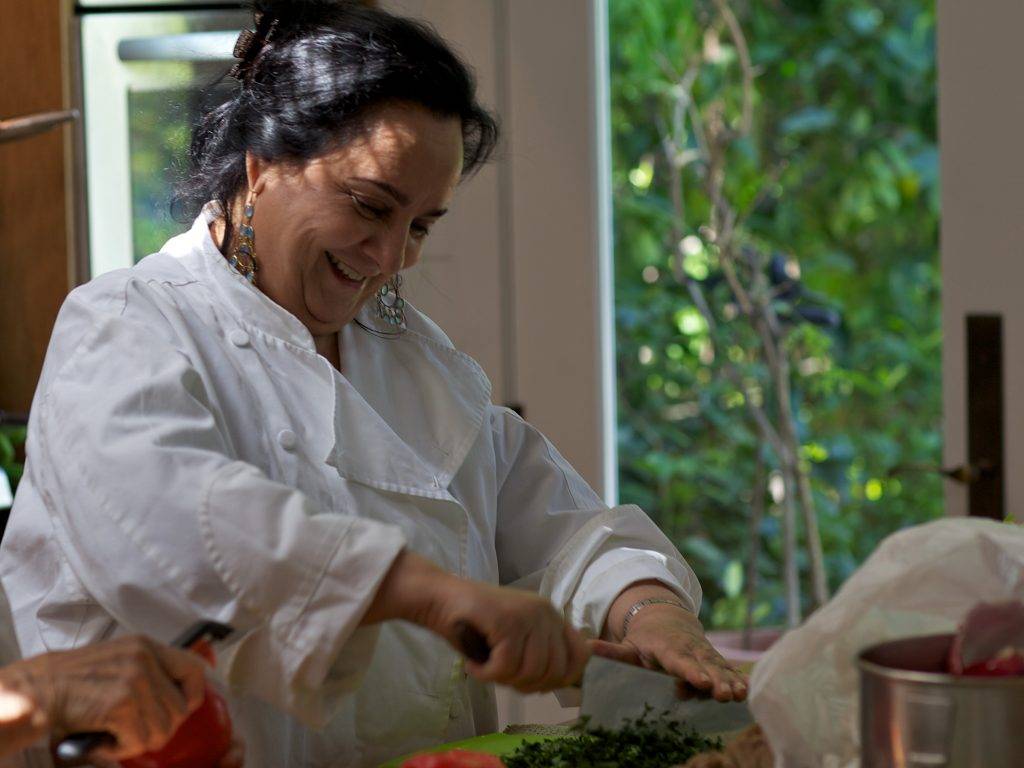 The Iranian: The focus is on the food, but there will be some additional supportive elements, then.
Cathia Geller: The idea is for the people [dining] to feel transported. And my people are putting Persian aspects all around, so that from the moment people are entering the space, they feel transported to Iran. And the menu is slightly based on an ancient royal cuisine of Isfahan, from back when it was the capital of Iran. That's where Najmieh got her inspiration, and based it on ingredients that could hopefully be obtained in the Pacific Northwest. Najmieh also translated menus for both sides—she worked with Tom's menu, and translated its ingredients into items and measurements that were sensible for chefs in Isfahan to obtain. She became our kind of "chef behind the chef."
It's a real exchange between two cultures. Food, obviously, is a common denominator between everyone. I can speak very truthfully about ours, as I think it's so critical and central to our culture. It's rooted in our tradition, every dish has a story, and the ingredients are so fresh. It's such an approachable cuisine, similar to Italian cuisine. Not too exotic or spicy, flavorful, savory and sweet. It has enough interesting ingredients that set it apart and elevate it but, at the same time, it's approachable. Each dish is a complete meal, and it's a very healthy cuisine.
Also, we love to feed people! If you go to an Iranian's house within two hours of a meal, you are going to have to stay for that meal. It will be insisted upon! In that way, it's very natural for us to use food as a platform to stand on, to draw attention to our culture and tell people who we are.
I think sitting down around a table with others and breaking bread is a brilliant way to bring two cultures that are being pushed apart together, and buck some stereotypes that are out there.
The Iranian: What are some highlights from the Isfahan menu?
Cathia Geller: There's some ubiquitous Salmon in there, of course, but Tom has made it very gourmet and elaborate. I think it's a lovely representation of the best of Pacific Northwest cuisine, and it's why Tom is honored to participate. We couldn't have asked for a more recognizable, accomplished chef; in the Pacific Northwest, he's our celebrity chef. We have a lot of phenomenal ones in our area, but Tom has more than a dozen restaurants and does many events throughout the year, making him the most logical choice for a partner. Him and his team have been nothing but supportive along the way.
The Iranian: Your press release mentions that this dinner is going to be the start to even more events, right?
Cathia Geller: The more important thing than this event alone is that we are using it to kick off a month-long effort to draw attention to Persian cuisine, to the Iranian community, to get support for Iranian culinary businesses. This food diplomacy is going to continue forward. We've contacted Iranian restaurants and grocery stores, and they're all going to provide specials and discounts and such.
In addition, the PCC, which is a natural food market with many stores around our area, have cooking classes. In October and November they will have classes taught by an Iranian-American chef.
The Iranian: What can you tell us about the logo for Chefs Without Borders?
Cathia Geller: Our logo is designed by a local Isfahani Iranian-American architect, and incorporates an architectural element of Isfahan in it with our own: the Khaju bridge and the Seattle Space Needle. It has those two identifiable components, with a chef in the middle with the heart that holds them together.
We've been very, very lucky to have Nadir Kianersi on our team. He designed our association's logo, and the logo for our new year's event.
The Iranian: What was the new year's event like?
Cathia Geller: It was a smash hit, and the first big event that we organized, in March of last year. That February we had decided that we needed to get word out there about who Iranians are. We managed to get city hall as an event space, and had a Persian New Year's celebration there, which was open to all for free. We invited all the various Iranian organizations in the area, all of whom usually do their own thing, but we got them all together at the event; we essentially acted like Switzerland. [laughs]
Cyrus Habib came and spoke, and he was so supportive of our group and our efforts. He was blown away with the turnout as well; we had between 800 and 2000 people that came. We had TV coverage of the event, and a story about SISCA on the local Fox News affiliate afterward. This event really gave our community a point of pride. Never had we seen our people be more proud of saying "We are Iranian, and this is our Persian New Year, this is how we celebrate!"
I've spoken with Hoss Zaré, a famous chef in San Francisco, and he's doing a lot with food diplomacy as well. He had heard about our new year's event even down in San Francisco, so it definitely had some legs. This gave us the courage to tackle this new event.
The Iranian: It sometimes seems hard to be privy to or aware of certain changes. They might be happening, but not in a way that can be easily sensed. And it sounds like you're provoking and tracking that change.
Cathia Geller: It's kind of the same in the PR field. I used to be in PR, and sometimes it would be hard to justify our bills for clients. It's not always cause-and-effect, and sometimes it's hard to sense the change that's happening just underneath the surface, or measure it effectively. Hopefully, we will be able to evaluate the amount of people going to these restaurants. If we can sense a bump in traffic, we'll further know that our efforts have been effective.
We want the general public to know that they can be agents of change, just by going out to eat, taking a cooking class, or shopping at an Iranian grocery store.