According to the 'Global Passport Power Rank 2017' by global financial advisory firm Arton Capital, Singapore has the world's "most powerful" passport, thus enabling their citizens to enter the highest number of countries visa-free or with a visa on arrival.
Germany ranked second, followed by Sweden and South Korea in third place. Meanwhile, Japan and the U.K. were among the nations tied in the fourth tier.
Compared to other passports of the world, Iran was low on the list with a rank of 88 (with 93 being the lowest) and a visa-free score of 36. Such global travel restrictions create challenges for Iranian businessmen, as well as those seeking to vacation outside of Iran.
As for America's ranking: "While Singapore quietly climbed the ranks, the U.S. passport has fallen down since President Donald Trump took office," Arton Capital said in a statement.
The least powerful passports in the world are Somalia, Syria, Pakistan, Iraq and Afghanistan which was at the bottom of the list with a visa-free score of just 22 and a rank of 93.
Historically, the top 10 most powerful passports in the world were mostly European, with Germany having the lead for the past two years. Since early 2017, the number one position was shared with Singapore, which was steadily going up.
To see see the full list here, click here.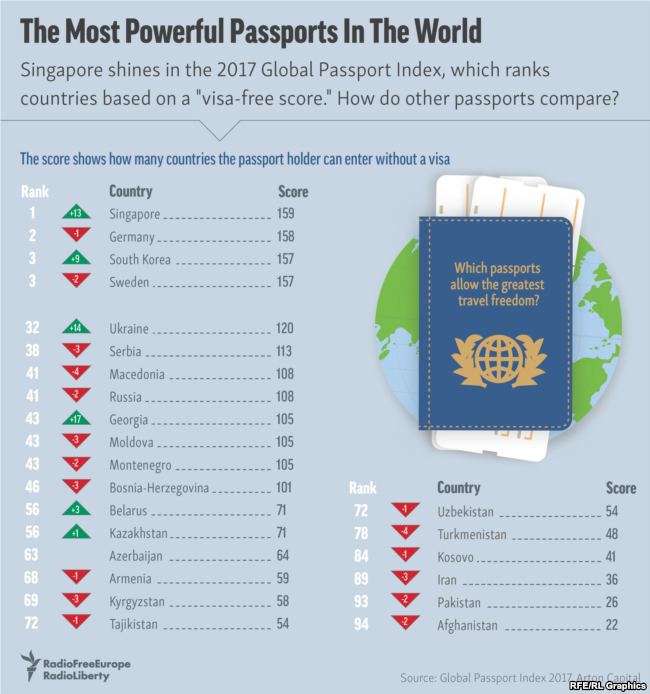 ---

Subscribe to The Iranian newsletter
Sign up for our daily newsletter to get the top news stories delivered to your inbox.
Support The Iranian
The Iranian is an online magazine for those who care deeply about all things Iranian: identity, culture, music, history, politics, literature, and one another. Stories like this are made possible by readers like you.
Please

donate

 or

subscribe

to help fund independent journalism for the Iranian Diaspora.