Iranian state television says nine people were killed overnight during the fifth day of antigovernment protests that have spread across the country.
No further details were immediately available.
The report brings the unofficial number of dead from the unrest, which started out as rallies against high inflation for basic food products and other economic woes, to at least 22.
The protests are the largest political demonstrations in Iran since a disputed presidential vote in 2009 officially reelected Mahmud Ahmadinejad. They have been taking place in dozens of towns and cities throughout Iran, including several places in the capital, Tehran.
Video posted on social media showed demonstrators attacking a police station in the central town of Qahderijan, as Iranian state TV said protesters tried unsuccessfully to overrun police stations and military bases.
State TV reported 10 demonstrators had been killed along with one policeman on January 1. It said three other police had been injured in the incident in the western-central city of Najafabad, in Isfahan Province.
Numerous videos showed some crowds of people chanting "Death to the dictator!" walking through the streets of Tehran.
Video posted by RFE/RL's Radio Farda showed security forces using water cannons to disperse protesters in Tehran, on the central Ferdowsi Square.
Other social-media videos from different Iranian cities showed clashes with security forces and a police station set alight. Crowds of marching protesters were shown shouting slogans against mullahs and other religious figures in the country.
Some demonstrators were seen tearing down huge street banners of Supreme Leader Ayatollah Ali Khomeini, who has ruled Iran since 1989.
Two protesters were reported killed in the city of Dorud on December 30.
The demonstrations — which started out as rallies against high inflation for basic food products and other economic woes — began on December 28 in Iran's second-largest city, Mashhad.
Other cities where demonstrations have taken place include Sanandaj, Ilam, Khoramdareh, Kermanshah, Izeh, and Tuyserkan, where at least two protesters were reported killed.
President Hassan Rohani has said the unrest is an opportunity to address problems plaguing Iran.
Speaking after a meeting with the heads of parliamentary committees on January 1, Rohani said the protests are not only related to economics but a cry from citizens for more freedom.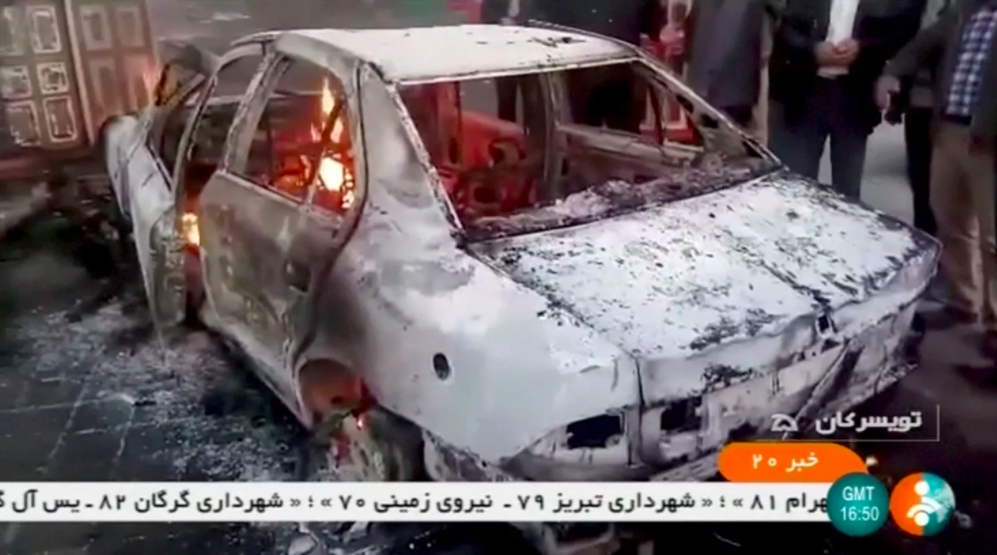 The unrest "may seem to be a threat, but it can be turned into an opportunity to see what the problem is," the Fars news agency quoted him as saying.
He added that "we have no problem bigger than unemployment. Our economy needs an operation."
The previous day, Rohani had warned demonstrators about violence during a nationwide address, after security service vehicles and other public property was destroyed or damaged.
"The government will show no tolerance for those who damage public property, violate public order, and create unrest in society," he said.
Authorities have attempted to quell the unrest — which has been marked by crowds of hundreds or thousands of younger Iranians chanting antigovernment slogans and tearing up pro-government posters — and have arrested at least 400 demonstrators, officials said.
A spokesman for the hard-line Islamic Revolutionary Guards Corps (IRGC) said on January 1 that police and internal security forces "fully control the situation in Tehran and other cities of Iran where street protests took place" and the IRGC personnel had not been involved.
Likewise, the Basij militia — which along with the IRGC led the crackdown against the 2009 protests that left dozens dead — has thus far appeared to stay away from the demonstrations.
Unemployment in Iran is about 12 percent, but among youth it reached 28.8 percent in 2017.
The Intelligence Ministry said in a statement that "rioters and instigators" had been identified "and will be dealt with seriously soon."
"Those who have rightful demands must be guided in lawful ways and those who riot and commit sabotage and chaos and set fire to public property…must be confronted decisively," said judiciary chief Ayatollah Sadegh Larijani on state TV, adding that "the country must have discipline."
The government has also blocked the popular social-media application Instagram and a widely used messaging app in Iran called Telegram.
Both applications are popular among Iranians and useful in helping set up gathering points for demonstrators who are disappointed with rising prices and Rohani's unfulfilled promises to guarantee rights to freedom of expression and assembly.
Ali Shamkhani, Iranian Supreme National Security Council secretary, blamed the violence on social media and said some foreign countries were interferring in his country's domestic affairs.
"Hashtags and messages about the situation in Iran come from the United States, Britain, and Saudi Arabia," he said on January 1.
U.S. President Donald Trump said in a tweet that the upheaval shows Iran is "failing at every level" and that it was "TIME FOR CHANGE!"
"The great Iranian people have been repressed for many years. They are hungry for food & for freedom. Along with human rights, the wealth of Iran is being looted," he wrote.
The Russian Foreign Ministry said on January 1 that the unrest was "Iran's internal affair," adding that any "external interference destabilizing the situation is inadmissible."
German Foreign Minister Sigmar Gabriel expressed concern on January 1 about the death of protesters and urged the Iranian government to respect people's rights.
British Foreign Secretary Boris Johnson called for a meaningful debate about the protesters' issues and said on Facebook that "The UK is watching events in Iran closely."
He also called on "all concerned to refrain from violence and for international obligations on human rights to be observed."
A spokeswoman for EU foreign policy chief Federica Mogherini said in a tweet that "we expect the right to peaceful demonstration & freedom of expression will be guaranteed" in Iran.
Israeli Prime Minister Benjamin Netanyahu praised the "brave Iranians" protesting against a regime that "wastes tens of billions of dollars spreading hate."
"I wish the Iranian people success in their noble quest for freedom," he said in a video posted on his Facebook page on January 1.
Rohani said on December 31 that citizens are "absolutely free" to criticize the authorities and protest, but he warned that those demonstrations should not make the public "feel concerned about their lives and security."
"Mr. Rohani says it's free for people to protest but we're scared of speaking. Even now, I'm scared of talking to you," Sarita Mohammadi, a 35-year-old teacher, told AFP on January 1.
Rohani has criticized Trump for his tweets, saying he "has forgotten that he had called Iranian people 'terrorists' a few months ago."
WATCH: A wide range of amateur video clips posted on social media from the evening of December 31 showed antigovernment protests growing across Iran. RFE/RL cannot independently confirm the authenticity of each video clip.
Via RFE/RL