The distance wrought by the diaspora changes how we consume the news. Nations, oceans and lifetimes removed from the stories on the screen, the Iranian diaspora can only feebly stare at the developing changes, monitoring the news, calling loved ones, and devouring social media updates in the hopes of gaining a better understanding of how events are unfolding in Iran. In the midst of our hunger for information and charged emotions, we can become unwitting agents of chaos, even if we don't live there, especially when it takes a split-second to share an article, a video, or a series of photos, all drifting down the feed in a perpetual but terrifying flood.
Have you ever shared anything you didn't even read? Have you ever shared anything you've read that was later proven to be untrue?
During disasters and political upheaval, the modern news cycle ranges from the error-prone to the outright fake. And it's not just the sourcing—reputable sites repeatedly offer addendums, corrections, and retractions to the stories they push (ironically, these are rarely travels as far as the false info). Nor is it always nefarious in nature…but it can be. Disinformation can be powerful, perhaps none more so than when it fulfills a confirmation bias on the part of the reader and the sharing public, something that the protests in Iran have capitalized on.
Day 6. This is Amir Hossein Papi, one of the protesters killed in the city of Dorood.#IranProtests https://t.co/HqKHmUlKka

— Maziar Bahari (@maziarbahari) January 2, 2018
While this tweet has since been retracted (with its subject even recording a response as proof-of-life), this represents an interesting crossroads: a journalist joining the conversation with eye-catching content, provably false, to either stoke attention or fulfill their own confirmation bias…or both. With almost 19,000 Twitter followers, Mr. Maziar Bahari has a pronounced audience for short-form content, as well as his site IranWire, an online news publication for long-form content. With a stream of daily updates in-line with the protests, the thirst for content will include both misinformation and disinformation, easily parsed after-the-fact on a website, but less likely to be corrected or clarified on Twitter where, even if it is, it's likely to be lost in the tide of new tweets.
Last year, with the swelling tide of protests in the U.S., NPR saw fit to add to their collection of shareable handbooks with this basic but valuable guide. It outlines how reactionary content is often written for presumptive readers, the cherry-picking nature of some outlets, and even how sources can delegitimize contrarians while inspiring consumption and shares:
In the nine days since the protests in Iran began, everybody has chimed in, from alt-right websites, foreign operatives, public-funded news outlets, to the U.S. president himself. This provides the environment where fictional film clips can stand in for footage from the floor…in this case, shared by the granddaughter of the Shah, Princess Iman Pahlavi: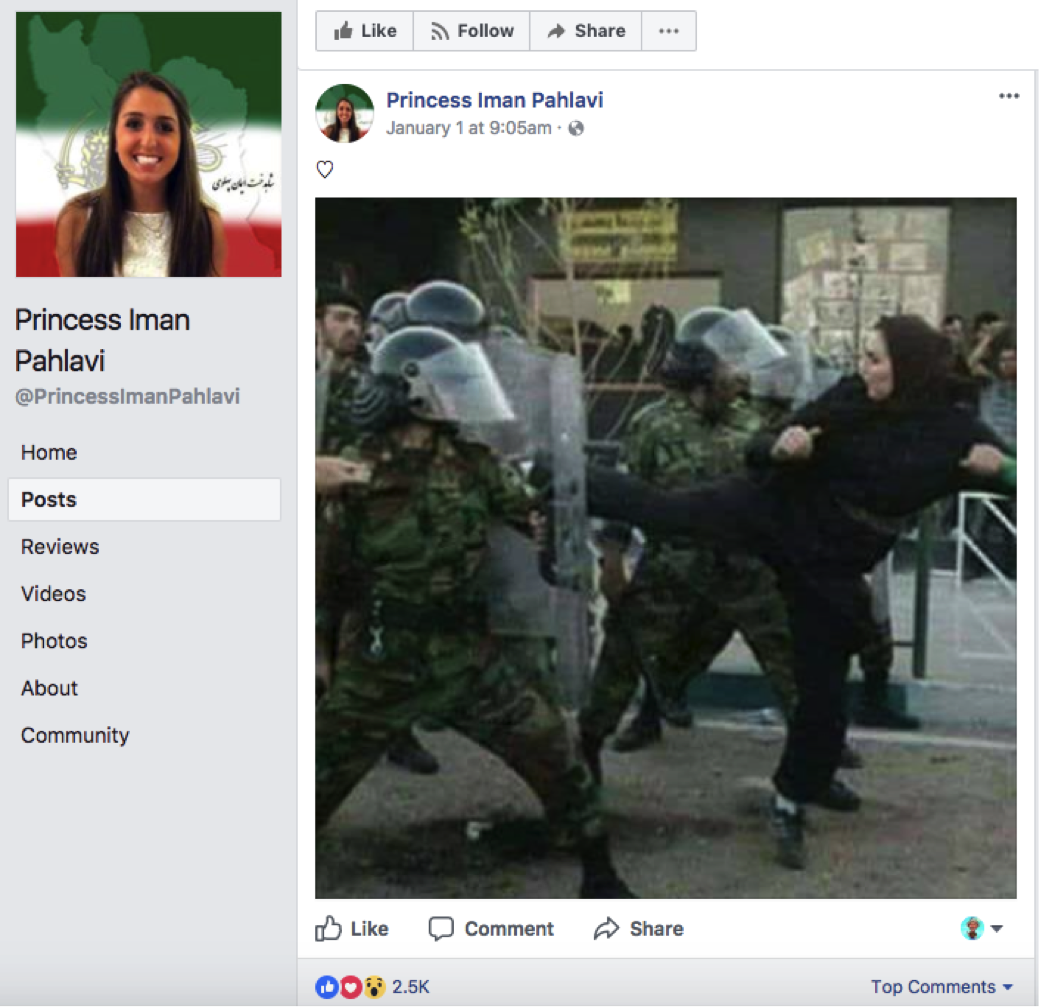 It's interesting how a singular image, proven to be false, can fulfill so many aspects of confirmation bias from a range of readers. In the photo above we could be looking at an unfettered awakening in a woman who is fighting back against authority, or proof of a hysterically violent crowd. Equally easy for any recipient to share, but the lack of a factual grounding provides nothing, in the end, but a Rorschach test for our own needs.
The manners with which fake content plays fast-and-dirty when it comes to protest coverage is further compromised by the ever-present imagery of the multitude. When Trump leveraged perspective when it came to portraying his provably false inaugural attendence, the goals (and lies) were delineated in an obvious way. So, when others rush to share long-distance video footage of crowds that stand in for anything, even Iran's recent protests, the resultant noise can transform Bahrain or Argentina into an ersatz Iran. For the latter, intention is as hard to parse as the truth, at least when seen from a distance and never scrutinized.
The last US presidential election, thoroughly exploited by Russia's seeding of fake news as a means to divide Americans and enhance their own interests, proved that it's far easier for social media users to share information than to study and investigate. The ones who contribute to the spurious echo chamber may often do so with nothing but concern, but that's no excuse to not remain vigilant so as to minimize the chances of spreading fake/divisive news.
With the new year beginning in turmoil, let's practice mindfulness as we hover over the "share" button, and carefully discern the truths behind the gotcha headlines in our wake.
---
Examples of false #IranProtests information shared on social media…
للإيرانيين حق المطالبة بحقوقهم كما لكل شعب حق في ذلك
لكن ان تكذب وتشوه حراك ومطالب الشعب البحريني فهذا دليل على إفلاسك وطائفيتك
هل هولاء ٧ أشخاص ؟
انها اكبر تظاهرات في الخليج بل لو تم مقارنتها بعدد سكان #البحرين ستكون من بين الأعلى في العالم
فبراير ٢٠١١ pic.twitter.com/etwWEa2ZDo

— BAHRAINDOCTOR (@BAHRAINDOCTOR) December 31, 2017

1. In the example above, a conservative Twitter user posted what she claimed was video of 300,000 protesters marching down a street. But the video was quickly debunked by Marc Owen Jones, a lecturer at the Institute of Arab and Islamic Studies in the English city of Exeter.
Jones noted that the footage in question actually depicts a February 2011 protest in Bahrain. Several other videos corroborate Jones' argument (via Snopes.com):

https://www.youtube.com/watch?v=-qe3Z9hqEbw&feature=youtu.be
2. Similarly a separate user, which claims to be a "parody account," posted a video on 29 December 2017 like so:
Tens of thousands all over Iran and Kurdistan are rising up against the Iranian regime and is reaching new cities every hour. #Kermanshan #Iran pic.twitter.com/9nSO0m9wcf

— Duhok_ (@Duhok_T) December 29, 2017
But this post, too, was a misrepresentation: as evidenced by the Spanish-language remarks heard in the video it was not filmed anywhere near Iran or Kurdistan. The footage was actually filmed (and posted online) amid a series of demonstrations in Argentina earlier that month (Via Snopes.com):
3. The clip below (click to view) is from riot police looting a store. The post claims these are Khamenei's forces. Problem is, these are Mexican riot police, looting in Mexico. Their uniforms even say "Policia." The clip has been shared thousands of times and even when other social media activist point out that the clip is not from Iran, the original poster refuses to take it down on the grounds that the clip has even been shown on Arab TV.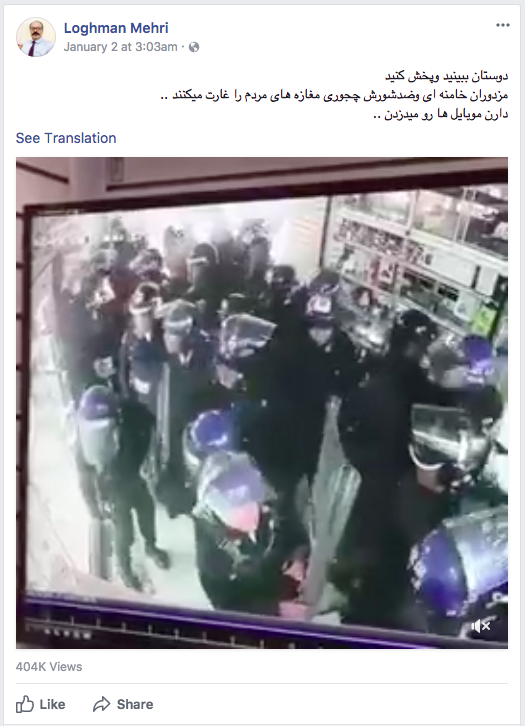 4. The caption speaks for itself….