November last year, in Virginia's Fairfax county, an unarmed man in a car was gunned down after police officers pursued him in his vehicle. The man was Bijan Ghaisar, a 25 year-old American of Iranian heritage, and his death is a subject of an FBI investigation and potential unlawful killing.
Ghaisar comes up in conversation as Jamal Abdi is telling me why the community of Iranian Americans must stand up for universal civil rights.
Abdi has been a long-time key player of the National Iranian American Council (NIAC) and he became the Executive Director of its sister organization NIAC Action in 2015. He's seen it through just about all the key milestones of US Iran relations in recent history: from getting sanctions dropped to pushing the Nuclear deal over the finishing line.
Seemingly not at all jaded by the struggle that comes with such change-making, Abdi is poised for what lies ahead as US President Donald Trump takes steps to unravel it all.
It's a good thing too as he's just been announced as NIAC's new President, a position he will take up on August 1st. And one many will find hard to separate from its founder Trita Parsi, a man Abdi considers a mentor and inspiration. Abdi admits "This has been the big testing point of this organization. Can you move beyond your founder to become an institution?"
The move, however, comes at a difficult time. 
"We're right on the brink of another massive challenge for US Iran policy", says Abdi, declaring that he has a vision for what NIAC can become to meet these new challenges.
Abdi's selection from the board doesn't come lightly and he's far from green, having joined NIAC as its Policy Director in 2009 before which he worked in Congress. Before which, he worked for the Democratic National Committee (DNC).
"I have been a political person my whole life. For some reason. I don't know why… I was born with it. Sort of like this bug, " says Abdi trying to find some explanation for why entered the political fray.
"When I was in preschool I was a Dukakis fan when he ran against George H.W. Bush" Abdi confesses sheepishly. "There was actually this face painter that came to our school and people were getting superheroes… when it came to me they said 'what do you want to paint on your face'. I said 'can you paint Michael Dukakis on my face?'"
This fascination with politics continued for Abdi who considers himself the 9/11 generation. Coming out of high school at the time of the Twin Towers attack somewhat set him on a trajectory towards political activism. As did his father's influence.
"My father comes from Iran, my mother was American of European descent…. and the main way I learned about Iran was through the political lens", that he says was his connection to the country. Today it also appears to be the reason he gets up for work. 
"It's somewhat unique being half Iranian. I really do feel like there is sort of an emptiness where I haven't been able to go to Iran and I haven't been able to have the ties that are my birthright… It's sort of a struggle when you're between those two worlds. And the way I give back to my heritage and to my family in Iran is through this work. Fighting for Iranian Americans, fighting for our heritage, fighting to prevent war."
The way I give back to my heritage and to my family in Iran is through this work. Fighting for Iranian Americans, fighting for our heritage, fighting to prevent war.
Understanding where Abdi comes from helps to discern the direction of where NIAC will now be heading.
Abdi worked for the DNC while they were implementing a 50-state strategy. 
"They were going to put field offices, one in every state, that represents the party in places they had never been before." 
Working on the project briefly his resources were then deployed elsewhere. 
"I ran a field office where we recruited volunteers. We did phone banking into districts, in Washington state and got people out to the polls. That was just this amazing experience. We were making nothing, we were working over 100 hours a week – basically just living at our jobs. I was already passionate but this is where my passions took off.
I saw what was possible when we actually succeeded."
Dropping everything, Abdi then moved to DC to work with a representative from Washington State Brian Baird.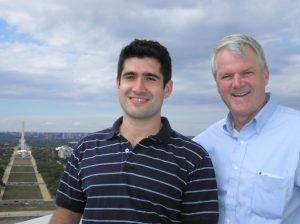 He says, "Understanding how Congress works is probably one of the most fundamental things that you need to learn. Because you don't just learn the arcane details but also where politics and policy intercept and how all those things work together to decide where policy goes. You see the direct influencers, you get lobbied, you deal with interest groups…"
The experience Abdi took away with him was invaluable for when he decided to join NIAC. However, like now, Abdi's inauguration into his new role was a baptism of fire. 
"Obama had been in office for several months. He had opened up this channel for diplomacy with Iran. Negotiations were actually going to happen for the first time in decades. Actual direct negotiations with Iran along with the P5+1. At the same time Iran had these elections, there was a lot of optimism about the possibility of Ahmadinejad losing and reformists winning. And there was this sense of energy coming from Iran that real change was possible….
I really wanted to play an active role in what was about to happen."
After six years as NIAC's Policy Director, Abdi then helped set up the sister organization NIAC Action, to play a more politically active role in getting Iranian Americans a seat at the table and to be involved in the decision-making that ultimately affects them and US Iran relations. He says one of the key achievements of the organization was getting former US President Barack Obama to finally lift sanctions on communications tools in Iran.
What makes Jamal unique for our community is that he has deep roots in the progressive movement, a command of Capitol Hill and the policies most impacting us and our families…
Abdi helped build the organization with Yasmin Radjy and Radjy herself lauds Abdi's contribution to its inception.
"What makes Jamal unique for our community is that he has deep roots in the progressive movement, a command of Capitol Hill and the policies most impacting us and our families…" Radjy also says that Abdi's cool calm demeanor and pragmatic strategy is required, "He knows in his bones that our community has too much at stake to allow ourselves to be distracted".
Abdi reiterates this point. Moving forward in NIAC with himself at the helm, he has big, bold ambitions to involve more of the community in the organization's aims, in particular, young Iranian Americans.
And perhaps arriving full-circle to the place he came up in, he wants to really get to the core of what a grassroots movement should look like. Investing in field offices, speaking to the community, connecting with colleges and offering NIAC as a platform to 'woke' young people who are politically engaged. That involves moving beyond the Washington-centric approach that could be easy to get preoccupied with. Abdi says that in order to make the Iranian American community more powerful as a political influencer, it will take organizing people, organizing money and essentially unifying people against other elements that wish to divide it.
According to Abdi, the timing and need for the voice of the Iranian American has never been more critical on issues of foreign policy and beyond.
"The Muslim ban was a wakeup call for many people. That was motivated by foreign policy issues but it's also a civil rights issue and an immigration issue." 
Abdi says this has opened up the organization to work on other issues around civil rights, as an ally and an advocate.
"As Iranian Americans we almost have a responsibility to fight for those things.  
We're a community that's under siege right now. Whether it's the war issue or the ban issue or some of the other issues of discrimination…
It is a moment for our community to not only become more powerful but also mature to the level of fighting for these broader values. We have put out statements about police shootings when black men have been gunned down by police officers. People may ask why we're doing that but then lo and behold a few months later an Iranian American gets gunned down in Virginia by cops because he didn't pull over in time…
That was a situation where we can say this is an issue that we care about but we can't do anything about it until we're directly impacted? We have to have a voice on that. We need to be active on these issues now. This is not going to happen from an office, this is going to happen from talking to Iranian Americans, talking to our members and finding out what people are passionate about."
On that note, Abdi says that being an Iranian American represents an opportunity.
"We are under the gun right now. Because of that we have an opportunity to make a big impact. For me I don't want there to be this constant threat of war or this constant threat of Iranians being banned from the United States that only manifest in the backrooms of Capitol Hill and you only get little inklings of it through policies that have passed…
Having been directly targeted, it is an opportunity for our community to galvanize, to actually do something instead of being passive victims."