Whether the White House's current roster of anti-Iranian hawks or their counterparts in Riyadh and Tel Aviv have any interest in maintaining stability in the Persian Gulf remains an open question. What is certain is that the status quo in the Middle East is bursting at the seams.
Long-seething tensions in the Middle East are coming to a boil once again as tit-for-tat verbal salvos between the U.S. and Iran have moved beyond tweets and declarations alone and are now shifting toward the realm of concrete actions and demonstrations of military force.
On Thursday, U.S. officials reported that Iran's Islamic Revolutionary Guard Corps (IRGC) began large-scale naval exercises in the Persian Gulf, Gulf of Oman, and Strait of Hormuz. Hundreds of IRGC personnel and dozens of small fast craft are taking part in the war games, which come months ahead of schedule.
Analysts are interpreting the measure as a warning from Tehran to Washington that if Iran is prevented from selling its oil to world markets through sanctions or other means, the country reserves the right to retaliate by blocking the Strait of Hormuz to U.S. oil tankers. Twenty percent of the world's oil is transmitted through the artery, which is seen as the world's most important transit point.
Seyed Hossein Nahavi-Hosseini, the spokesman of Iran's parliamentary commission on national security and foreign policy, confirmed the defense strategy to Russian outlet Sputnik, noting that the country would secure its interests in case the U.S. remains committed to choking off Iran's economy.
The lawmaker said:
Iran has access to the Persian Gulf, the Strait of Hormuz and the Gulf of Oman. It would be illogical if the other countries in this region could sell their oil, while Iran could not.
Iran's strategy here is as follows: either everyone sells their oil, or no one does. Iran has the capability to do this and the Americans know this."
Iranian Navy Commander Rear Admiral Hossein Khanzadi echoed the warning Wednesday night, stressing that the security of the strait – not to mention the oil revenues it generates – depends on the level of respect accorded to Iran's national interests. In comments cited by Fars News Agency, the rear admiral said:
If any oil faucet in the region is turned on and the petrodollars go to the pocket of those who threaten Iran, it will definitely have impacts on the security of the Strait."
The threats by Iran are hardly new, and have been raised frequently over the past four decades in response to hostile moves by the U.S. and its junior partners since the 1979 Islamic Revolution. Yet Washington's menacing stance toward Iran and reintroduction of sanctions following Trump's withdrawal from the Joint Comprehensive Plan of Action (JCPOA) have raised the risk of a military escalation.
The closure of the strait would massively disrupt oil prices, destabilizing the world economy and quite likely drawing a military response from U.S. naval forces in the U.S. Fifth Fleet based in nearby Bahrain.
Iran is hoping that the threat will dissuade Washington from applying sanctions and will help rally global opposition to the intensification of pressures versus Tehran by the Trump administration. The U.S. will reimpose sanctions Friday while a second set hitting Iran's energy sector and central bank will kick in on November 4.
CENTCOM raises alarm as Iran's regional enemies take steps
The U.S. Central Command (CENTCOM) has been tracking the Iranian exercise, according to officials, who also noted that there haven't been any interactions between Iranian and U.S. forces. CENTCOM spokesman Navy Capt. William Urban said in a statement:
We are aware of the increase in Iranian naval operations within the Arabian Gulf, Strait of Hormuz, and Gulf of Oman. We are monitoring it closely and will continue to work with our partners to ensure freedom of navigation and free flow of commerce in international waterways … We also continue to advocate for all maritime forces to conform to international maritime customs, standards, and laws."
U.S. officials have noted that the U.S. has only one warship in the Gulf, according to CNN. In coming days, U.S. Navy ships will begin moving into the waterways. The Pentagon has been urging regional countries such as Saudi Arabia and its junior partners in the Gulf Cooperation Council to maintain a hard line on ensuring that the Persian Gulf remains open amid disruptions resulting from regional conflicts.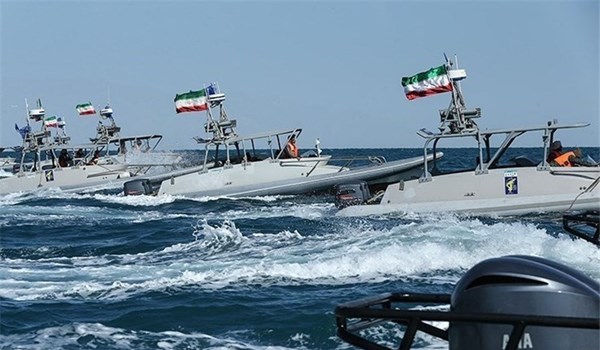 Last week, Saudi Arabia suspended its oil shipping through the Bab al-Mandab Strait linking the Red Sea to the Gulf of Aden. Riyadh blamed Yemen's Ansarullah or Houthi popular forces for allegedly attacking two Saudi-flagged shipping vessels near the besieged port city of Hodeidah. The Houthis deny that they would attack civilian vessels, protesting that these were warships instead.
Riyadh's move has been seen as a means to ratchet-up pressure on Iran, which it accuses – despite evidence to the contrary – of arming and controlling Yemen's Houthi fighters as a means to undermine the power of Gulf Arab monarchs. As such, Riyadh claims, Iran must be blamed for its alleged "attack" on the global oil trade. The groundless accusation was echoed on Wednesday by the Saudis' de facto ally, Israeli Prime Minister Benjamin Netanyahu, who threatened Iran with war if it blocks Bab al-Mandab.
Iran wants peace yet prepares for worst-case scenarios
In spite of the heated exchanges between Iranian President Hassan Rouhani and U.S. President Trump, Tehran has been consistently foiled in its attempts to resolve issues with regional and international rivals through diplomatic means.
The Iranian leader's warning on July 22 — "America should know that peace with Iran is the mother of all peace, and war with Iran is the mother of all wars," – has been widely misinterpreted as a threat, most notably by his U.S. counterpart who infamously responded:
https://twitter.com/realDonaldTrump/status/1021234525626609666
In recent days, Trump has stopped foaming at the mouth and has claimed that he would like to negotiate with Iran. This, however, is an unlikely prospect, given the dissent Rouhani would face from his domestic opponents if he accepted the U.S. leader's offer — which appears in any case disingenuous, given his administration's uncompromising stance toward Tehran.
Iran's military exercises appear intended to convey that the cost of launching military aggression far outweighs the benefits and that a dignified and negotiated solution that preserves peace and stability while respecting Iran's core interests, therefore, remains the only possibility.
The increasing bellicosity of both sides also suggests elements of high-stakes bluffing, revealing uncertainty and internal differences within both Washington and Tehran over the wisdom of sparking full-bore military hostilities that could have devastating and lasting results on a global scale.
Whether the White House's current roster of anti-Iranian hawks or their counterparts in Riyadh and Tel Aviv have any interest in maintaining stability in the Persian Gulf remains an open question. What is certain is that the status quo in the Middle East is bursting at the seams.
Via MintPress News