Russia is attempting to woo European countries like Germany into a program of reconstruction cooperation in Syria, where broad swathes of the country have been destroyed through seven years of grinding proxy war; however, Pentagon officials have charged Russia with wanting to "seize" Syria's oil and gas resources.
This comes as the United States has resolved to keep its over 2,000 troops in the east of Syria while vowing zero reconstruction aid so long as Iranian troops and advisers are present in the country. This week a top US military official even went so far as to accuse Russia of seeking "to take advantage in any way they could" and that a "great power competition" for Syria will continue to shape its post-war future.
Air Force Brig. Gen. Leah Lauderback, who served as director of intelligence for Operation Inherent Resolve until June, told an Army conference that "Great power competition was an objective by Russia," and that specifically they are looking to "seize" oilfields in Syria. But a Russian official has slammed the US and Europe as living in a "fantasy land" if they still have removal of Assad on the table as "radicals will take over that will slit people's throats'' should regime change happen.
Gen. Lauderback said of Russia in the context of discussing US anti-ISIS operations at an Army conference in D.C. this week: "Economically, they wanted to seize oilfields, they wanted bids and contracts to develop Syria for infrastructure in order to stabilize Syria over the long term," she said according to Al-Monitor news.
Meanwhile, President Vladimir Putin has reportedly been personally lobbying German Chancellor Angela Merkel over Syria reconstruction, especially as the two met outside Berlin last August, as the vital link solving or at least greatly reducing the migrant crisis which has become a political bombshell across Europe of late.
Russia says, simply enough, that if Syria is rebuilt then Syrians can go home — a process that's already begun in a number of government-held major cities like Aleppo after their liberation from jihadist forces. But many European leaders, including in Germany, remain on the fence over European demands for a transition away from Bashar al-Assad's rule.
Russia meanwhile appears to be arguing that neither the US nor Europe can do anything to make this happen as the long push for regime change has utterly failed and Assad is "here to stay" — as even the Washington Post reluctantly acknowledged recently.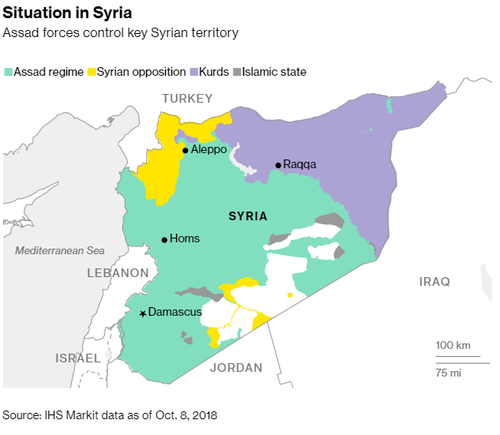 According to a new Bloomberg report, Russia's latest diplomatic efforts to woo Europe toward reconstruction include "efforts to organize a Syria summit in Turkey with German Chancellor Angela Merkel and French President Emmanuel Macron." Vitaly Naumkin, a top Russian aide on Syria policy, told Bloomberg the Europeans shouldn't follow the dictates of Washington on an issue that's more directly impacting European shores.
Naumkin questioned, "I don't see why Europe should always bow down to Washington,'' and added "If Europe thinks we can get rid of Assad and some moderate opposition forces will come to power, they're living in fantasy land. Radicals will take over that will slit people's throats.''
Bloomberg noted that "the bill for postwar reconstruction is estimated at $250 billion by the United Nations, and Western powers are rejecting Russian appeals to chip in."
"Why don't you want to help people returning to Syria, even in government-held areas?'' Naumkin questioned further in the Bloomberg interview.
German Foreign Minister Heiko Maas has recently said Germany will pitch in for Syria post-war reconstruction only if there's a political transition away from Assad that will include free elections. France has also indicated it won't engage in reconstruction talks or attend the proposed summit in Turkey without similar guarantees.
However, Naumkin pointed out something that's been demonstrated time and again in Syria: that "there are no alternative figures'' to Assad, who would win any election even if held tomorrow.
Commentary by The Iranian
Russia: Syrian President Bashar al-Assad asked for Russia to intervene by providing military assistance.
America: Since when do we need an invitation to fuck shit up and exploit the situation?!
Mood: 'Murica be like…?