Annemarie Schwarzenbach lived life on a fast lane. At 23 she completed her doctorate in history at the University of Zurich. She was a journalist, novelist, playwright,  photographer, archeologist, travel writer, and a great pianist. It's hard to say how much more she could have fitted into her short life before dying as the result of an accident at 34. Her great nephew once said, "You can read her life like a novel, but no editor would publish it, they would say 'oh it's too much, give me a break', but this is not the case, it's all true."
She was born into a well established and wealthy family in Switzerland in 1908. World War 1 passed in the background of her quiet childhood not knowing she would be entangled in the drama of the war to come. As a young adult she could have easily kept at bay the rise of German fascism if she had remained in the neutrality of her mountainous country. But instead she took a stance against the Nazis and moved to Berlin. The year was 1931 when Hitler was politically active and Weimar Republic collapsing. It was in Berlin that she also wrote her first novel, Lyric Novella, to a critical acclaim.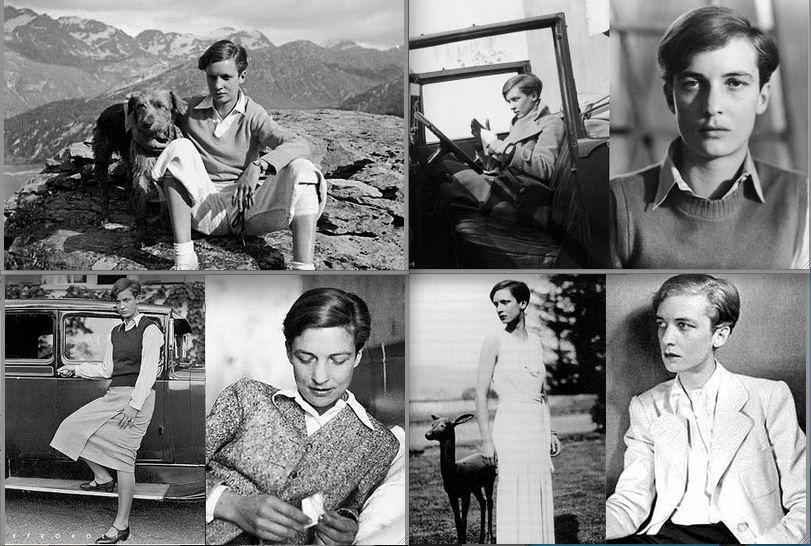 Annemarie was holding the fort on more than one front. Between 1933 and 1935 she financed, Die Sammlung, a literary magazine with antifascist content for which she also wrote. The magazine was published in Amsterdam where other writers in exile also contributed. Tension was also high in her own family, her parents being sympathisers of Hitler and the far right party in Switzerland. Being gay she had to accept herself and protect her orientation as well as establish her identity in a world hostile to gay people. Suffering from bouts of depression she had to be careful not to lose her grip on life and its ugly realities. For a while the bohemian quarter of Berlin was a good place to be. There she connected with similar people and felt comfortable in her own skin. But she knew Berlin was on borrowed times and too the whole continent if the Nazis came to power.
Annemarie was never out of cash but often starved for love as she tried unsuccessfully to find a longterm partner. Her prodigious talent, money and progressive politics made her stand out in the crowd but it didn't make it any easier for her to cope with her life, even when she was among friends and likeminded souls. She found solace in drugs and alcohol in order to temporary forget about her own personal crises and the madness of the German speaking world that was spiraling out of control and taking the whole world with it. She once wrote to Klaus Mann (Thomas Mann's son), "It is dawning on me that Plato was not a statesman after all, and that the powerful movements of which history is made simply bypass the insights that are reached by thoughts – they contradict them…"
With all her intellect she still couldn't find a good reason why people, especially young ones looked to Hitler and his party for salvation; except, fate. And perhaps her own fate was no better than the culture she cared about, for despite all her wealth and talents she too was spiraling out of control and had to rein herself in. Annemarie never stopped trying to find purpose in life.  Against overwhelming odds and her own internal struggles she looked  for a happier life amidst all the chaos. In the movie made about her, The Journey to Kafiristan, (2001) haunted by her past she is portrayed as someone struggling through drug addiction to find meaning and identity by searching in the most unlikely places.
Travel seemed to be the only faithful partner she had to find some fluidity in life. By the time Annemarie was ready to hit the road she was addicted to drugs, particularly morphine. But nothing seemed to slow down her prolific creativity. During her 10 years of travels she wrote over 300 articles and took 5000 photos. And this does not include the books she wrote.
She traveled to Persia at least three times. Her first trip in 1933. Her second in 1935. Her third road trip in 1939/40 was through Persia with another Swiss adventurer and writer, Ella Maillart. This last trip ended in Kabul and Ella later wrote of her experiences in the book, The Cruel Way (from Geneva to Kabul with Annemarie Schwarzenbach). And Annemarie penned her own, All the Roads Are Open: The Afghan Journey.
It was in 1935 that Annemarie met and married a French diplomat in Tehran by the name of Achille Claude Clarac. Both of them gay the attraction must have been purely platonic. But for Annemarie the marriage may have also been a way of rejecting the Swiss nationality whose neutrality during the war she always questioned and criticised. Also before her trip she had a big row with her parents and had tried to commit suicide. Her new French passport and nationality would have been the ultimate snub to her parents and their far right pride and to the Swiss authorities who ended up buying stolen gold from the Nazis and helping them to finance their war machine. Claud and Annemarie lived together in Tehran for some months and travelled in the country. After she returned to her home in Sils she began working on Death in Persia.
At home in Sils having just returned from Morocco she was awaiting the outcome of her  job application. She wanted to become a foreign correspondent for a Swiss newspaper in Lisbon. Riding her bicycle around the village she fell off and hit her head so severely that she went into a coma for some days and died some weeks later. Her husband Claude and any close friend who rushed from near or far to see her were prevented from visiting Annemarie by her mother, not that Annmarie could have recognised any of them, as memory of everything had completely abandoned her. A young woman who travelled the world in one of the most dangerous of times who had more chances of dying from disease in Central Africa, or car accident, assassination, or murdered by bandits in a no man's land,  instead died  in a freak accident in one of the most peaceful and picturesque village where the only sounds that could be heard of was of birds and the running of river over the smooth alpine rocks.
The 'ravaged angel' finally crashed in her own sanctuary. Tortured and tormented by the demons yet never bowing down to the power hungry gods of the world.
After Annemarie died, her mother did what any Nazi would have done; she destroyed all her manuscripts, writings and photographs and everything else created by Annmarie that she could find in her house. At last she found her best opportunity to wipe out her daughter's legacy. The year was 1942 and in her demented mind she must have believed the Germans were destined to win the war.
***
Notes:
*Most of Annemarie's works  are still in German language.
*There is no definite biography of her life.
*Her legacy has been gradually revived in Europe by new publications of her works and a few in English translations. Her photographs have begun to be exhibited in Europe and the U.S.