Vita Sackville-West was a poet, novelist, travel writer, diarist and garden designer. Her travels to Persia came about as the result of her husband accepting a diplomatic post in Iran (called Persia in 1925). Never happy with her husband's occupation Harold deliberately picked Tehran over Peking knowing Vita would have the least objection to and will be lured to join him there. Harold was also born in Tehran when his father, Arthur Nicholson served as a British diplomat during the Qajar.
Not long after arriving in Tehran Harold started working on his Persian garden and asked Vita to send him tulip, hyacinth bulbs, cuttings of rosemary and lavender. Vita excited about gardens packed her bags and  joined him soon after.
1925 happened to be a turning point in the history of Persia. It was the end of Qajar period and beginning of Reza Khan's reign who declared himself  king and began planning his coronation. Harold did not like Reza Shah, especially when he formally requested to the English embassy for all the Indian Savars who were protecting the British Legation in Persia to be withdrawn. After initially resisting his request the British embassy realised it had no choice but to remove them out of the country whose new king was assertive and in certain areas nonnegotiable.
Vita, on the other hand found herself taking part in the upcoming coronation by using her design and decoration skills. Invited to see the crown jewels  she never thought she was going to see treasures that her eyes had never seen before. Diamond, emerald, gold and pearl. She had to literally shake the precious gems out of her shoes, she said. She wrote to her friend Virginia Woolf that it was like being in Aladdin's cave.
Persia gave Vita what she craved most, a sense of isolation in nature. She enjoyed her morning horse rides, the fresh air, having lunch by a sequestered stream, picking fresh almonds from the tree, the peach blossoms in spring and the splendid sunset and the beauty of the landscape that was still untouched.
In her sojourn in Baghdad she stayed with Gertrude Bell and got herself a Saluki puppy to take home.  After seeing the oil fields in the south she knew Persia was going to change and become modernised. Persia was a ramshackle country but in her eyes the beauty was in its gardens and landscape, rivers and steams that were still untouched by progress.
Although Vita's stay in Persia was relatively brief, hardly two years, but it was intense and passionate, and like a romantic love affair stayed with her somewhere in the core of her soul. It was at the very end of her life that Harold shared a memory from the time when they were in Kermanshah. Whatever that very private memory was it had epitomised for them what true happiness was and what they meant to each other, and perhaps without being in Persia that experience would have never culminated.
According to Vita's biographer, Matthew Dennison, some of her  most lyrical writings are in her travel book, Passenger to Tehran (1926). She also wrote another travel book on Persia, Twelve Days: an account of a journey across the Bakhtiari Mountains of South-western Persia (1927). The last verses of her poetry book, The Land,  were written in Isfahan.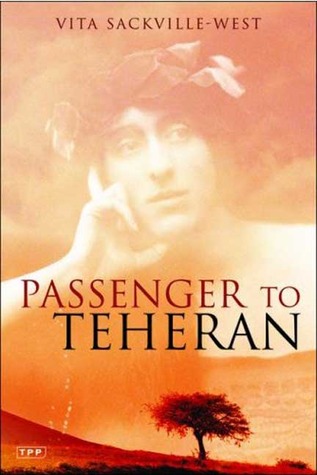 Vita and Harold travelled extensively in Persia.  Like many travellers before them the idea of Persia and her sublime past was what attracted them to visit the country. Names like Cyrus and Darius the Great, Persepolis, Hafiz, Sa'di  resonated with the educated class. Although Islamic architecture and design in Iran are among the best but the ruins of ancient Persia and the stories they embody held more fascination for the westerners then as it does now.
Many visitors were gracious enough to forgive the country's ramshackle state, run down during the corrupt and incompetent Qajar rulers. Vita fell in love with whatever she admired about Persia and cherished those memories all throughout her life.